On the 21st of August, we announced the official launch of our Android mobile application. To celebrate that we hosted a massive bounty campaign to put some Aircoin tokens in the wallets of those interested in healthcare and Cryptocurrency.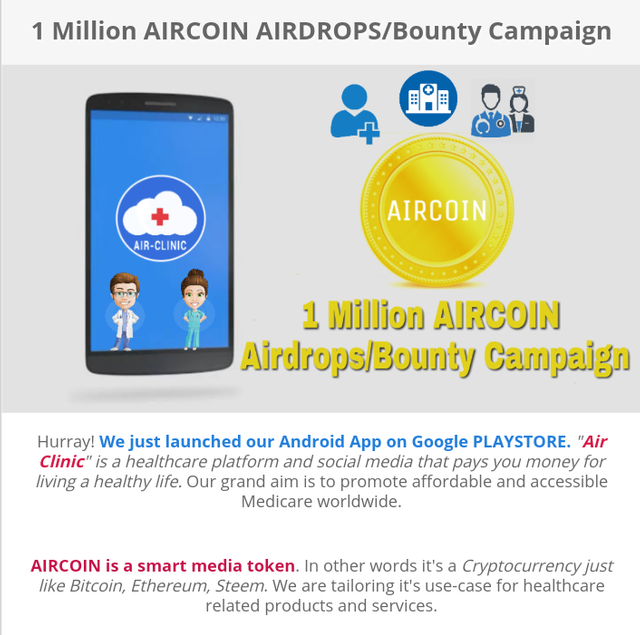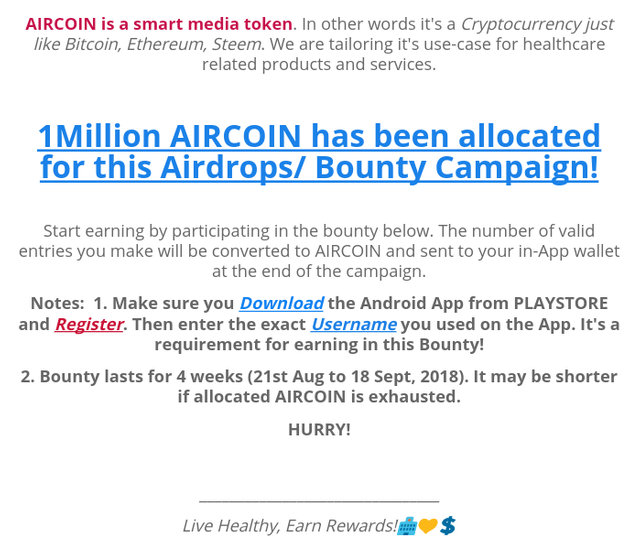 Our Airdrops was concluded on 18th of Sept, 2018. If you missed it, then watch out for the next one coming very soon. If you participated, login to your app and check your wallet. Your tokens should be there right now!
---
Air-Clinic is that blockchain project that aims to change the way we use healthcare facilities all over the world. We can truly build a great decentralized economy and we are glad with the baby steps so far.
Watch out for more news and updates as we keep developing the best platform for medical information consumption. Stay tuned!
---
DELEGATE SP TO EARN MORE AIRCOIN!
We are grateful to the 110+ SP holders who has delegated to @Air-Clinic. We appreciate your support! 💙💰
---
CONNECT WITH US ON SOCIAL MEDIA
👉Download our Android App: https://play.google.com/store/apps/details?id=air.clinic.android
👉Join our AIRDROPS/Bounty Campaign: https://airdrops.myairclinic.com
👉Visit our website: https://myairclinic.com
👉Join us on Discord: https://discord.gg/rqded5m
👉Follow us on Twitter: https://Twitter.com/myAirClinic
👉Follow us on Instagram: https://Instagram.com/myAirClinic
👉Follow us on Facebook: https://Facebook.com/airclinic1
👉Follow us on Medium: https://medium.com/@AirClinic
👉Subscribe to our YouTube Channel: https://m.youtube.com/channel/UCzkxskrkwep0iFTHrGN-x-g
👉Read our whitepaper: https://myairclinic.com/whitepaper.html
---
Live Healthy, Get Wealthy! 🏥💛💲
Old users should update their App version to the current one!