We are making again a step to bring technology and humans closer together; Well Saudi Arabia made this next step for us: For the first time, a country has granted citizenship to a robot. The AI ​​robot Sophia is now a citizen of Saudi Arabia.
But there is much criticism because she looks very different from other Saudi women.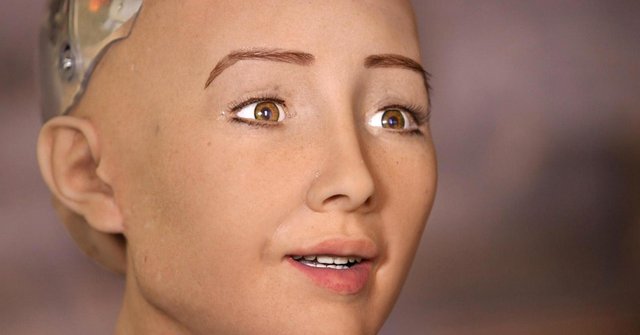 The news was announced at the Future Investment Initiative (here), a meeting on innovation and investment in Riyadh, the capital of Saudi Arabia.
Sophia is the most advanced robot created by Hanson Robotics. She can animate a full range of facial expression, and can track and recognize faces, look people in the eye, and hold natural conversations with them. Sophia made her debut at the South by Southwest show in March 2016. Since then, she has become a much-sought-after media personality. She has done numerous press interviews, garnering over one billion engagements on a CNBC online coverage. She has also appeared on CBS 60 Minutes with Charlie Rose, the Tonight Show Starring Jimmy Fallon, Good Morning Britain, and has been a keynote and panel speaker at some of the world's leading conferences. Sophia was featured in AUDI's annual report and graced the cover and centerfold of ELLE magazine.
Critics criticise the fact a robot becoming a citizen in a country where women are not treated the same as men. Unlike women in Saudi Arabia, Sophia does not wear a headscarf with abaya and she does not have a male guardian.
Such a male guardian is obliged for Saudi women when they are in publicity. The man, - usually a relative - takes decisions for the woman.
"A robot is not human," says Jan Smits, professor of Law and Technology at the University of Technology Eindhoven, the Netherlands. "But a plane didn't had a nationality for a ling time until children were born."
Those rules were devised later, and according to Smits, it also happens for robots.
International organisations have already considered it. They concluded that a robot is a product and must listen to humans. "Therefore, a robot can never be matched with humans," says Smits. "The status of a robot is to a certain extent comparable to the legal structure of a legal person in the Netherlands."
The Saudi people welcome the development. The Arab hashtag # Robot _ with _ Saudi _ nationality has been used 30,000 times in the first 24 hours, according to the BBC.
"That's not so bad because Twitter is very popular in the country," says Robbert Woltering, Associate Professor Arabic Language and Culture. "In principle, it is in line with the modernisation of women's rights."
For example, women can now get their driving license and can also celebrate the national holiday.
Personal View & Questions

I personally think it is not possible to determine at this stage if AI can never get the same treatment as humans, that AI shall always listen to humans. It is somehow logical humans make this statement, but we do not know if AI can develop a consciousness, or not. Only time will tell. With regard to the topic of Saudi Arabia giving citizenship to Sophia, I have no issue with that at all. It may indeed help the position of women in that country.
Do you think AI will be able to develop a consciousness?
Are you afraid of AI becoming super intelligent?
Shall laws put in place to give boundaries to what AI is allowed to do?
media sources [1][2][3]

knowledge sources [1][2][3]

NJOY check out my music channel @qsounds