Aigents service is now accessible as bot on Telegram:
https://web.telegram.org/#/im?p=@AigentsBot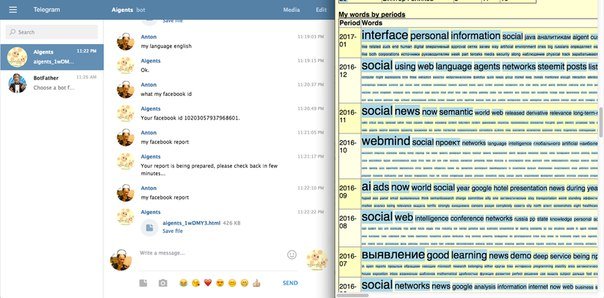 Full chat-style interaction is available - still using Aigents language which is "controlled English" language or can be thought as English-Turtle "pidgin" (where Turtle is standard language for Semantic Web programming).
You can even order report on your activity in social networks (Facebook, Google+, etc.) and download it via Aigents Bot in Telegram!
To do so, once registered and/or logged onto @Aigents (AigentsBot) on Telegram, just say:
"my facebook report"
or
"my google report"
Sample use of Aigents Language can be seen here:
https://aigents.com/test/aigents_turing_test.html
To learn more about "Aigents Language", see the following video:

Stay tuned for Aigents news, the Aigents bot for Facebook Messenger will be announced shortly!