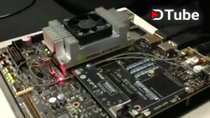 ---
This is a small part of a series of videos i will be posting in MIT Race care project.Our project was to develop Self-Driving-Car with the help of Computer vision and Neural networks.
In this Video we Show how we were able to implement Motor and steering control using a wired Controller.
Software's used BLDC software tool
Hardware used VESC (Vedder Electronic Speed Controller)
We faced a number of Challenges when working on the project.There was no concrete guide as to how the ESC(Electronic speed controller should be used) and it was the first time we were using a BrushLess DC motor .
Luckily we were able to find some helpful resources like this one.
Following some guides we were able to map the movements down to controller keys.
Heres is the Github code that was used for control
: https://github.com/arjunkapur95/MIT-SelfDrivingCarJetsonCode/blob/master/joystick/joy-control.py
If you have any questions regarding this project or would like to contact me to replicate this project feel free to contact me.
---
▶️ DTube
▶️ IPFS