Alert: In the first days of 2018, Aigents Power Server is made available for beta testing across all versions of operating systems: https://aigents.com/download/latest/readme.html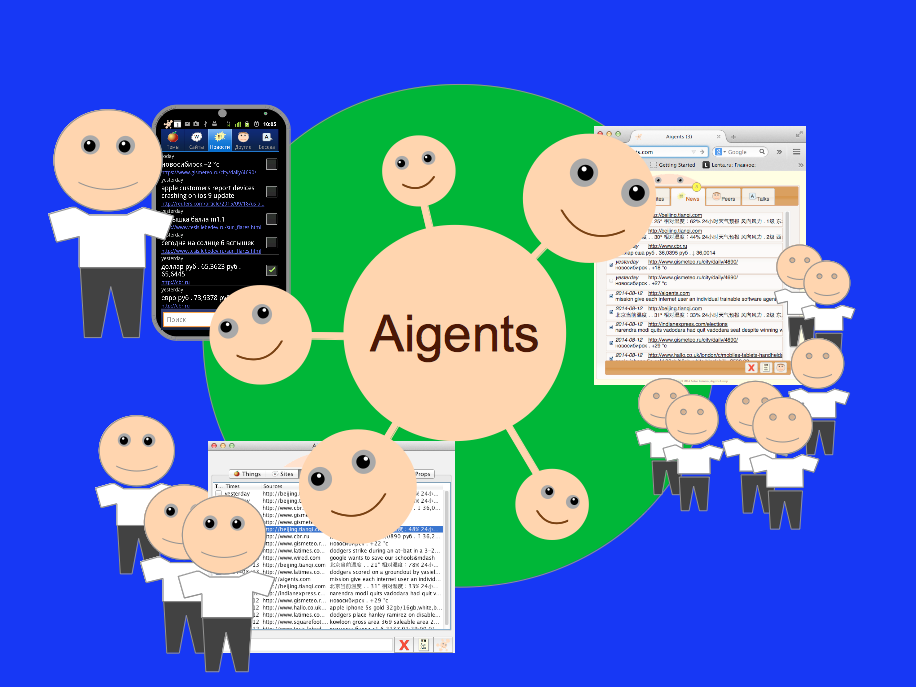 New: The beta testing program provides free evaluation version of Aigents Power Server for testing and proof-of-concept integration of its services on back-end side of any other applications which need collective intelligence, social analytics and event monitoring.
Important: Extended feature set includes personal social analytics for major social networks such and important blockchains such as Facebook, Google+, VKontakte, Ethereum, Steemit and Golos.
Vision: Aigents platform provides intelligent, secure, fair and unbiased personal and corporate assistants in digital world and social media for individuals, professionals and businesses.
Mission: Building agents for automatic search, extraction and analytics of information on the Web and in social networks – for business professionals and upper class individuals – using adaptive artificial intelligence technology and experiential machine learning.
Details: Aigents project incorporates business based on creation and distribution of technology for building artificial intelligence software agents for other businesses and personal assistance agents for end customers. Those software agents would be capable to serve as personal or collaborate assistants helping people and groups of people to communicate with each other and digital world (including World Wide Web, social networks and devices of Internet of Things).
For lifestyle management: Software "Aigent" could take responsibility for monitoring social media and Internet sources do deliver time saving and competitive advantages for upper-class individuals and their communities – finding the best opportunities for their travel, recreational and leisure activities, social interactions and health treatment – serving as automated and highly personalized concierge servant – keeping information in respect to identified interests and all findings proprietary.
For financial asset management, private banking and cyber-security: Software "Aigent" could take responsibility for monitoring Internet social media sources in respect to particular subjects of financial and investment interests, identifying possible negative and positive sentiment, social value of the information and possible threats and opportunities timely – serving as automated corporate or individual portfolio advisor – with guarantee that the profile of the user is secure and having information protected from marketing or political influence imposed by conventional social networks or search engines.
Stay tuned for more details on our news channels:
https://www.facebook.com/aigents
https://www.youtube.com/aigents
https://plus.google.com/+Aigents
https://medium.com/@aigents
https://steemit.com/@aigents
https://golos.blog/@aigents
https://vk.com/aigents
https://aigents.com