Are you excited by the AFRICAN Steem user POTENTIAL after hearing Jack Dorsey Twitter CEO is moving to Nigeria? IF SO, Come to Telokanda Telegram and explore the emerging market of TOKENS for ACTIONS. empato365 citimillz ackza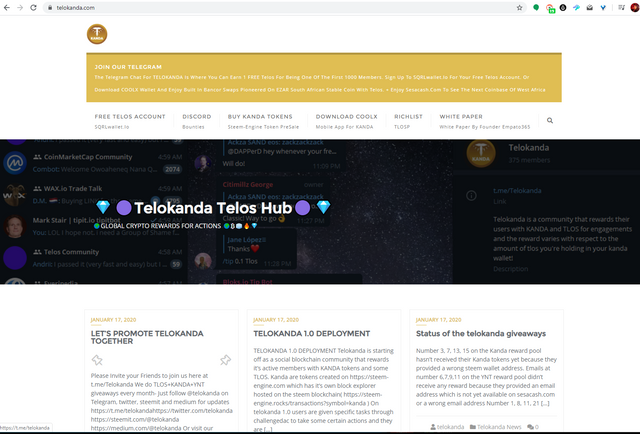 Excited to see Africa produce Jobs and innovation using blockchain using Steem tools just now coming of age? Want to help ride this wave of African Innovation in Bitcoin and DPOS with Jack Dorsey and @sesacash ?

https://telokanda.com needs new users for the telegram! Imagine a Dclick style system with in chat bounties and giveaways. Telokanda will over time develop into a hub to bring African Steem users into the telos Blockchain with its Worker Proposal system.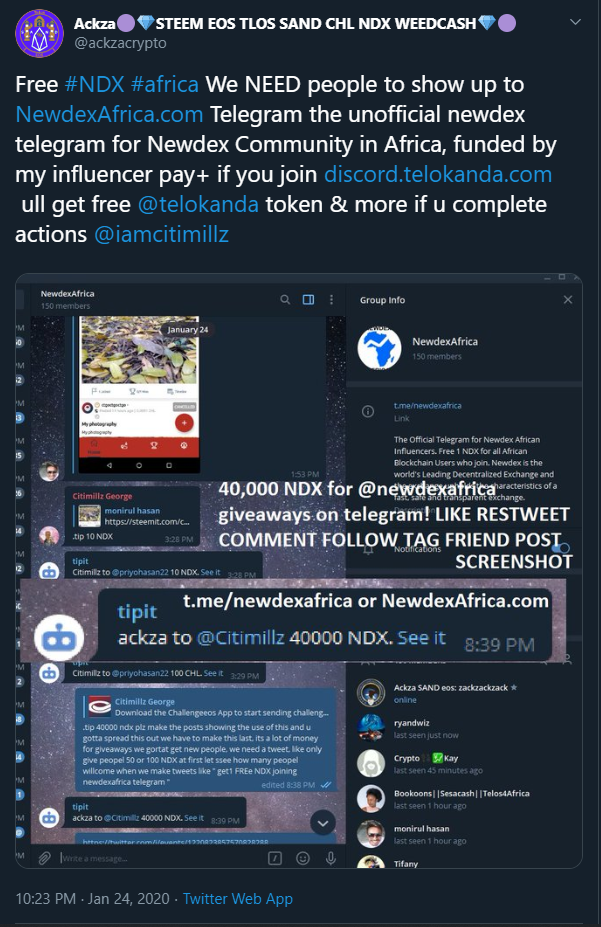 https://t.me/telokanda needs you to join the chat! You may earn 0.1 TLOS for showing us you gave an action on this steem post. Want to help us test KANDA distribution? Earn 1 KANDA for a retweet like comment of this post for @newdexafrica https://newdexafrica.com https://twitter.com/ackzacrypto/status/1220955326893023239

Now just show up to our telegram or discord and get 0.1 TLOS for helping us with a comment, view, like, resteem/retweet follow
Discord: https://discord.telokanda.com
Telegram: https://t.me/telokanda
Steem Engine https://steem-engine.com/?p=market&t=KANDA
Telos https://telos.bloks.io/tokens/KANDA-telos-telokandaone
---
Posted from Telokanda.com with SteemPress : https://telokanda.com/are-you-excited-by-the-african-steem-user-potential-after-hearing-jack-dorsey-twitter-ceo-is-moving-to-nigeria-if-so-come-to-telokanda-telegram-and-explore-the-emerging-market-of-tokens-for-actions
---