Sorry for not posting affirmations last Monday and Tuesday. I was busy studying for my major exams on those days and it kinda distracted me from doing everything else haha 😁
Oh well since I'm free for the next few weeks (till the exams) I'll be posting affirmations again 😀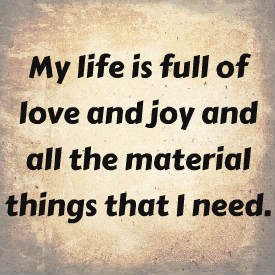 IMG source


We can be more positive when we show gratitude to what we have. By counting our blessings in life, we avoided the materialistic trappings of the corporate world. We release our fears of having nothing and the fear of being alone.
By accepting all the bad and good events in our life, we can acknowledge our limitations and help is continue to grow.




WHY DO AFFIRMATIONS?


Affirmations is a sentence or a set of words that helps in refreshing your mind and flush out stress and anxiety. Think of it as a mini meditation that you could use everywhere you go.
IT IS ACTUALLY FREE!! 😁 unlike meditation/reiki courses, you don't need to pay someone to learn affirmations. Just Google up some quotes in YouTube and viola!! Your now set to do affirmations.😀
😉😉Feel Free to post your personal affirmations on the comments😉😉


Do you like affirmations too? You might even like these posts even more 😀😀
How to change your life with daily affirmations by @alcibiades
If You Hear It Enough, You'll Believe It - Daily Affirmations by@creatingkj