AEW All Out is in the past, and BA GAWD, what a show it was. We will go through all of the matches here, and I will give my rating (with a 5 star system) for each match.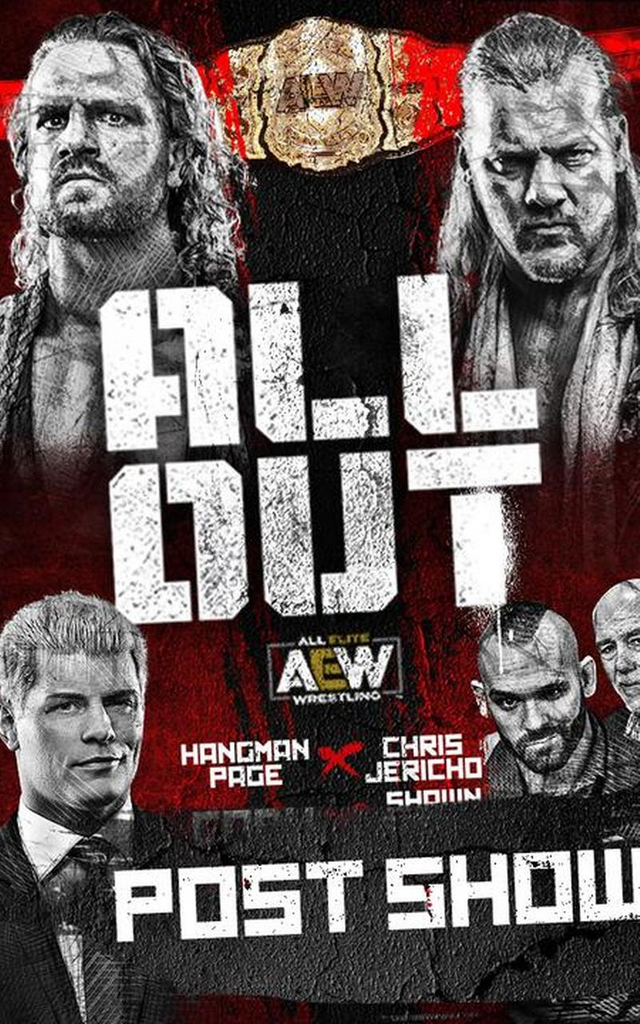 First, because I wanna get it out of the way and not have it distract from the card, CM Punk did not appear at All Out. That's it, it's no big deal, the show was still great. Now let's move on.
Pre Show
21 Woman Casino Battle Royal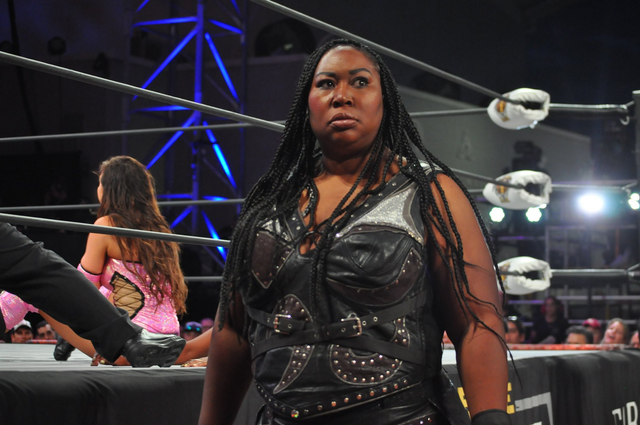 I did not really like this match. I thought it was really sloppy, especially the elimanations, and there were not many redeeming things to balance it out. The final three battle, though, was great. Nyla Rose wins this match and will go on to face the winner of a later match on the card.
Rating: 1.5★
Private Party (Isiah Kassidy and Marq Quen) vs Angélico and Jack Evans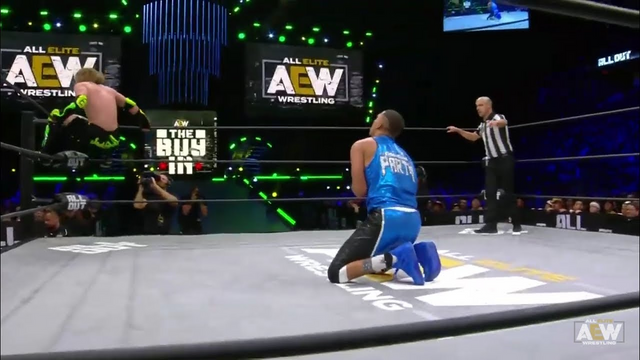 This is kinda unprofessional from me, but I had to go to the bathroom for a very long time, so I missed almost all of this match. Sorry... Private Party pick up the pinfall win.
Rating: ?
Main Card
SoCal Uncensored (Christopher Daniels, Frankie Kazarian, and Scorpio Sky) vs Jurassic Express (Marko Stunt, Jungle Boy, and Luchasaurus)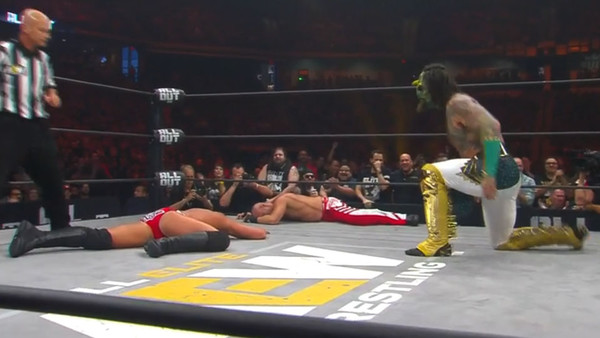 This was a very good opener. Good, fast six man tag team action here, with Luchasaurus going especially wild, with one of the hottest hot tags I've ever seen in my life. SCU pick up the win in the end, however, with a ridiculous double BME. Daniels, Kazarian and Sky do show respect to Jurassic Express after the match, though, which was a nice touch.
Rating: 3★
Pac vs Kenny Omega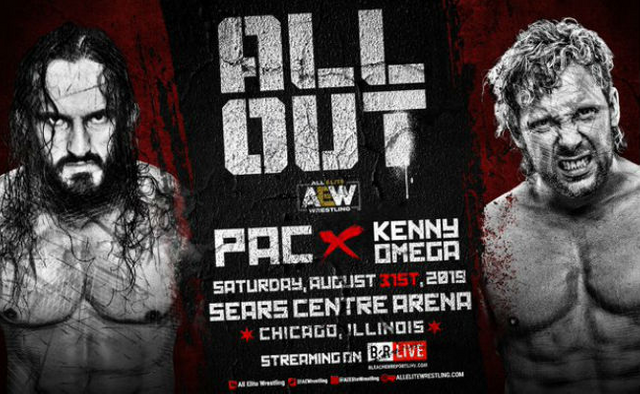 This was a very good match. I think it could've been more than what it was, considering the talent involved, but it wasn't a disappointment by any means. Great, hard-hitting action (especially that insane kick from the top rope by Kenny right to the head of Pac) with Pac eventually getting the win by technical knockout.
Rating: 3.75★
Jimmy Havoc vs Darby Allin vs Joey Janela
Oh my god, what a crazy match this was. A hardcore match with so many ridiculous spots that make you twitch because of how gruesome they are. Jimmy Havoc stapling himself, Jimmy Havoc getting thumbtacks put in his mouth and then getting his mouth taped shut, Joey Janela getting a skateboard with tacks on it stomped onto his back, with some of the tacks sticking on his back for the rest of the match, fucking hell, this match was insane. Eventually Jimmy Havoc picks up the victory with a Rainmaker through the Cracker Barrel.
Rating: 4★
The Dark Order (Evil Uno and Stu Grayson) vs Best Friends (Chuck Taylor and Trent Beretta)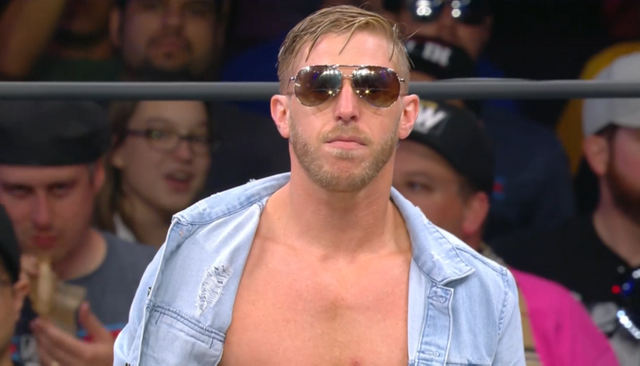 This match was fine. Maybe even fine+. It had the misfortune of coming right after the Cracker Barrel Clash, and did well considering that. The Dark Order pick up the pinfall victory, but what happened after the match was SO COOL. Orange Cassidy showed up after the lights went back on, and performed a suicide dive without getting his hands out of his pockets! How cool is that?
Rating: 2.5★
Riho vs Hikura Shida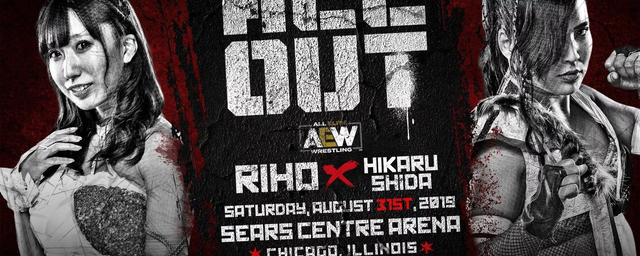 This was a great match. Classic, physical joshi action here. It was a back-and-forth encounter where it looked in various situations like either woman could win it. Shida with her raw power and strength, and Riho with her speed, agility and spirit. Eventually Riho picked the upset win, and will go on to fight Nyla Rose for the AEW Women's Championship.
Rating: 4.5★
Cody (with MJF) vs Shawn Spears (with Tully Blanchard)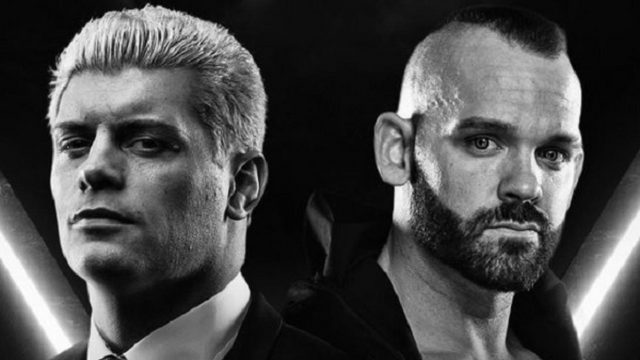 I have mixed feelings about this match. On one hand, it was a very good, very emotional encounter, but on the other hand, WHAT THE FUCK IS WITH EARL HEBNER?! The man saw THREE shots with a belt by Spears to Cody right before his very eyes, and didn't call for the bell. He saw a Disaster Kick using a chair by Cody, but he didn't call for the bell. It's like he doesn't care about it at all. This would continue in another match, too. What are they trying to do here? Also, throughout the entire show, the refs took SO LONG to count the wrestlers out. This really bothered me in this show.
Cody wins with the Cross Rhodes.
Rating: 3★
Lucha Brothers (Pentagón Jr. and Rey Fénix) (c) vs The Young Bucks (Matt and Nick Jackson)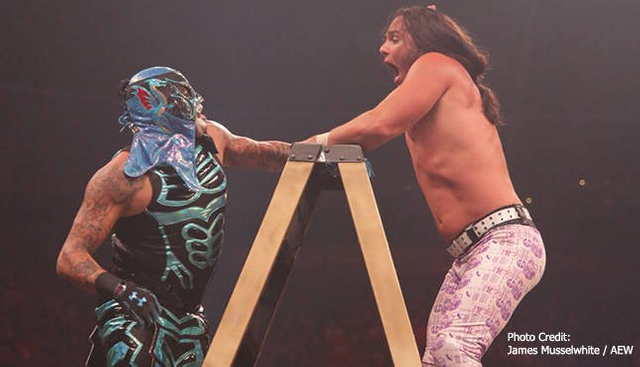 Everyone knew this match was going to be great, but holy shit, it was amazing! This match just continued to deliver and deliver with more and more incredible spots! We saw summersault planchas through the ladders and over the top rope, moonsaults, simultaneous diving splashes off ladders through tables, a Canadian Destroyer OFF A LADDER, THROUGH A TABLE, and sooooo much more. Props to Pentagón for agreeing to have his mask stripped, too.
The Lucha Brothers win this match and retain their titles, but after the match, the Latin American Xpress debuted for AEW and attacked Pentagón Jr. and Rey Fénix, hitting a powerbomb-blockbuster combination on one of them. They also attacked Nick Jackson. This was a very good debut for Santana and Ortiz for AEW.
Rating: 5.25★
Chris Jericho vs "Hangman" Adam Page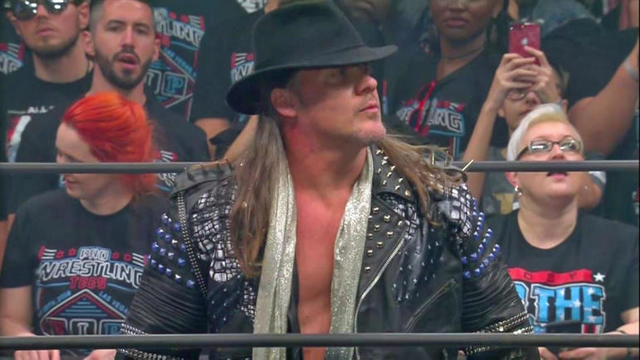 There it is. The main event of the evening, and the match to decide the inaugural All Elite Wrestling World Champion. I did not expect a lot from this match, but you know what? It was better than I though it would be. Good action here, although again, what is it with the refs in this show?! Here, Jericho hit Hangman with a mic right in front of the referee, and she did nothing about it. What the hell is this? Why was it not a disqualification? Still a good match, though, and Jericho wins after catching Hangman, who was going for a discus forearm samsh, with a big spinning back elbow (or the "Judas Effect" as he apparently calls it). The real jewel came after the match, though. Backstage, Jericho showed why he is truly one of the best heels of all time, with an amazing promo/segment. If you haven't, please go and watch it now. It's just great stuff.
Rating: 3.5★
Summary
AEW All Out was a great show, with many really good bouts, and one instant classic. However, the stupid refereeing really angred me, so it does knock down the rating for the overall show. Also, the Casino Battle Royal is probably the lowest point on the card, and wasn't very good.
Overall rating: A-