Aelf Innovation Alliance: Fueling Blockchain adaptation
As per the new research report published by McKinsey, irrespective of blockchain generating a tremendous amount of interest and investment flowing to the blockchain, a majority of the experts feel that it may take another couple of years ( 3–5) to have a widespread commercial adoption.Another Global Blockchain Survey by PwC listed out the below-given barriers to blockchain adoption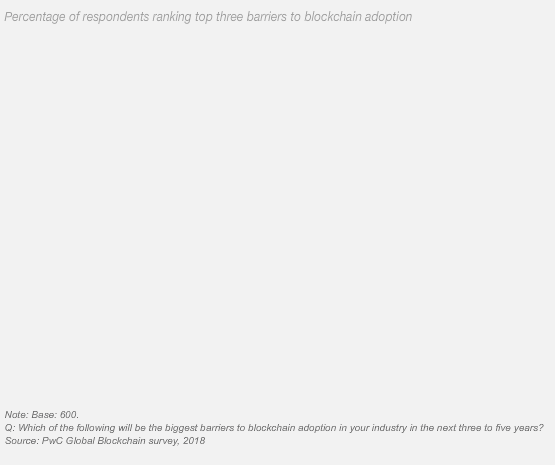 source PwC
It's not all doom and gloom; In 10 years, it's been predicted that the blockchain will be handling 10% of the total world trade. Sounds great! But to reach that point Blockchain has to evolve and resolve the barriers roadblocking blockchain adaption.
Scalability
When the blockchain was introduced, even Mr.Satoshi could have never imagined the impact it will create ten years after. As the daily transactions continue to rise, it was clear that we need a better solution to improve the current blockchain speed.On a real-time basis, Visa is currently capable of processing approximately 24,000 TPS, whereas PayPal can handle 193 TPS.
When we take into cryptocurrency speed, Bitcoin can do a sluggish 7 TPS, Ethereum can process 20 TPS whereas Ripple can process 1500 TPS only. Standing apart among the lot is Aelf with 15,000 TPS which was achieved with the help of innovative sidechain concept.
Interoperability
To put in simple words " Interoperability is the ability of a network, to interact with an independent, outside system or network.
In future, It is expected that a majority of business will be moving to their blockchains which can be either permission or permissionless. One of the biggest hurdles in current blockchains facing is the inability for independent blockchain protocols to communicate in a decentralized and scalable way. This is one of the critical obstacles to mainstream adoption in both public and private networks.The ideal situation is when a user from another blockchain transfer information on another entire different blockchain, both of them must be able to interact or respond to it with little effort.One possible and practical solution to resolve the issue is via sidechain. A sidechain is a blockchain mechanism that allows for a separate chain to be attached to the main blockchain which enables the exchange of digital assets/ information between the main blockchain and the sidechain without any hindrance.There are some projects like Aelf, Aion, Cosmos working towards solving the Interoperability issue.
Too Complex and Costly
In the current market, to build a blockchain involves an enormous financial burden. Since the blockchain is in its nascent stage, complexities involved with developing and deploying blockchain solutions are significant obstacles to the adoption of the technology as well.For these organizations, there are already active projects like aion, wanchan, ONT, Aelf who has readymade solutions which can be implemented on a cost-effective basis. E.g. Aelf can tailor the blockchain as per the demand of the industry. It can create a mix of public and private chains on the aelf network as per the business demands. A cheap and effective way to own your blockchain.
Aelf Innovation Alliance — The solution?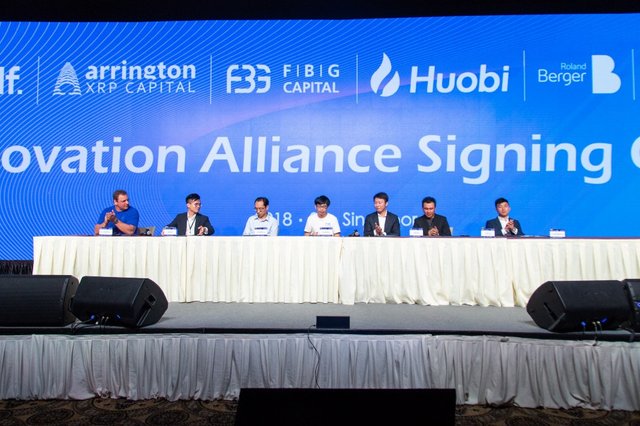 To accelerate blockchain adaptation, Blockchain project Aelf has recently introduced Innovation Alliance(compare this to the Avengers initiative). Besides Aelf other members of the Innovation Alliance includes Michael Arrington( creator of TechCrunch), Signum Capital(Singapore-based digital fund), FBG Capital (an Asian blockchain hedge fund), Roland Berger(Strategy consultancy company based out of Germany) and Huobi labs( blockchain incubation wing of Huobi).The purpose behind forming Innovation Alliance is to pool in necessary resources to help and support enterprise looking to embrace blockchain technology. All the members of Alliance bring in a myriad of experience, funding options, industry insight and resources which can help to remove the roadblocks faced by an enterprise to embrace blockchain.On formation day Zhuling Chen, Co-founder of aelf stated,
"Blockchain can seem daunting to small businesses that are just getting started, and perhaps even more so for well-established companies with long-held processes and practices. The world-class experts in the Innovation Alliance will actively encourage open information sharing based on their unparalleled experience in the crypto and blockchain community, inviting businesses of all sizes to join the conversation. This aligns closely with aelf's overarching focus on peer-to-peer learning and an open-source approach to blockchain more broadly."
Another insight came from Dai Ke, Partner and Vice President at Roland Berger
"Traditional businesses need support and guidance in order to tap into the power of blockchain. From helping small businesses scale, to transforming long-established systems and practices, the commercial adoption of blockchain will be widespread, and this alliance will provide the insight organizations need to meet these growing demands."
Right now Blockchain is a mere ten years old tech. But even in this short ten years, it has achieved and evolved on a rapid phase. Innovate movements such as Innovation Alliance is sure to add more fuel to the growth as well as rapid blockchain adaption.