Who Says You Have to Grow Up?
Who says you have to grow up? I had a blast at Dinosaur World the other day with my 35-year-old kiddo. They live out of the country and haven't been stateside in over eight years. So we made the most outta every stop we could. Hence my two week hiatus from Steemit.
We went rippin' and tearin' through a few states while they were here and saw all kinds of neat stuff. A must see is Mammoth Cave (down the road from Dinosaur World), but that's for another post.
It's rare that I ever have an itinerary when traveling, other than an arrival and departure date. I like to just let the wind take me. I've happened across some really cool sights that way. This one wasn't off any beaten path though. It was straight off of exit 53 in Cave City, KY. It was a little goofy, with a little hokey thrown in, and that is what made for a great time. Even better, there were things to climb into or on!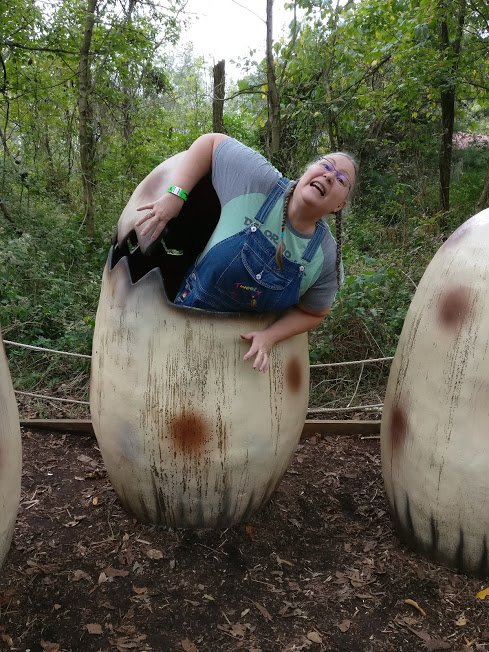 I love the freedom of unscheduled stops and the ability to enjoy the simplest of pleasures. After all, we are the ones responsible for making our lives entertaining and worth living.
I adore creativity and Swedish businessman, Christer Svensson fills that bill. He came up with the idea to make these parks. This one in KY and two others in, Glen Rose, Texas, and Plant City, Florida. While the dinosaurs are fairly authentic, the creative liberties really come out in the patterning and colorization of these "models". There have been fossilized records of skin texture discovered, but no one knows about the coloring.
I guess this is turning into a Dinosaur World review -
Come along as we visit over 150 life size dinosaurs on this self-guided tour (did you read that in a tour guide voice, haha?). The dinosaurs are laid out over 18 acres in a wooded park setting, but don't worry. You stay on a 3/4 mile paved path. Each species was described on a plaque and some myths were laid to rest as well. I saw all kinds of weird critters that I never learned about in school.
We happened across these three foot long early salamanders, diplocaulus as we enter the park. While not dinosaurs, they are quite impressive, even with their teeny tiny eyes (look for the red marbles on the front sides of their heads).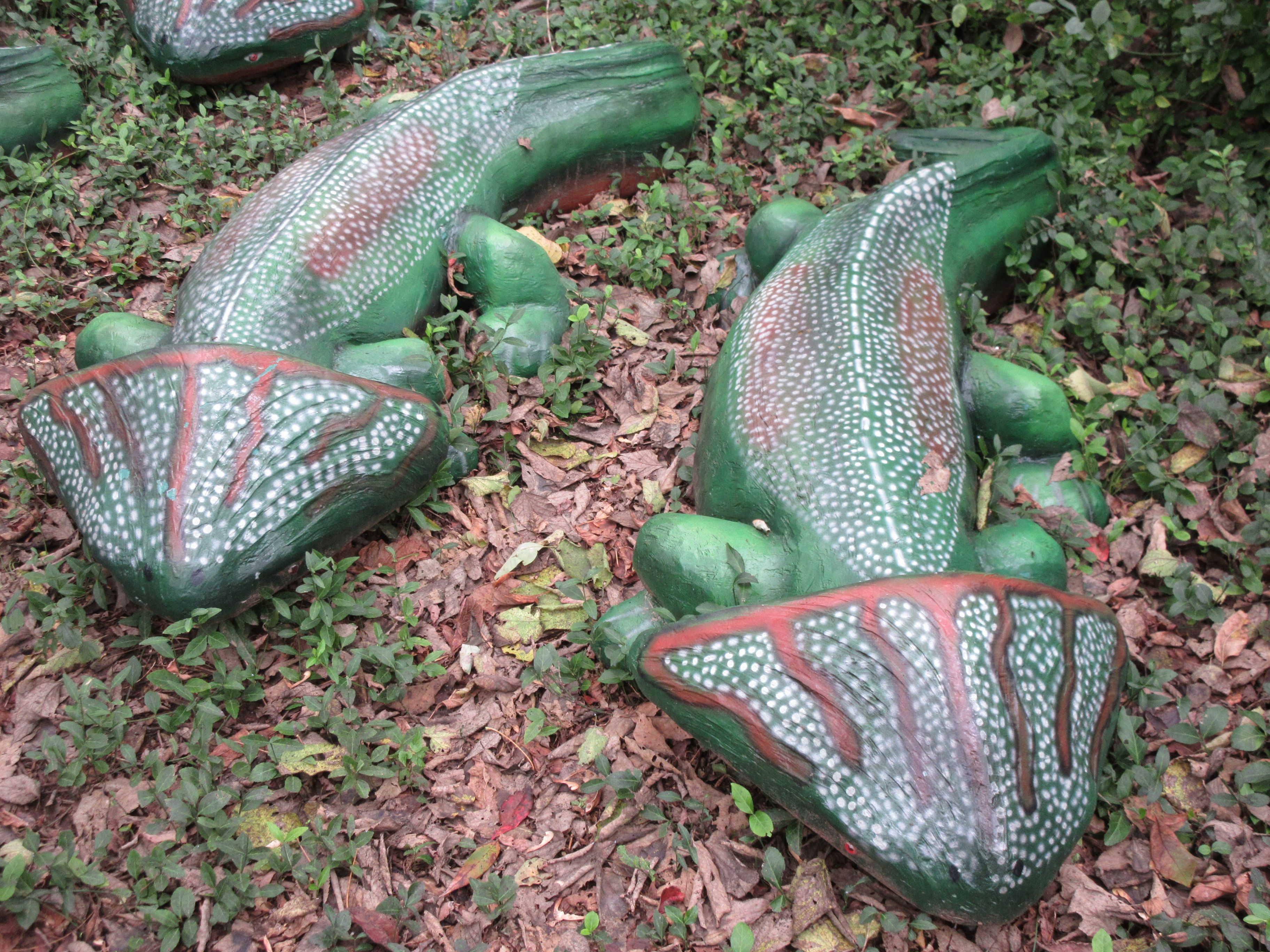 This psittacosaurus was one of the strangest looking to me, sorta like a parrot lizard. They were about human size.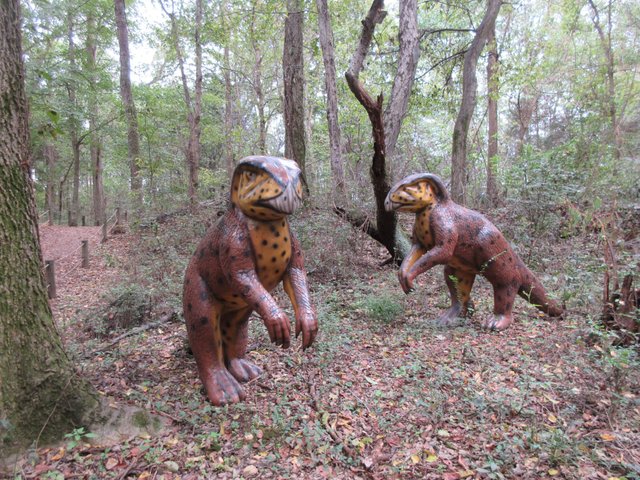 Of course they had the more commonly know triceratops, tyrannosaurus rex, and stegosaurus.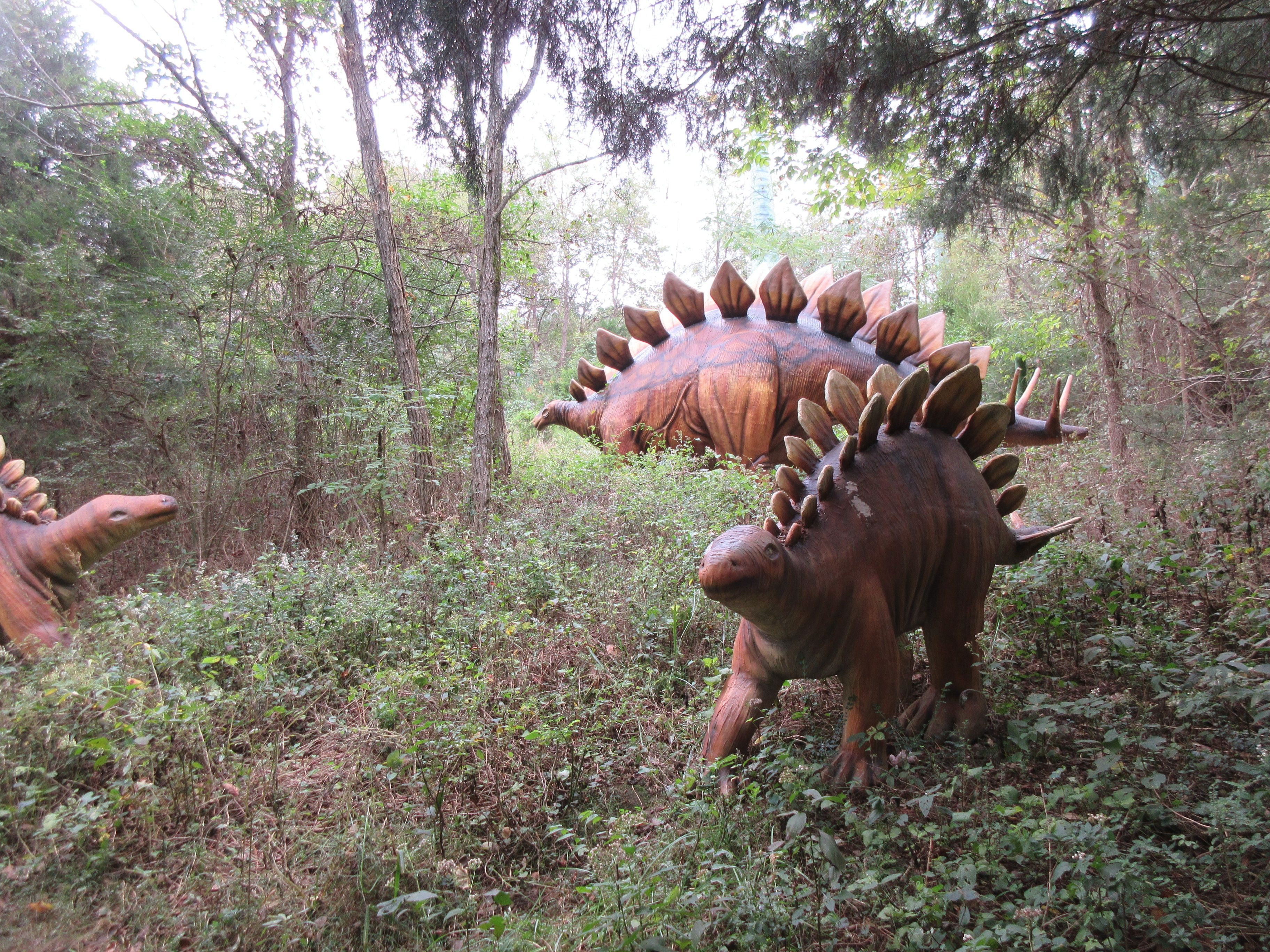 They even had babies. They were the cutest ever, like these styracosaurus.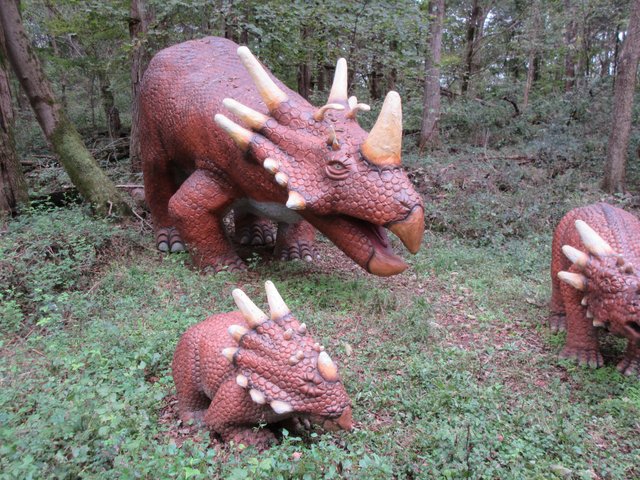 Many of the scenes featured family units, like this bunch of brachiosaurus'.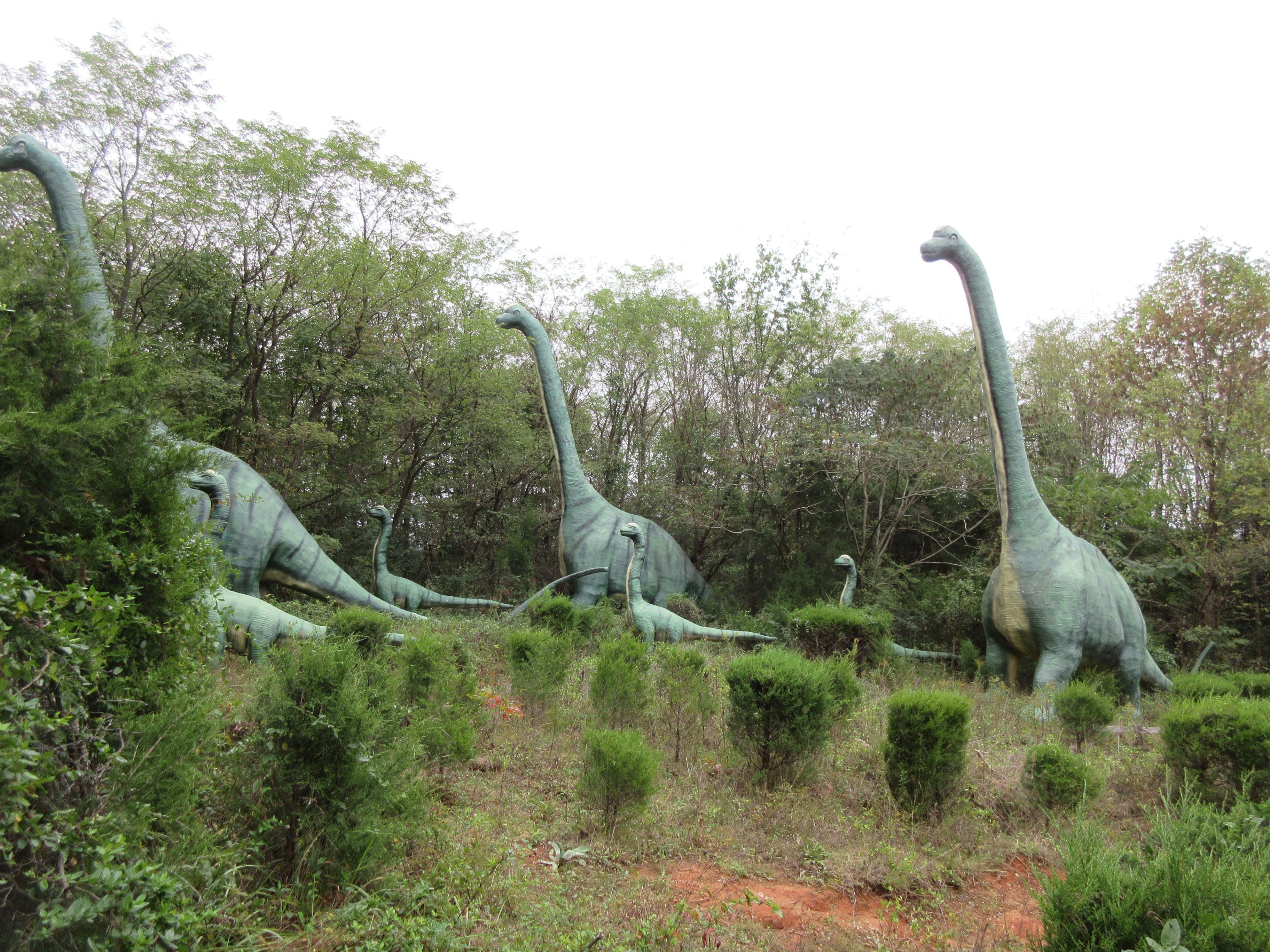 Just when you think you've seen them all, just gaze upward and you'll see several pterodactylus.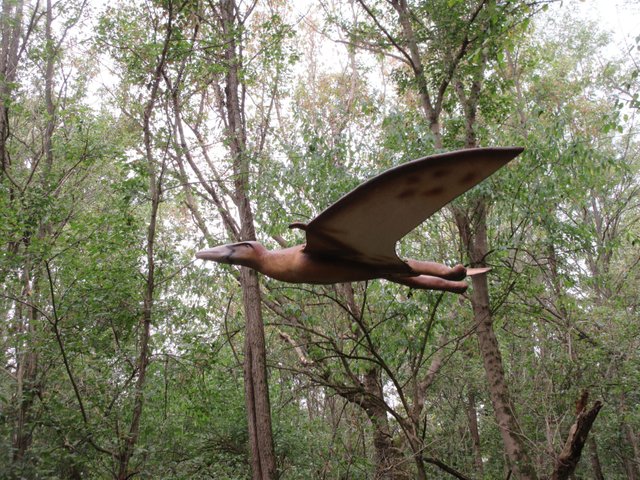 I've watched too many Jurassic Park movies and thought this was a velociraptor, like the ones in the kitchen scene. Turns out, the ones in the kitchen were dilophosaurus, as were the ones in the off road jeep scene. I sure don't remember them ever saying that name in the movie. Now, I've got to go back and re-watch it to find out.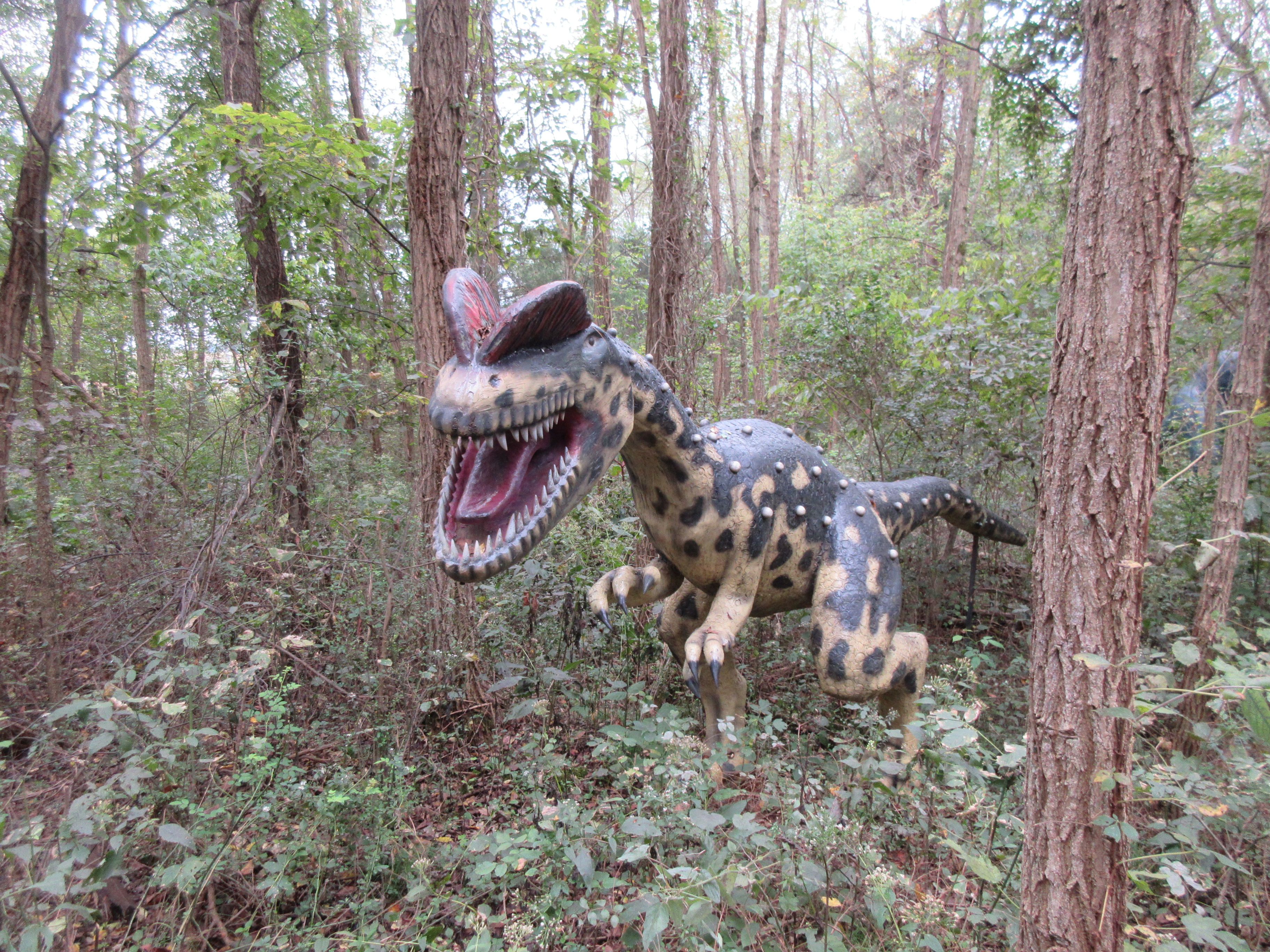 I was a little disappointed to learn that the actual velociraptors were these little guys.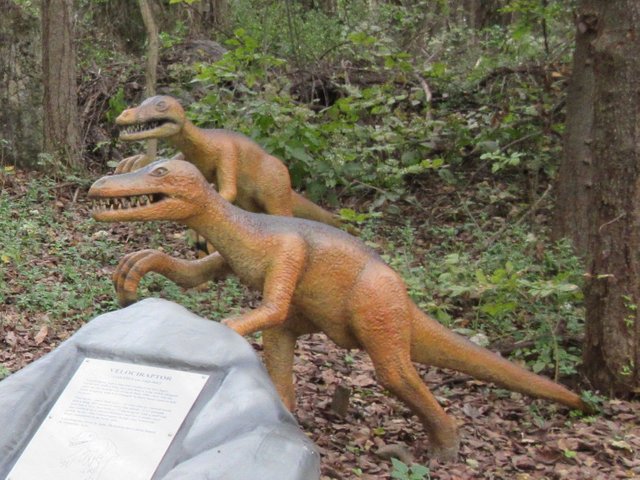 "The dinosaur sculptures themselves are made from a base of carved polystyrene foam, covered with fiberglass, then putty which is textured as the skin and painted with care. Each dinosaur is made on location at the park. About three new dinosaur replicas are added each year." Source I did read where some were constructed using fiberglass, steel, and concrete.
I have no idea why this guy, a pachycephalosaurus reminds me of an old timey football player wearing a halter top. Maybe its head looks like an old leather helmet? No matter, I burst out laughing for no apparent reason, which made it all the better.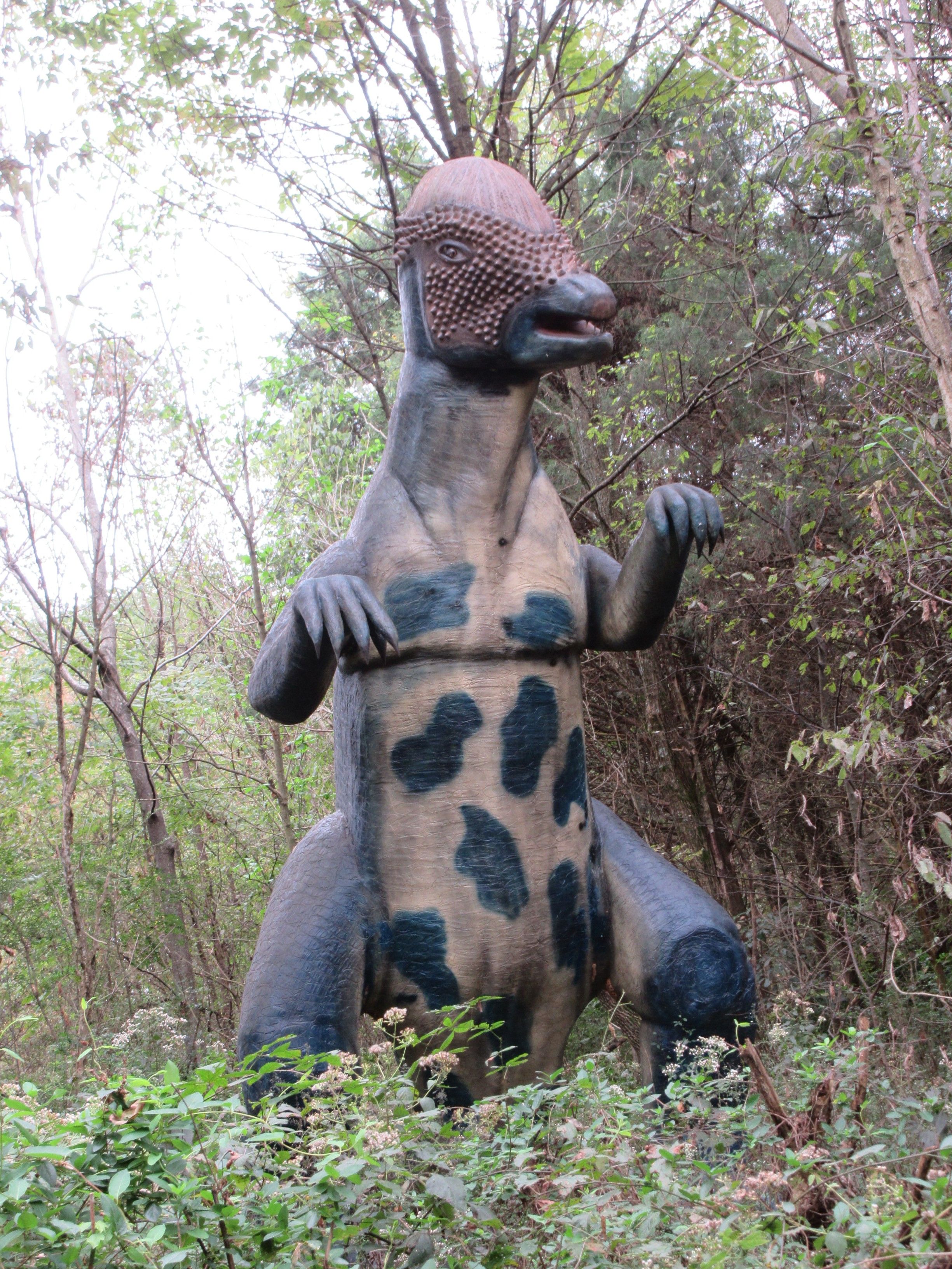 There are lots of on hand activities for the younger crowd (or older in my case) like the fossil dig.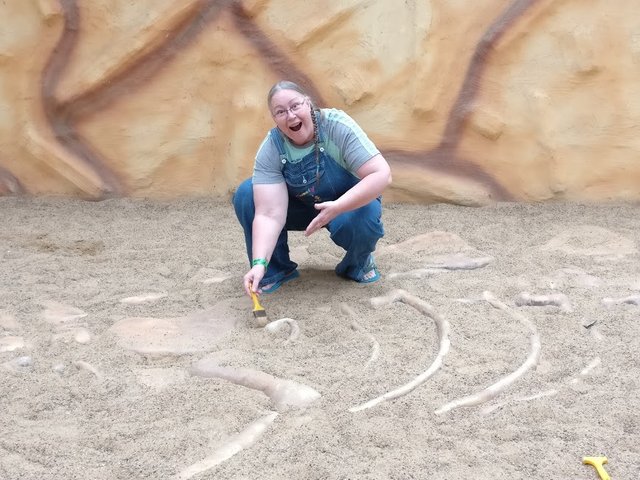 The gift shop was impressive, with loads of choices from the plastic and plush dinos for the kiddies to the high end fossils for the collectors and tons of stuff in the middle. The prices weren't stroke inducing either. (Dinosaur head bank)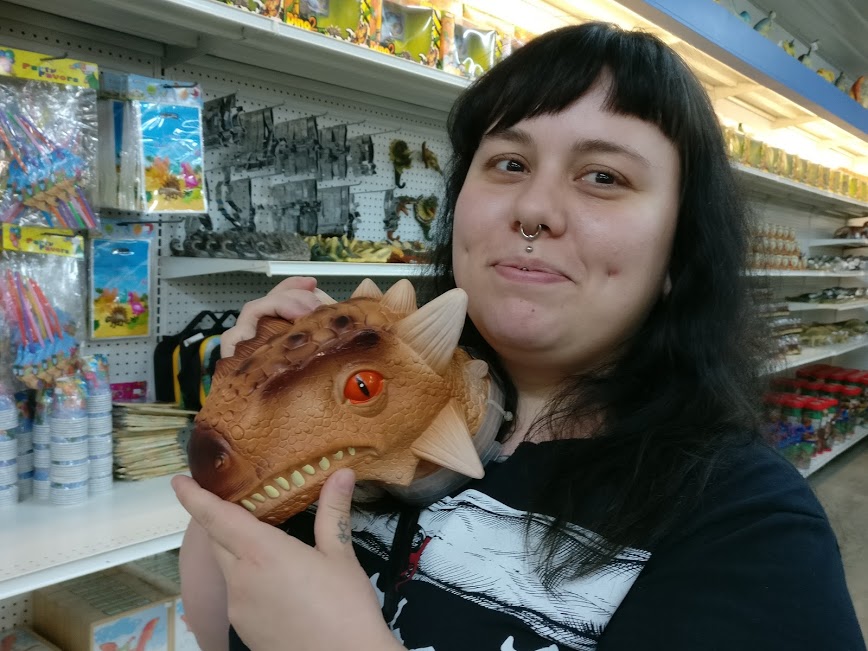 Oh, and speaking of prices, the tickets for adults were $13.75. No food is sold, but plenty of places for a picnic lunch were around and coolers are encouraged.
Something I found to be a bonus is that the park is dog friendly with watering stations along the way. So if you're looking for somewhere to take the family that you can have fun with, this would be a good option for you.
Back to my kiddo. Here's a fun one. The littles in the playground just sat back and watched as the "big kids" had all the fun, and soon enough the yard was filled with giggles and laughter. It was the perfect prescription for the day.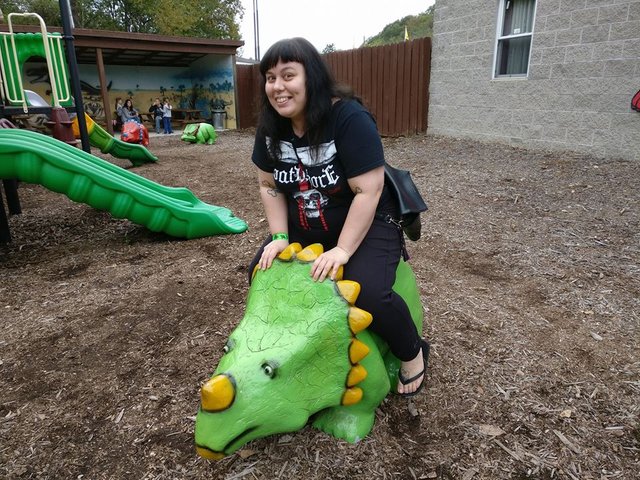 Onward in Strength!
Mary Lotus
Here's their website - https://dinosaurworld.com/kentucky/
They also offer free admission to all active duty military with a valid Active Duty ID and a $1 off for all dependents.