Tiwi Islands and National Geographic
Sunset over the red rock, white sand, and blue water at Bathurst Island in the Tiwi Islands. The islands offcially form part of the Northern Territory, Australia. They lie 80 km to the north of Darwin where the Arafura Sea joins the Timor Sea and are inhabited by the Tiwi people, as they have been since before European settlement in Australia. The Tiwi are an Indigenous Australian people, culturally and linguistically distinct from those of Arnhem Land on the mainland just across the water.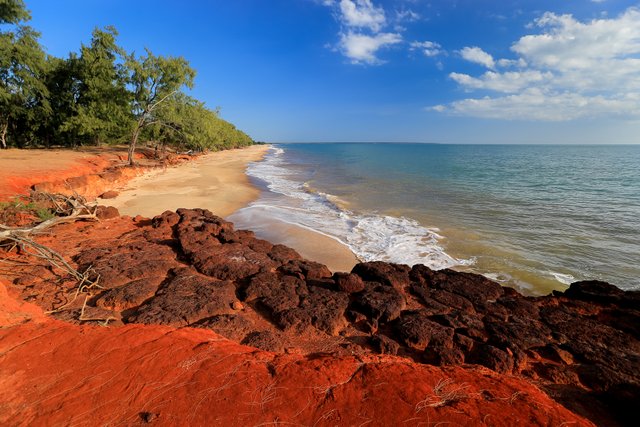 I was super excited when this shot was published twice as a double page spread in National Geographic publications. Firstly in their Spanish travel edition (NatGeo Viajes) and then in the National Geographic Portuguese Special Travel Edition (NatGeo Edição Especial Viagens). Magazines have perhaps faded in relevance now ; but as a child I used to spend hours looking though NatGeo and it was always a dream of mine as a teenager fooling around with a camera to one day explore remote places in the world and be published by NatGeo. While it must be said that this was in the Traveler magazine rather than the iconic expedition journal itself (which typically only publishes people it has on assignment ); it was close enough for me to claim it and put a metaphysical tick next to that childhood dream.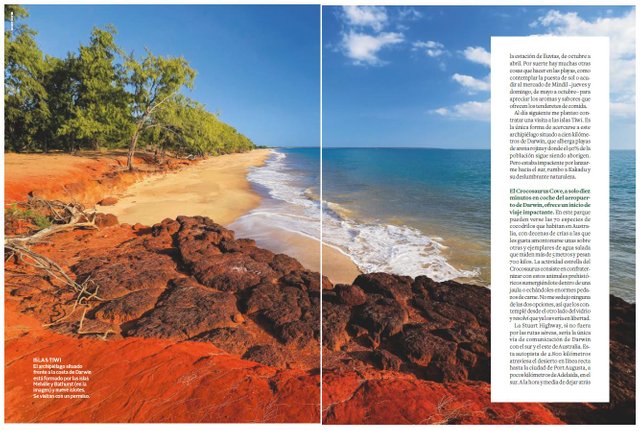 Its a very simple hand held shot with almost no editing. In fact I took all my shots on the Tiwi Islands in JPG as I accidentally had my camera off RAW mode at the time. I took it with a Canon 6D using 16-35 f/2.8L II USM at ISO 100, 1/160 sec, and f/5.6. It was a turning point for me mentally that equipment and settings are less important than the shot itself. To play the devils advocate on the shot; the 6D is not really considered a professional camera with respect to resolution compared to the 5 series, the 16-35 f/2.8L MK II lens is often criticized on forums for being too soft around the edges for proper landscape use, especially hand held at low f stop. I could not even push or pull these shots more than a 1/2 stop in light-room as they were JPGs. Despite all of this; this is the shot they were looking for.
I came away from this experience with a strong view that context is everything; at the very least in photography, but its not hard to extend that idea to most aspects of life. The perfect shot taken with the perfect equipment is worth nothing if it has no relevant context to anyone. I watch millions of people on platforms like Instagram aiming to achieve slightly better versions of exactly the same shots at the same locations; rather than look for unique shots from different locations. I am not sure if it's being driven by an exploding global shit storm of viral narcissism leading people to want their 'own' version of famous shots, or are the simple mechanics of mass image saturation leading to a collective lack of creativity? It can be hard not to get sucked into this vortex. Its the same with global travel hotspots and iconic landmarks where people almost need elbow pads to get through the sea of selfi sticks while a rich tapestry of life lies quietly just around the corner if anyone was to ever wander over there. Or at least they did before the pandemic. Its one of the reasons I am enjoying blockchain based social media at the moment; as the early adopters here for all our imperfections tend to be leaders rather than followers.
I have included the covers of the two magazines at the bottom of the post in case anyone ever sees them in an old second hand bookstore.
Rob Downie
Love Life, Love Photography
The main image in this post was taken by and remains the Copyright of Robert Downie - http://www.robertdowniephotography.com. Magazine covers remain the copyright of the publisher