Mt Barney East Face
Australian mountains are just so geologically old; they might be tiny and insignificant from a global perspective, but they just have a different quality to them. Like eroded jewels that have been polished by the rain for literally hundreds upon hundreds of millions of years.
The east face of Mt Barney is one of the largest slabs of rock in Australia at 320m (1050ft) and was first climbed in 1966. The South East ridge that we took our overnight packs up is the defined ridge you can see that runs on south side of the east face (coming towards the viewer). Logan's ridge is the one going straight up into the east face on the right of this shot (east side) and not suitable for packs without hauling ropes.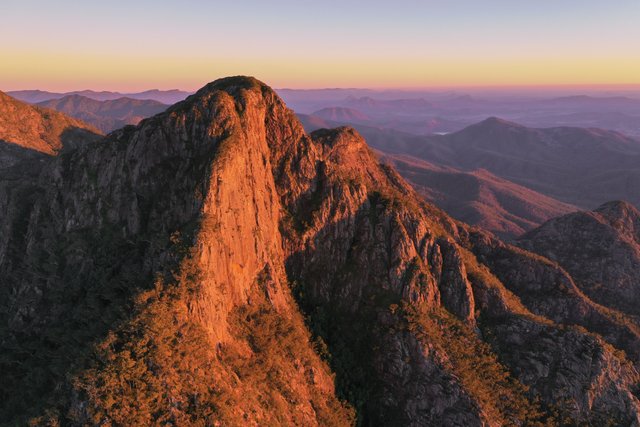 Mount Barney sits at 1,359m (4,459 ft) altitude (which is higher than one might think given it starts reasonably close to sea level) and is part of the Gondwana Rainforests of Australia World Heritage Area. Mount Barney National Park is in the Scenic Rim Region in south-east Queensland, Australia.
If you would like to learn a little bit more about my background in photography you can read the interview @photofeed did with me here.
Robert Downie
Love Life, Love Photography
All images in this post were taken by and remain the Copyright of Robert Downie - http://www.robertdowniephotography.com