Devils Thumb Alpenglow
"Like the Sirens who lured Ulysses to a blissful yet certain death, the northwest face of the Devil's Thumb continues to tempt the alpinist onto her flanks" Dieter Klose. Late night alpenglow adds a soft touch, however few peaks inspire the same mix of fear and respect as the Devil's Thumb in Alaska. A relatively low altitude peak at 2,767 m (9,077 ft) the notorious northwest face rises 2,042 m (6,700 ft) from its base. With an average angle of 67 degrees it is considered the steepest wall of that magnitude in all of North America.
While the peak itself was first climbed by Fred Becky in 1946, the northwest face remains unclimbed after five decades of attempts by scores of climbers including some of the world's top mountaineers. Most never even made it to the start of the face, while at least three teams have perished in the process. Dieter Klose who in 1982 made it halfway up the route, higher than anybody else alive, commented in the American Alpine journal that "as a rock climb it's a perfect place to commit suicide". The warm coastal winds, extreme Alaskan precipitation levels, and Patagonian style variability in weather all combine to make the conditions on the face notoriously slippery and prone to avalanche. A small theoretical climbing window is possible during the spring transition when storms can create thaw-freeze conditions and stabilise the face however many believe the level of weather variability is so extreme that it will never be climbed. No one has attempted the face since 2003 when two Canadian climbers perished.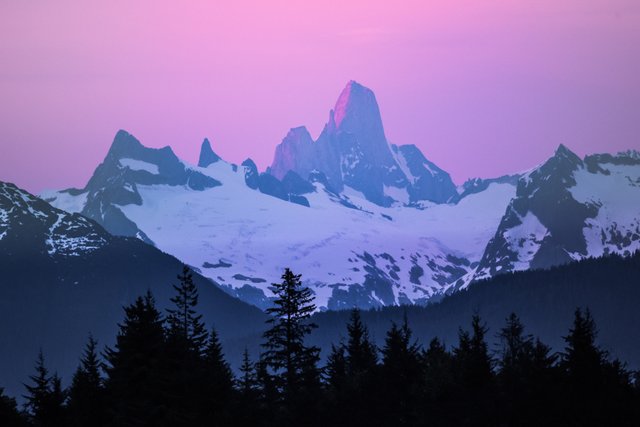 I took this shot while sailing in south east Alaska on a 50' Catalina. It was shot with a Canon EOS 6D, Canon EF 100-400mm f/4.5-5.6L IS at 400mm. ISO 640, f/5.6, and 1/125s.
The mountain was known as Taalkhunaxhk'u Shaa in native Tlingit, which translates to the "the Mountain That Never Flooded". The thumb is located in the Stikine Icecap region of the Alaska–British Columbia border, near Petersburg, and is often simply identified as Boundary Peak 71 on survey maps.
If you would like to learn a little bit more about my background in photography you can read the interview @photofeed did with me here.
Robert Downie
Love Life, Love Photography
All images in this post were taken by and remain the Copyright of Robert Downie - http://www.robertdowniephotography.com