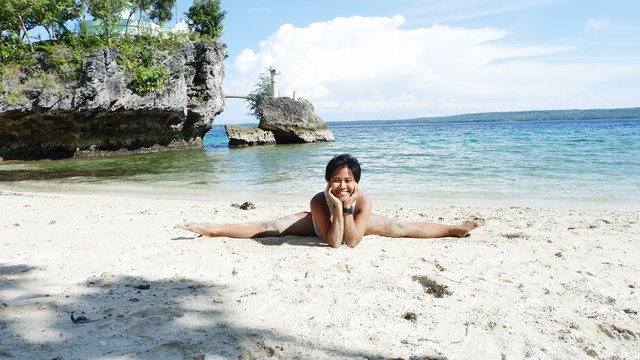 Feel a bit down or sad lately? Feel like life is slowly moving for you? Well, it felt like that for me. I felt like I was stuck in a slowly drifting boat with no destination. I needed to get rid of this feeling. I wanted to be refreshed and re-energized. I only have one solution for this – TRAVEL.
SIQUIJOR
I visited this place three years ago with my close friend Domino. And it was an epic trip with just the two of us and her cousins back then. And now I'm visiting this place AGAIN with her! Good thing, she already lives here together with her family. And when I told her of my plan, she was ecstatic! We haven't seen each other for three years.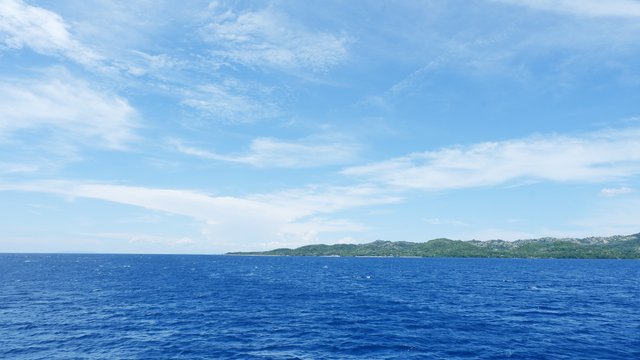 FIRST DAY – Bus and Boat Ride, Salagdoong Beach and Baha Bar
I took a bus trip from South Bus Terminal to Liloan Port in Santander(Southmost part of Cebu). The trip took about 4 hours. Arriving at Liloan Port, I thought I was still going to do the Liloan Port – Dumaguete – Siquijor trip again which would take much more time, but I was glad there was already a direct boat going to Siquijor. Another three hour ride on the boat. I was surprised to see a lot of foreign travellers headed to Siquijor as well.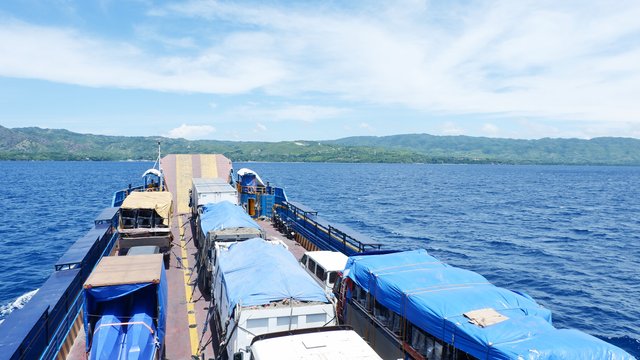 Note:
Liloan Port – Larena, Siquijor (Mon-Sat, 10:00am) –MAAYO SHIPPING
Larena, Siquijor – Liloan Port (Mon – Sat, 5:00pm) - MAAYO SHIPPING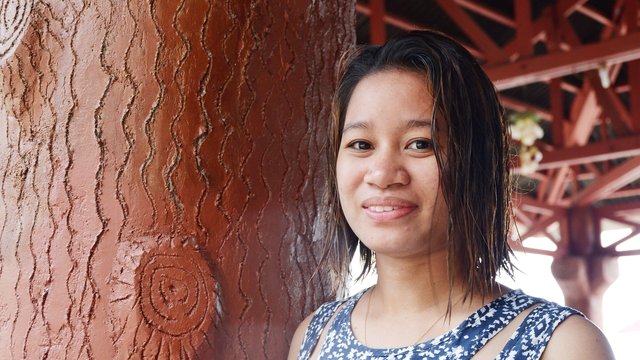 Domino was already waiting for me at the port by 1:00pm. We hug for a very long time. She is one of my truest friends that I treasure the most. We headed back to her place on her motorbike which made me shock and jealous at the same time. I never thought of her as someone to drive one. She told me it took her months to be confidently driving like that and she already had accidents as well.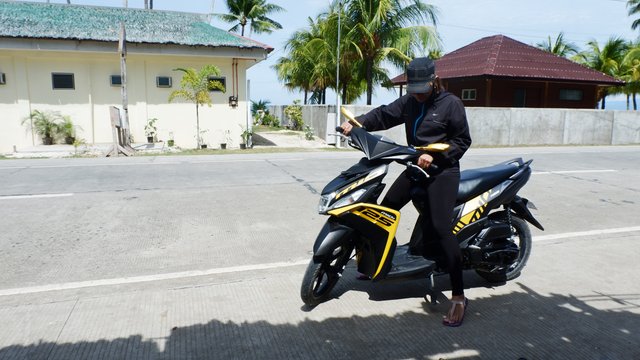 Time was of the essence. After having a short talk with her family, Domino and I went straight ahead to our favorite spot – Salagdoong beach. When we got there though, the wind was strong and it rained after an hour which forced us to cut our swim time shortly.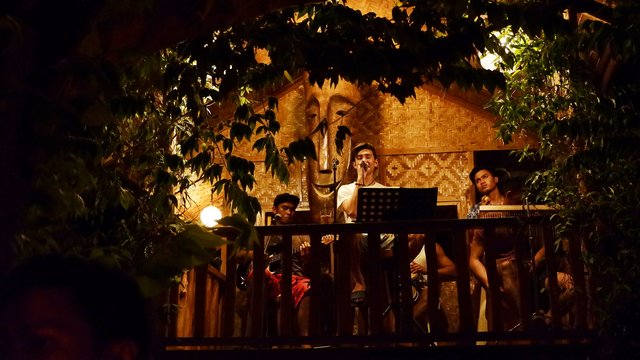 We headed to Baha Bar on the evening for some live music and drinks! Baha Bar is just one of the famous bars to chill out. It is located in San Juan which has now become the tourist destination for hostels, food and bars. I like Baha Bar for keeping it traditional or incorporating Filipino theme and accents into their place.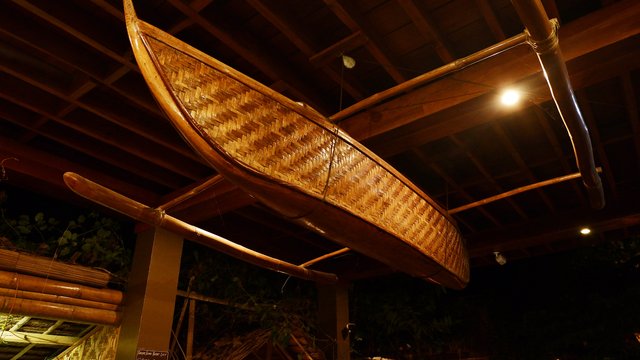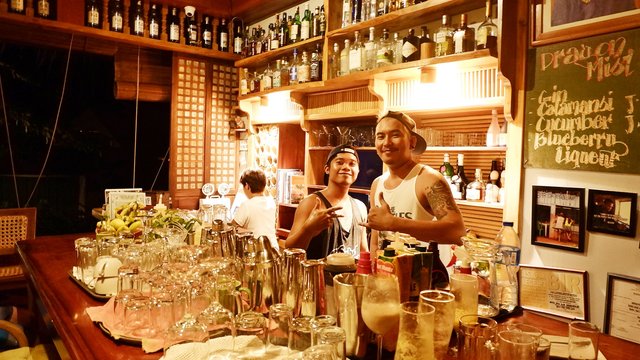 SECOND DAY – Century Old Balete Tree, Paliton Beach, and Monkey Business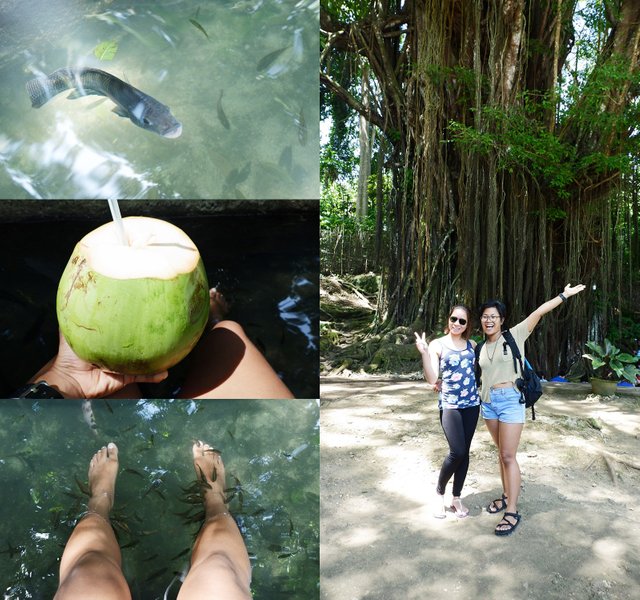 Another place we visited was the Century Old Balete Tree. This place was memorable for us because I drop my phone at the pond here three years ago. It was an hour and a half drive going here from Larena. The place was already pack with local and foreign tourists alike. There was now an entrance fee of Php 5.00 and a parking fee of Php 20.00.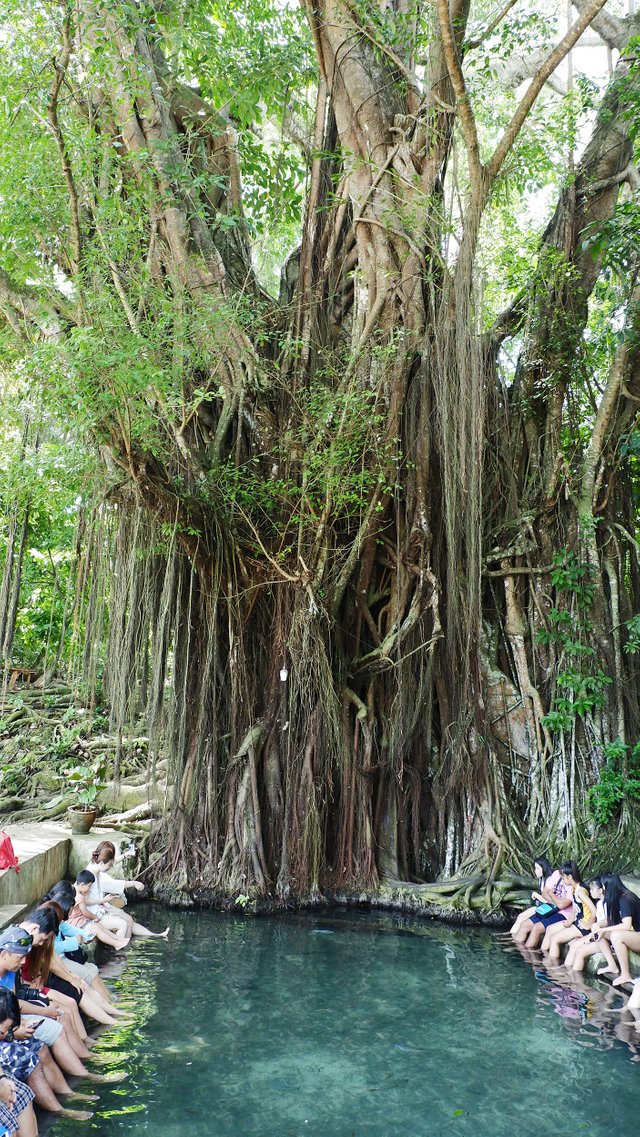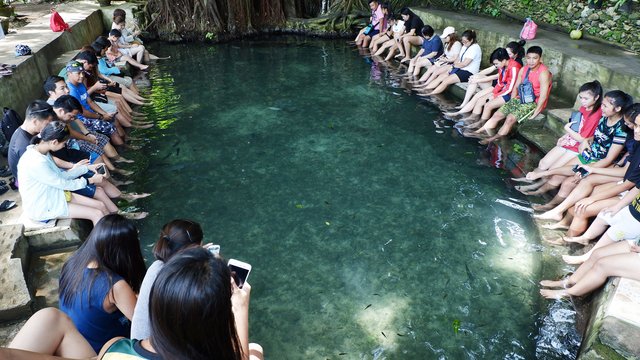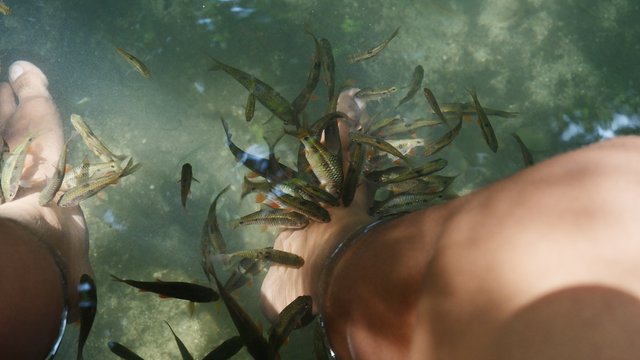 What people come here are the fishes. I don't know what type of fish they are but there the ones that eat off the dead skin from your feet.A lot of people were already seated around the pond at the foot of the balete tree so we sat at the farthest end where there were no people. We dipped our feet for thirty minutes and paired our relax time with some buko juice which costs Php 30.00. I really think my feet got cleaned thoroughly thanks to those fishes.
After our time with the fishes, we checked out the souvenir shops nearby.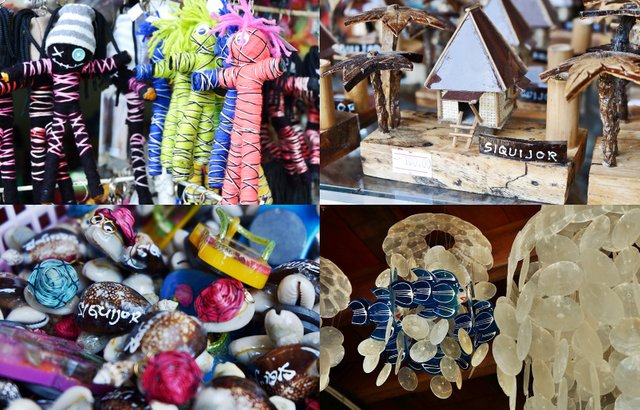 For our lunch, we had a delicious pizza. I forgot the name of the restaurant but I'm sure it's across Tori's Backpackers paradise.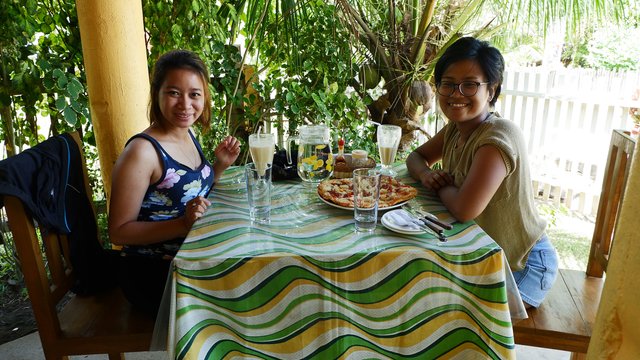 We then headed to Paliton Beach which was dubbed as the "mini-Boracay" in Siquijor due to its fine white sand. And true indeed, the sand was incredible unfortunately I was really disappointed of how dirty the place turned out due to the debris everywhere. Still, we stayed there for an hour to have a nap.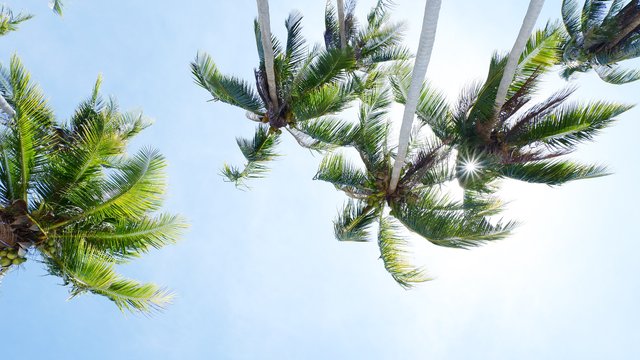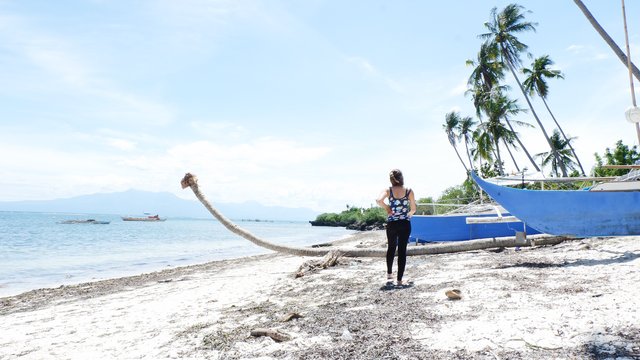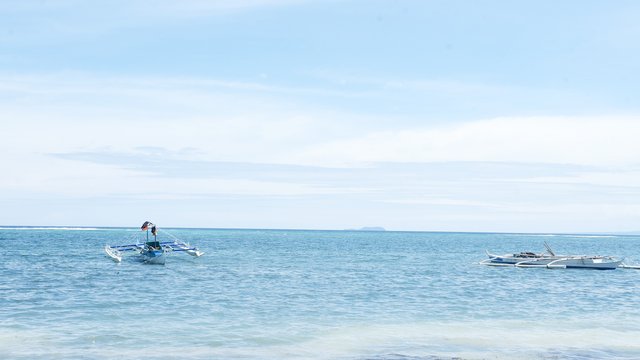 You can directly see Apo Island from here.
We stayed at the Monkey Business for our night out. Although, there were only a few people around, we actually had fun listening to the band and to those customers who volunteered to sing. Filipinos really do love to sing.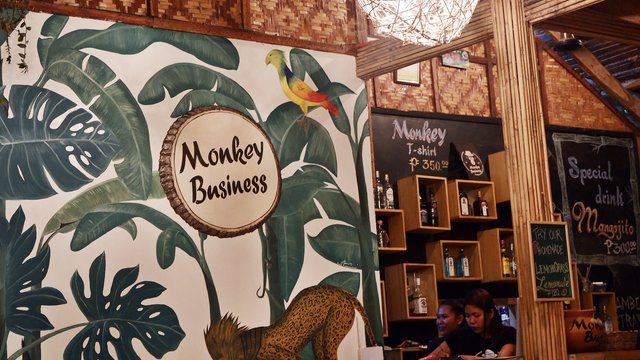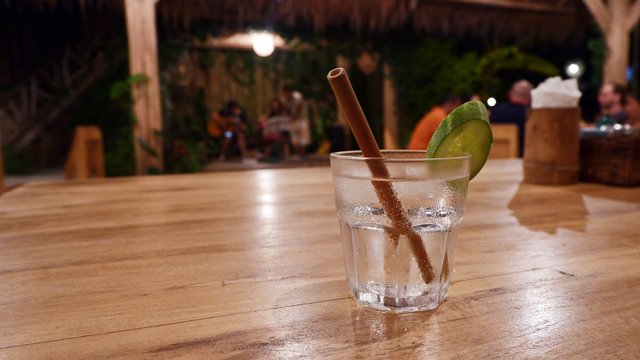 They are using Bamboo Straw.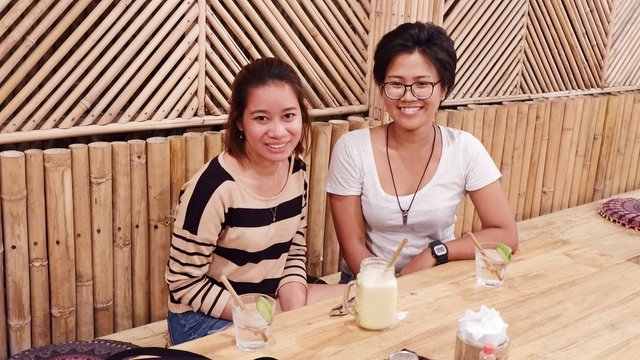 THIRD DAY – Salagdoong Beach
Domino had to work that morning so I stayed at their home, watched movie and slept some more. By noon time, we were again off to Salagdoong Beach. All the way going there, I prayed that the weather would be good so I can enjoy swimming. And it was just perfect. I did some photo shots for Domino and I'm glad she liked most of it.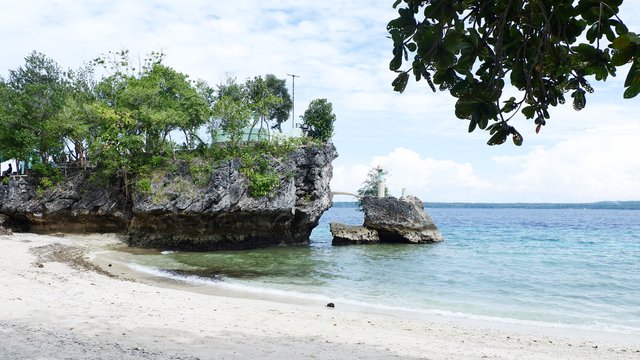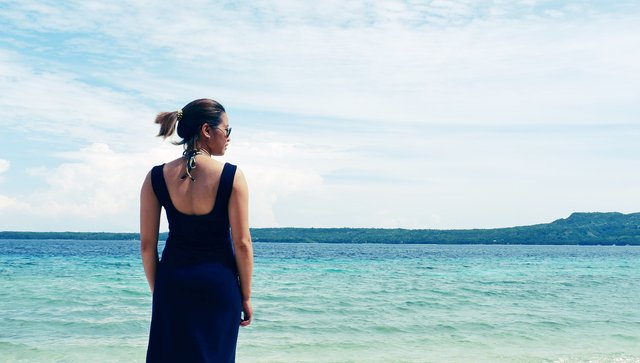 I didn't anymore bother doing the cliff jump since the tide wasn't high enough. Instead, I enjoyed the beach all to myself. This was such a great way to end my time in Siquijor. We left the beach around 3:30pm and went straight to the port. We ate some snacks at the nearby store before I bid my farewell to Domino.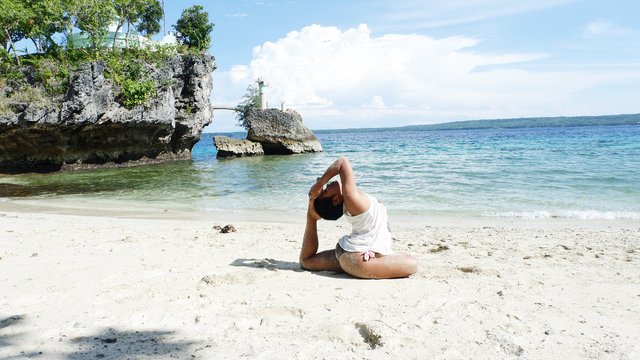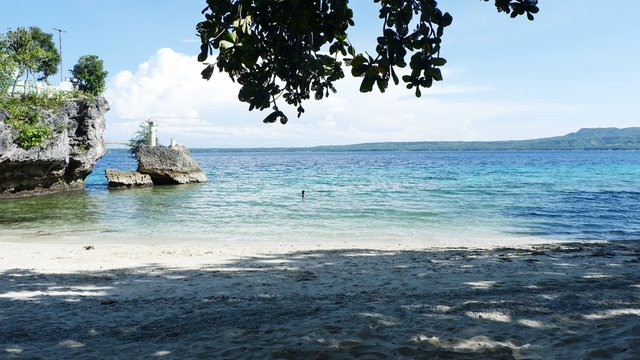 It was a fun time in Siquijor. I'm forever grateful to Domino for her generosity and love. For letting me stay with her and made sure I felt at home with her family. I don't know when we will see each other again but for sure, it will always be like we were never apart.
Note: If you find yourself traveling back to Cebu from Larena, Siquijor through the 5:00 pm boat. Do not fret upon arriving in Liloan Port around 8:00pm. A bus will be waiting at the docks.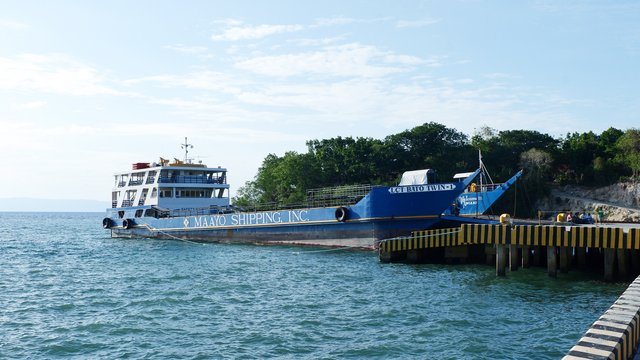 Other things to do in Siquijor:
Scuba Diving – which is the primary reason for the influx of foreign travelers to this place. Go directly to San Juan.
Biking – There is a mountain bike trail going up to the Bandilaan National Park. Head to Baha Bar, they organize a biking activity there.
Island Hopping – Rent a boat and head to Apo Island! Best place to snorkel, dive and see some turtles.
Other places to visit in Siquijor:
Cambugahay Falls – Dom and I didn't anymore visit this place since it has become crowded by tourists lately.
There are also caves in Siquijior but I haven't visited one yet.
---
Thank you so much for reading guys! If you head out to this amazing little quiet island, let me know if you went to the caves, or to the butterfly farm or which reefs did you went diving to. Stay tuned, Steem on and Always remember...YOU ARE AWESOME!

---
Posted from my blog with SteemPress : http://indayclara.vornix.blog/2018/08/08/need-to-unwind-then-off-to-the-little-island-of-siquijor-philippines/
---