NOKIA 8 SIROCCO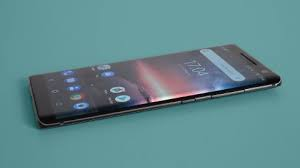 Nokia is gradually delivering better and more mobile phones, and even though it is not yet fully in the line with the best manufacturers, its offer is improving every year. This year it releases a restored version of last year's series where it improves parameters, design and options. Similarly, there is a new version of Nokia 8 called Nokia 8 Sirocco. At Nokia, she wanted to offer a luxurious design, high speed and quality in every area. Partly there is it, but there is still something missing.
specifications:
Display: 5.5 ", OLED 1440 x 2560, Gorilla glass 5
Processor: Snapdragon 835
Memory: 128 GB, 6 GB RAM
Camera: 12 MP, f / 1.8, 25 mm (wide), 1 / 2.55 ", 1.4 μm, dual pixel PDAF
13 MP, f / 2.6, 1 / 3.4 ", 1.0 μm, 2x optical zoom, AF
Front: 5 MP, f / 2.0, 1/4 ", 1.4μm
Dimensions: 140.9 x 73 x 7.5 mm
Weight: 177 g
Waterproof: IP67
Battery: 3260 mAh
The specifications are not bad at all, but practically the same as in Nokia 8. There is Snapdragon 835 last year, though weaker but still powerful enough. It adds a nice 6GB of memory and 128GB of flash. Surprising is the ratio of the display that remained in the 16: 9 format, which is now a gradually outgoing trend. However, the mobile looks nice and can appeal to you because it is not as stretched as it is today. It has a height of 14 centimeters, which is among the standard mobile size. Compared to Nokia 8, it is shorter by a centimeter due to the disappearance of the fingerprint scanner from the front and the backward movement. Although there still remains a lot of space under the display.
Very positive is the change from LCD to OLED display, which has 1440p resolution and nothing can be denied - great picture, brightness. It even has rounded edges added to the Samsung Galaxy series. Although it's not as perfect as the Galaxy, the screen is not up to the edge, and the rounded parts are larger. It is more powerful, but not as enjoyable as Samsung.
In any case, the rounded edges of the display are very nice on your finger, but only when you stay on the display. Once you slide from it, you will come across a metal frame that pulls around the entire edge of your cellphone. It is thinner and sharper and it ruins the good feeling that could create a rounded display and a rounded bottom. It is as if the design has not coincided with ergonomy. Respect for ergonomics and the practical side is completely forgotten, as the thin strip incorporates buttons that are also very thin and do not feel comfortable. It can not be said that this would be a major problem, and it will get used to it, but as if it was a luxury design tax. The mobile is also waterproof and you can also swim peacefully with IP67 certification.
The cameras recorded a major jump from the original Nokie 8, although according to DXoMark benchmarks they are 84 points. Compared to 13 MP + 13 MP is now 12 MP and 13 MP but there is a better aperture and 2x optical zoom. It's a good camera, not perfect, but expect nice colors and good sharpness in sunny weather, but when the light is gone, the picture becomes obscured. Videos also lose details. The front 5 MP camera is a necessary addition. What I hinted at is that it is very difficult to take one hand. For the thin edges, one hand is hard to hold with a hand and if your finger touches the rounded part of the display, the tap on the photo button is not responding to the display. I had to find a special grip there to block nothing.
The battery jumped from 3090 mAh to 3260 mAh. It's not much, but it lasts a day and a half at a moderate load, where you can also swallow, browse, and call the phone. It's not a two-day battery. Charging is as standard for 2 hours via the USB-C port, and now you can also charge over a wireless QI system that is traditionally slower but more comfortable.
From a performance point of view, Sirocco is lower than other hi-end mobiles, and the Snapdragon 835 processor holds it on last year's power at the level of Nokia 8. It's not bad performance and you know how to play it, but you can find it in terms of price and performance even better possibilities.
Antutu 7
HTC U12 plus (Snapdragon 845) - 263726 (CPU 90789, GPU 107087, UX 55472, MEM 10378)
Samsung Galaxy S9 (Snapdragon 845) - 263494 (88377, 107305, 58657, 9155)
Samsung Galaxy S9 plus (Exynos) - 252957 (94792, 93709, 55826, 8630)
Samsung Galaxy Note 9 (Exynos) - 247229 (86854, 96071, 5959, 8355)
Samsung Galaxy S9 (Exynos) - 246967 (90355, 91186,6654,8772)
Nokia 8 Sirocco (Snapdragon 835) - 209369 (71796,84278, 45186,8109)
Nokia 8 (Snapdragon 835) - 200881 (68656,82005, 42600,7620)
Huawei P20 (Kirin 970) - 195853 (70537, 72896, 39215, 13205)
Z3 Play - 111939 - CPU 51708, GPU 21293, UX 31554, MEM 7384
Redmi Note 4 - 74854 (38126, 12590,19102,5036)
Moto Play Z2 - 68451 - (22297, 13338, 27187, 5629)
Nokia 6 - 59168 (28842,8920,16557, 4848)
Redmi 5a prime - 57920 (27587, 9560,16210, 4553)
From 3D Mark going to 3768 in Open GL and 2939 in Vulcan, it's not bad performance. It is also good to play PUBG or Fortnite. Fortunately, so far only hi-end chips support, but the Snapdragon 835 is one of them, and it is nice there without tearing and even at maximum adjustable detail. Feeling slightly warm on the back, but not noticeable.
Mobile is a standard Android 8 system in Android One, which means quick updates but also the need to download all the basic applications that have different launchers automatically preinstalled. Personally, I do not like this shredded base, but if you prefer it is here for you and you can install it just what you need.
When we take it all over, Sirocco is a very nice looking luxury mobile phone. The only pity is that the ergonomics of the mobile with sharp edges and slick buttons has suffered for the luxurious look, contrasting to the rounded display. There is also a compromise of performance, as the chip is from last year, but you are still in a fast area. Similarly, this applies to cameras that are high quality but also not top.
It is clear that Nokia with Siroccom is fond of fans of luxury and people who want to have a nice but still decent cell phone that attracts attention despite the fact that it does not have rainbow colors. Perhaps it's a shame that it's not quite clear with the price, as it's still worth more than 500 Euros a few months after the release, where you get a higher class of mobile. Again, Nokia is gradually improving and bringing more and more interesting mobiles, but it's not yet where it wants to be or where we want to see it.