🌿 Roasted Moroccan Carrot and Quinoa Salad 🌿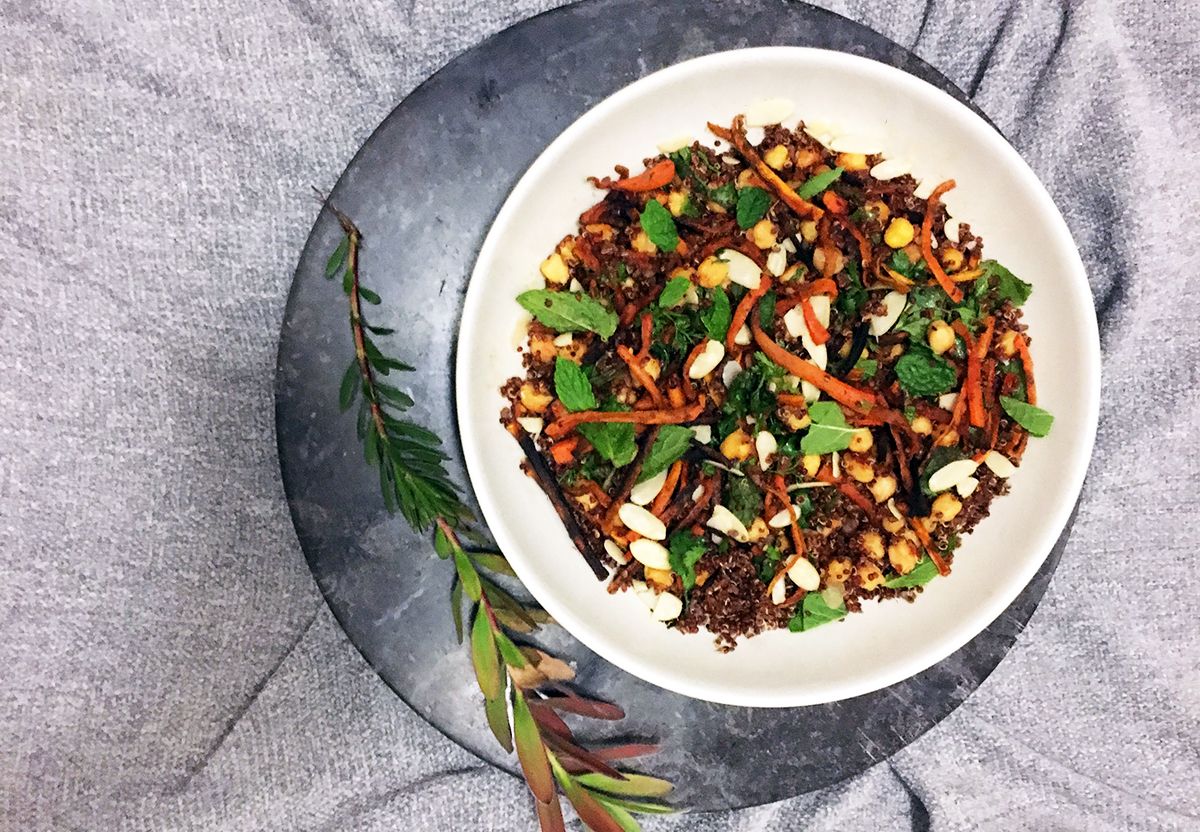 Happy weekend, Steemians! Here in South Africa we are almost in full summer. This means loads of outdoor braais (barbeques), beach visits and never ending summer days.
---
In South Africa, we braai A LOT. Having a birthday party? Let's braai. It's your kid's birthday? Let's braai! It's Saturday? Let's BRAAI!
Having all of these outdoor meals calls for a great salad. In South Africa the most traditional braai sides are coleslaw (boriiing!!!) and potato salad. I like to change things up and make something amazing! My friends call me The Salad Queen 💁
---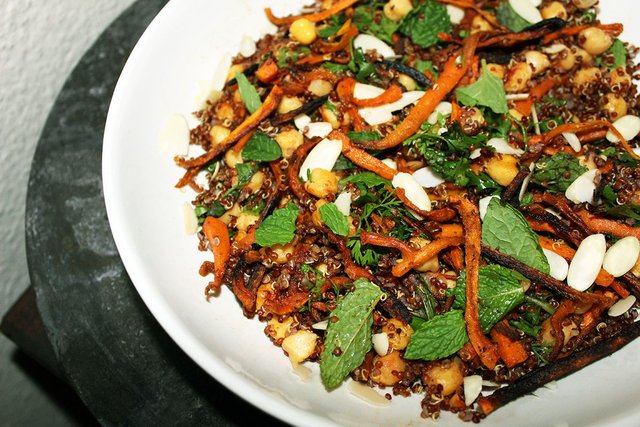 My latest creation is this nutty Roasted Moroccan Carrot and Quinoa Salad. I'm kinda proud of it. It's vegan, tasty, crunchy and full of flavour.
Here's how to make it:
INGREDIENTS:
Six to eight medium sized carrots, cut into matchsticks.
1 x 400g can of chickpeas
1 cup of cooked red quinoa, packed
small handful of mint leaves, torn
small handful of basil leaves, torn
large handful of coriander, chopped fine
sprinkling of sliced almonds
cumin
powdered ginger
smoked paprika (you can find this in the Spanish/Mexican food aisle)
chinese five spice (if you don't have, sub with cinnamon)
salt and pepper
---
METHOD
Preheat the oven to 200'C (392'F). Place your carrot matchsticks on a baking tray, and glug a bit of olive oil over them. Add a sprinkle of the cumin, ginger and five spice. Season with salt and pepper, and place in the hot oven for about twenty minutes. Keep an eye on them, as they cook quickly. You want them to be roasted evenly, with a good crisp, but not to the point that they are blackened.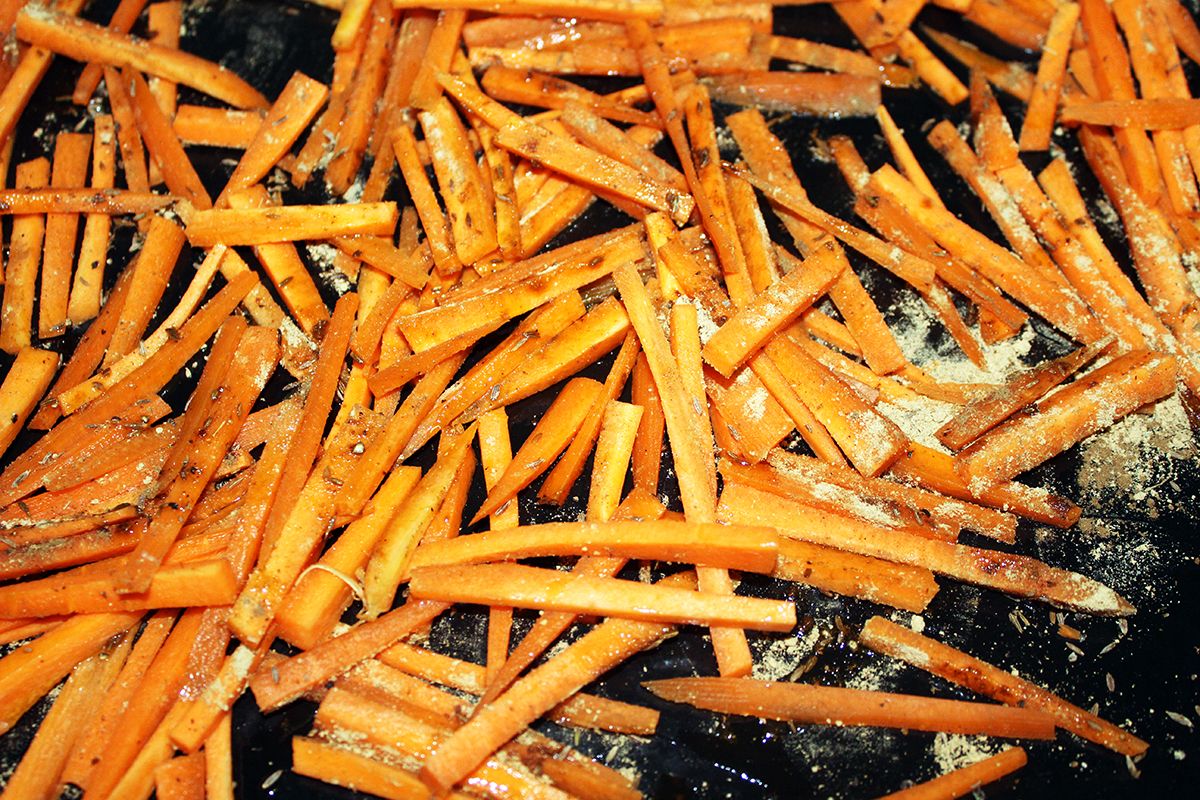 In a small baking tray, place the chickpeas, and sprinkle in the smoked paprika. Not too much, as it can get a bit bitter. The chickpeas should look like baked beans in tomato sauce do 😜 Bake them for around twenty minutes, or until cooked through with a slight crisp.
While your carrots and chickpeas are roasting, you can assemble the cooked quinoa and chopped herbs in your serving bowl. When they are done, if you are serving the salad as a warm dish, you can add them in then, or wait for them to cool.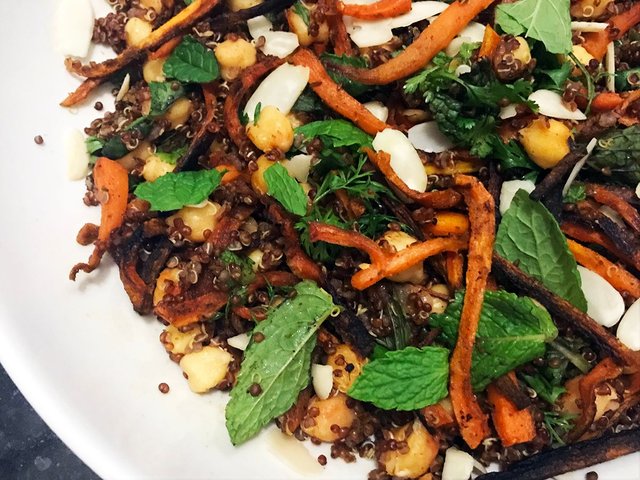 Once cool, mix into the bowl with the almonds.
Serve with hummus to keep it vegan. You can add some crumbled feta cheese if it's looking all too healthy for your liking. 😜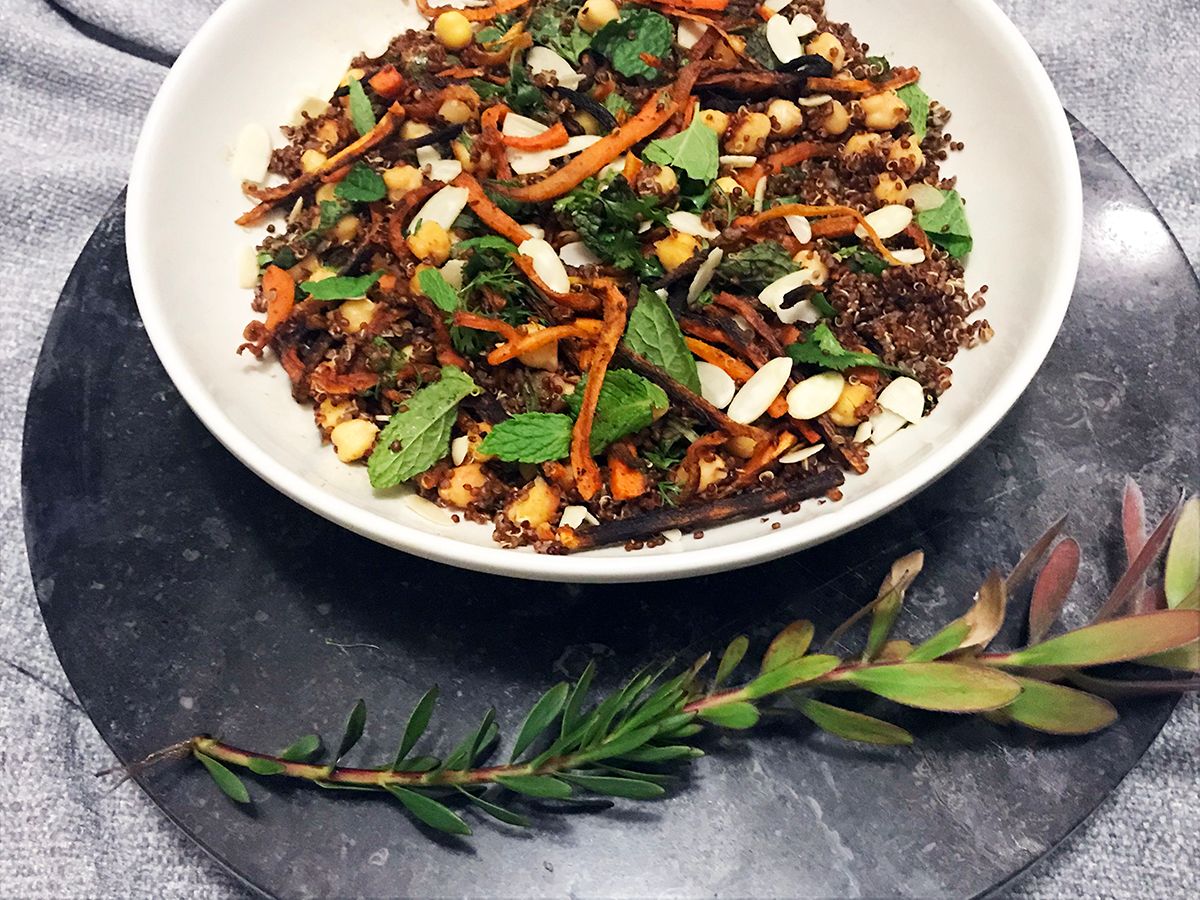 Hope you enjoyed my lekker (great) salad! For more deliciousness, head onto my personal steemit blog HERE