This is my entry to #adoptaminnow, an effort started by @whatsup to encourage experienced users to adopt newer users of the SteemIt platform and assist them for the first bit of their long swims into the SteemIt ocean.
Up for adoption today is a Canadian HRIS software developer who is also a board game geek, pet owner, half-decent cook and aspiring medieval knight!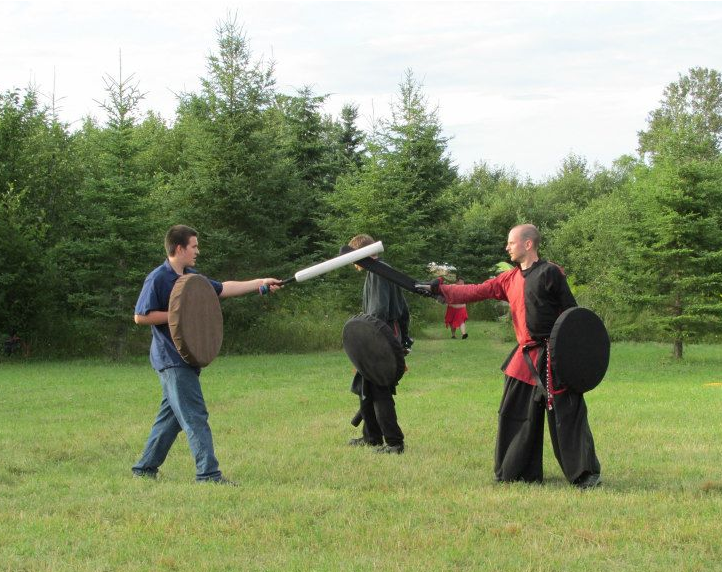 That's me on the right participating in my completely normal hobby.
To talk about how I found SteemIt, we have to hack time all the way back to 2013. I was busy skipping my university classes when I stumbled upon Bitcoin for the first time. For three days, I voraciously learned everything I could, and started mining. By the end of those 3 days, I had $0.10 in Bitcoin and no motivation to continue.
Fast forward to November 2017 when I heard that the value of Bitcoin was on the rise. Recalling my mining efforts, I retreived my Coinbase password and discovered $23.00 of Bitcoin - Not bad! Soon thereafter, I started to put a bit of cash into the crypto markets. One day as I was reading up on various altcoins I learned about SteemIt and decided to check it out.
I really like the idea of being able to profit from my content creation, rather than having all of the proceeds paid out to some multinational corporation that's farming my data for profit. If I'm going to waste my life on social media, I might as well get paid for it. With SteemIt, I feel like I'm seeing content from all over the world by people with very diverse backgrounds and interests all talking about the things that they're passionate about. It's a neat platform, and I'm enjoying reading as much as I am writing.
SteemIt is my first real foray into the world of blogging, and after about three weeks I'm still not quite sure what direction I want to head in. I love to evaluate, analyse and problem-solve everything. So far I've spent countless hours researching and blogging about countless topics, ranging from investment strategy, to photos of my pets, to discussing the problems that I see with the SteemIt platform, and their potential solutions.
Back on topic... #adoptaminnow!
My intentions
I'd like to get more involved with helping to improve the SteemIt community. I really think that with some changes, SteemIt has the potential to become a top social network, but it's not there yet. I'd like to help the platform grow and I would like to be involved in promoting positive changes to increase user retention and hopefully reduce the amount of drama that's happening on the platform.
I feel very strongly on a number of contentious issues, such as the impact of bots on the SteemIt platform, curation problems and reward pool abuses. I also feel like the platform is long overdue for some enhancements to make it more user-friendly to newbies. I hope to become more involved in these issues, through posting/lobbying for changes and direct involvement in the development of the SteemIt platform or related tools.
I have talked to SteemCleaners and Patrice a bit about these issues already, and I did a bit of work on some tools to help SteemCleaners with identifying and flagging spam posts, however I would like to see what others in the community are doing and how I might be able to help out with some other community projects.
I also hope to find a niche in terms of blogging (Other than meta-talk about how to fix SteemIt). I'm not sure what that topic will be yet. I enjoy a wide range of hobbies that tend to fluctuate seasonally, including gardening, cooking, minimalist/frugal living, personal finance, board games, photography, drawing/painting, DIY and more.
I'm looking for...
I would like to network with people with an interest in improving the SteemIt community via involvement in the creation of community resources, tools or programs. I would love to brainstorm ideas, and solve interesting, or difficult problems.
I'm not primarily looking for promotion (Although that's always a nice bonus) so much as I'm looking for guidance - What sort of content should I be posting? Who should I be talking to in order to get more involved in community projects? Why won't my crazy idea about how to solve curation/spam work? Did somebody set up us the bomb?
I'm hoping to talk to people who can point me in the right direction, who can act as a sounding board for my ideas (and vice-versa), and who might give me some new ideas... Are you that person?
---
Thanks for reading,

-Matt

If you enjoy my posts, don't
forget to upvote and