Adonx-a new exchange Era review
I. What is Adonx.One?
Adonx.One the Payment System for new digital Economy.
To provide simple, fast, innovative, state of the art, secured yet powerful crypto exchange, escrow & payments platform.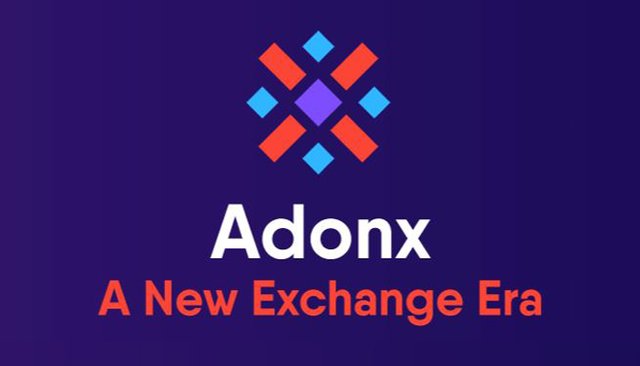 Most of the crypto startups and small traders are suffering from high listing fee and trading fee. Adonx platform aimed to list all eligible projects with very low listing fee and provide near zero frading fee experience to traders.
II. Adonx.One Featurs
"Making trade and crypto commerce unconditional and better for everyone by providing an exceptional platform to consumers and businesses, Makes it universally, easy, accessible, and useful."
Multi-Layered Security
Adonx backend is built on a multi-tier application architecture, and all requests will always flow through multiple secure layers in order to fulfil the request. Adonx platform has been architected carefully to mitigate/minimize security issues and vulnerabilities in different stages, some of them but not limited to transport level, application level and storage level security issues.
"Secured Sockets Layer is always enforced when and wherever applicable in the transport layer. Data encryption/decryption is always enforced in several layers where ever applicable. Adonx platform by default supports following user-level security":
• Strong password
• 2 Factor authentication
• PIN-based authorization
• OTP based authorization (through E-Mail, SMS & 2FA apps)
Most of the endpoints are being protected by second-level authorization. Configuration options are available per feature in their account settings page.
All security layers will be monitored, analyzed, and audited on a regular basis, patches and updates will be updated whenever required
Multi Crypto Wallets
Different blockchains have different wallets, every user will be facilitated with unique wallet address per blockchain, some of them can be rotatable ( i.e., user will get a new address every time they receive a deposit, this option may or may not available depending other features user enable or blockchain type) an option is available in their settings page.
Crypto Wallet Address #
Crypto wallet address comprising a string of alphanumeric characters, these addresses are generated on a blockchain using a set of private and public cryptographic keys. The length of the address may vary on underlaying blockchain technology and it's hard to remember because of its randomness and length. Example of bitcoin address as illustrated bellow
19WLgARaJpbzceJptrDQTfYSS6uQSKRxcs
Vanity address #
A vanity address is a personalized crypto wallet address on the blockchain, these types of address may be useful for business users on B2B, B2C type of business, an example of bitcoin vanity address as illustrated bellow
19EmmaCoffeepbzceJptrDQTuQSKRxcs
The complexity of generating of a vanity address depending on its pattern and certain criteria and sometimes it may take a lot of time to generate such address depending on its complexity. Adonx planned to support such vanity addresses on supported blockchains. The applicable fee will be charged depending on its complexity and time to generate.
"Caution: Vanity addresses can make it possible for anyone to create an address that resembles another vanity address. They are not special or provide any kind of additional security or any features, they are just like other address on blockchain except they personalized".
Account Alias
Adonx platform provides unique aliasing system to it easy for users to deposit from anywhere anytime without logging into an actual user account. User will have an option to set up alias name for their account, these aliases will provide access to get their deposit address for different wallets. A typical account alias will look like as below
https://adonx.one/#/[email protected]
Anyone can see the address of a wallet if they know alias of a user on Adonx platform. To secure this behavior a layer of security is added with OTP/2FA, so the user needs to provide expirable OTP/2FA code to third party along with alias to see the address of the wallet. Alias security is configurable, you can make it private with OTP/2FA/PIN security or altogether you can make them public. It's up to user decision. This feature will enable users to make quick deposits to their wallet from anywhere anytime without signing into their account.
Atomic Swap
An atomic swap is a process of exchanging one cryptocurrency for another without having much work involved. Usually, coin/token owners perform this task when their existing blockchain/code/protocol is deprecated, and they want to introduce a new blockchain or with a new protocol. It will be a massive work for them to collect all deprecated coins/tokens from their users and send new coins/tokens as a replacement. Adonx solves this with atomic swap feature, coin/token owners initiate swap of all old wallets with old coins with new wallets with new coins without additional complexity or calculations.
Airdrops
An airdrop is a distribution of crypto coins/tokens to massive wallet addresses, usually for free. Airdrops are used to gain attention and new followers to increase the user base. Adonx platform support airdrop feature. Coins/token owners, enthusiasts and promoters can perform this kind of complex airdrop without any additional complexity.
Exchange Services
With the highly scalable matching engine, it can withstand high load and can process millions of orders per minute.
III. Adonx ECO System and Token
ADONX is ERC20 token on Ethereum blockchain, exactly 21M tokens will be minted, more than 80% of unsold tokens from the sale will be burned in each stage. Remaining tokens will be utilized towards airdrops & bounties. ADONX Token will be used as payments method for different services available on Adonx eco system, or where ever applicable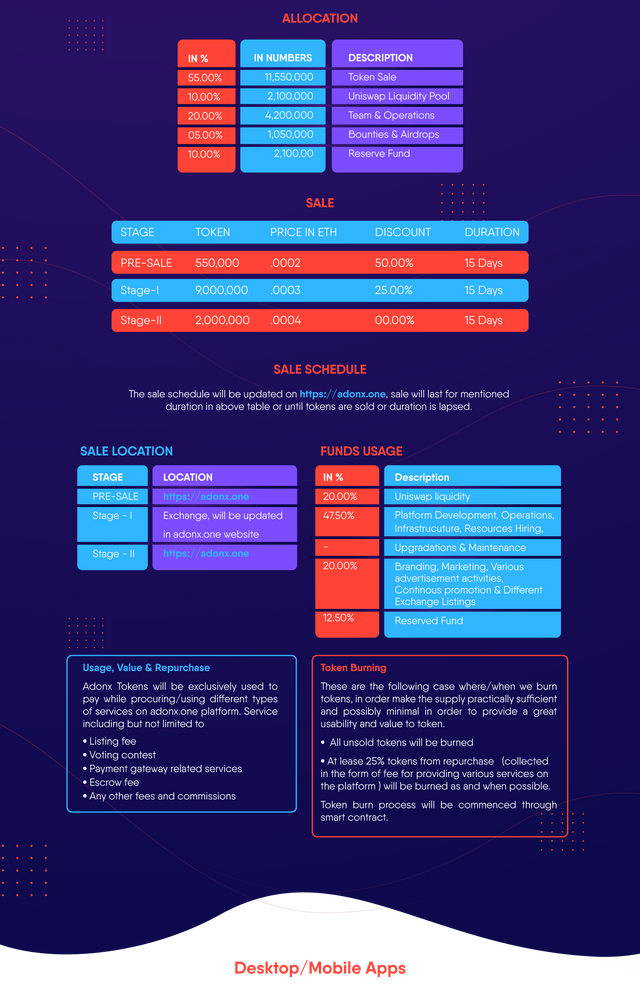 IV. Roadmap

V. Team


OFFICIAL SOCIAL NETWORK LINKS
● WEBSITE : https://adon.network/
● WHITE PAPER: https://adonx.one/assets/docs/whitepaper.pdf
● TELEGRAM : https://t.me/adon_coin
● TWITTER : https://twitter.com/network_adon
● REDDIT : https://www.reddit.com/u/adon-net
● FACEBOOK : https://www.facebook.com/adon.network/
● GITHUB : https://github.com/adon-net/
● DISCORD : https://discord.gg/UrTctGD
● MEDIUM: https://link.medium.com/vZjUjCa15db
● BITCOINTALK: https://bitcointalk.org/index.php?topic=5320459.0
AUTHOR
Forum Username: martin688
Forum Profile Link: https://bitcointalk.org/index.php?action=profile;u=1723324
Telegram Username: @martin160388
ETH Wallet Address: 0x95f19489661EcAEdB3C1c8CeB6d004520E80973f