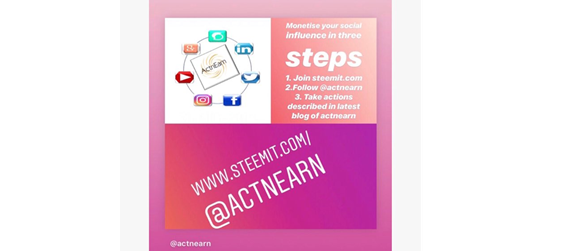 Introduction
This post describes the procedures and rules to participate in action driven reward earning platform of ActnEarn.
What you need to do
What we will do
actnearn will upvote your verified replies
actnearn will upvote verifiers too
Conditions for Upvote
Your shares or retweets must be verified by a verifier
No more than 1 share per account per media per post will be upvoted
Replies only for current post will be upvoted
A verifier, if not banned, then his/her replies will be upvoted without any requirement for verification
If you did not receive upvote even if actnearn has verified then you have not taken all the MUST actions related to Steem as mentioned at top.
Weight for Upvote
Please read below two posts to know how upvote weight is calculated
Loyalty and Influence Index - LnI by ActnEarn
Latest Upvote Weight Criteria
Follow us at
Steem Twitter Facebook Linkedin Google+ YouTube Instagram
Development State of Automated Verifiers
We have developed and enabled all contributions on twitter platform to be verified automatically without any human involvement
Coming soon for other platforms too
Note- This post is for information and later use purpose. No action is required on this post.