Hey Steemians,
(I started writing this post in February and have just found it, so tonight I finished it and thought I should share it!)
I have had time off from work for 9 days and so I thought I'd document what has happened during that time.
So the day before my time off I worked on the Saturday on 23rd December just before Christmas and hit my sales goal for the day. Straight after that I texted Jamie, my manager, drove to the supermarket and picked up some chicken kebabs for the afternoon party at his house. I felt pretty good after hitting my goal, not only for my personal satisfaction but also to show everyone else what is possible no matter what time of the year it is. This proves that people still see a good deal when it is presented to them and they will take you up on the offer even 2 days before Christmas! Also my efforts got me 4 lucky dips from the office Christmas tree!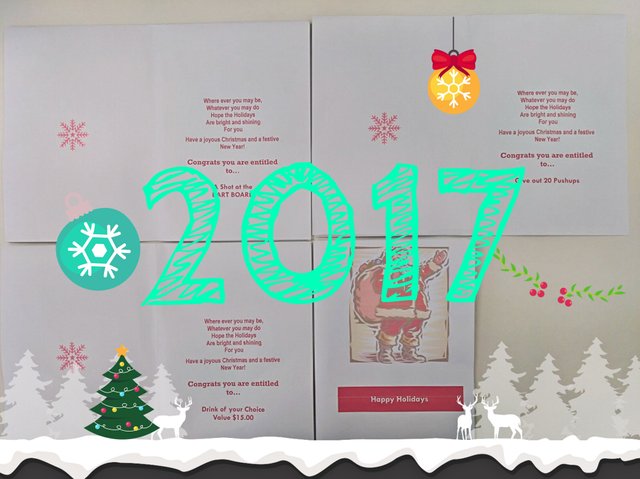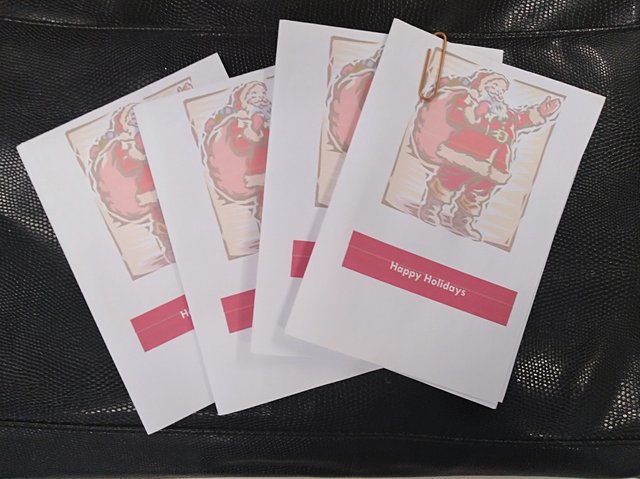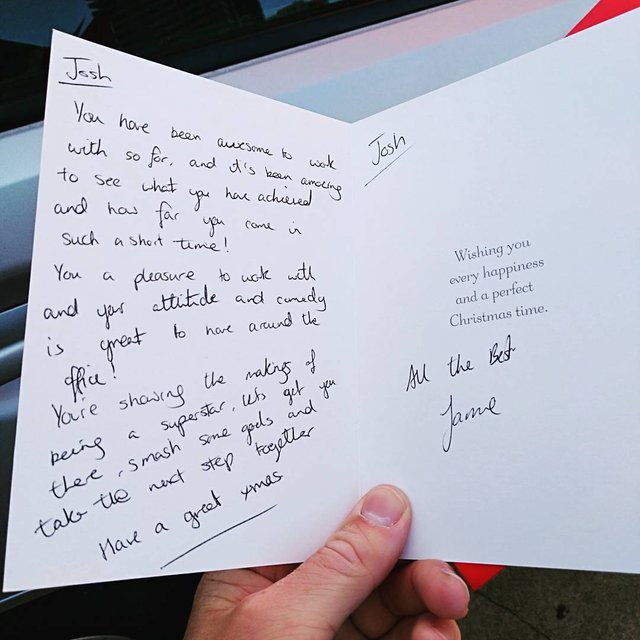 Christmas card from my manager.
I arrived at Jamie's house with my shorts, singlet, towel and of course, the food.
I walked around the back of the house to find the crew already there in shorts and thongs sitting by the table and chairs aside the inflatable pool.
As I walked on by and nodded to everyone, the guys pointed to the beverages in the cooler topped up with ice. I nodded in appreciation.
Jamie got the barby going with the sausages and meat patties. Bread and tomato sauce included of course.
It was definitely an Aussie Christmas.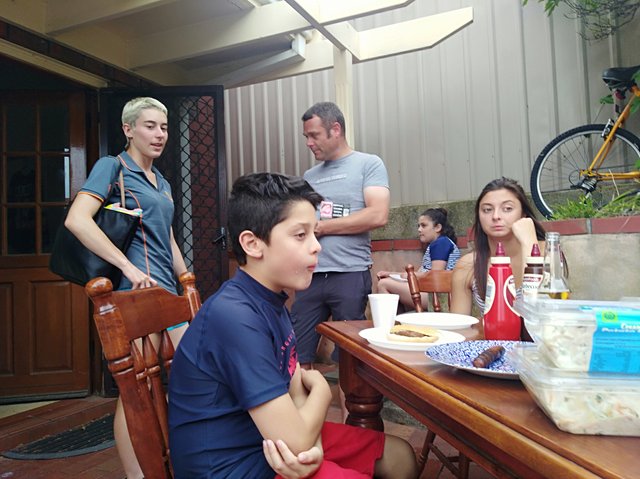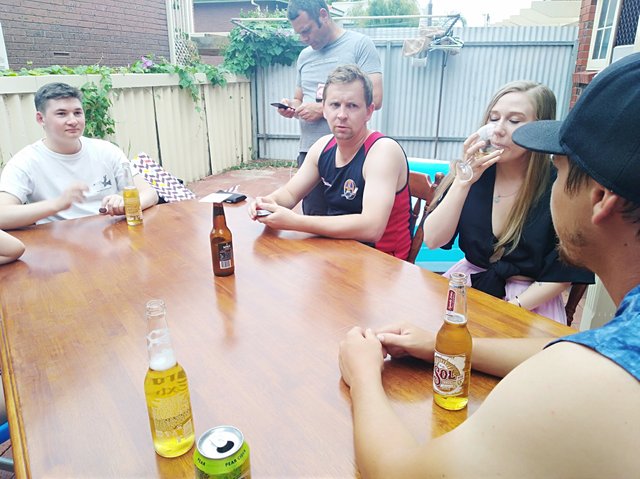 Jamie's house for the Christmas wind down party.
We played some drinking games and I refereed the last game as I decided to back out and sober up before heading home for the night, much to the guys (and Jasmine's) disappointment. Lol. So by the time the game was up, it was dark and it was difficult to see outside so I helped the crew to manoeuvre the table and chairs back inside, got my shoes back on and said my goodbyes until the new year.
Merry Christmas guys!
So I got home and got a good nights sleep as I wanted to drive back to see the family the next day which was a long 5 hour drive.
First Day Off – Christmas Eve 24/12/17
I woke up, packed the car with my clothes, paperwork and silver bullion rounds, compliments of As Good As Gold Australia and headed off. Most of the drive was uneventful and consisted of two short rests, occasional drinks of water from my esky, eating an apple and a muesli bar and listening to lots of music and the Barefoot Investor audio book - narrated and written by Scott Pape. This is a recommended read of mine.
I got to Nangwarry which is a 20 minute drive away from Mount Gambier and surprised my Nan with a drop by visit. I quickly brushed over how Adelaide was going for me so far with Nan and before you know it, 10 minutes had elapsed. I was already running tight for time as I had organised to meet up with my friend Craig in 15 minutes so I had to cut the visit real short in order to meet him at Muffin Break in time..
..Which I was 20 minutes late for in the end anyway.. [face palm]
I raced towards the Mount. At the speed limit.
I arrived at the Muffin Break cafe and I saw Craig sitting inside at a small table by a glass wall overlooking the car park. I gave him a quick update on what I have learned as a result of keeping in touch with Brian Panes. Brian updates me on issues regarding the economy and gold and silver and their possible future prices and I relay that onto my friends. I was eating a sausage roll at the table when I saw my mum walk right by where we were sitting from outside. I waved my arms in the air and she turned her attention to me with a quick jerk of the neck to find out what the movement was in the corner of her eye. Her eyes lit up in excitement as she recognised me and I gestured to her to come around the corner and join us. She turned the corner and we hugged and kissed, mum asked me how is my new home in Adelaide. Craig decided to head off home while mum and I caught up.
So we decided to go shopping while talking about recent events and after that I dropped mum off home and I contacted another friend Anna so I could catch up with her for a chat. I drove to Anna's house and had a chat to her while helping her cook these sugar coated "mouthfuls of nothing" as she calls these types of biscuits because once you go to chew them, they just melt in your mouth into.. well, nothing! I advised her of the next time that Brian Panes will be down for another presentation.
After catching up with Anna, I went to see my Dad. The house was a bit of a mess as he had been troubled with gout for the past few weeks and couldn't do any house chores . I spent the next few hours of the afternoon doing catchup house work and then headed back to see mum at her house and helped Mum, Hippy and Trevor to construct a gazebo. After the build, mum and I went shopping, the I dropped her off home and I went off to catchup with another friend, Tyrone who was also visiting Mount Gambier for a few days. I crashed at Ty's place for Christmas Eve.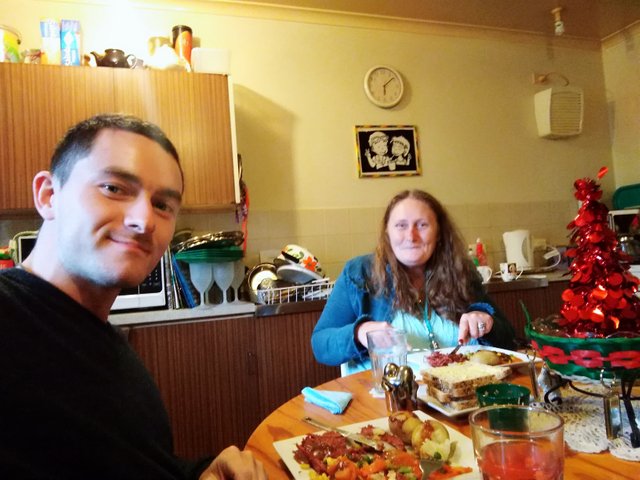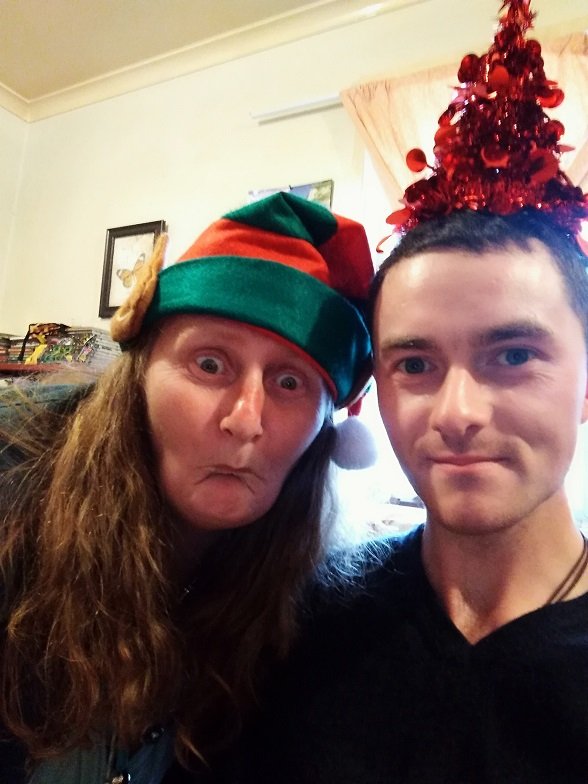 Mum and I having lunch during Christmas.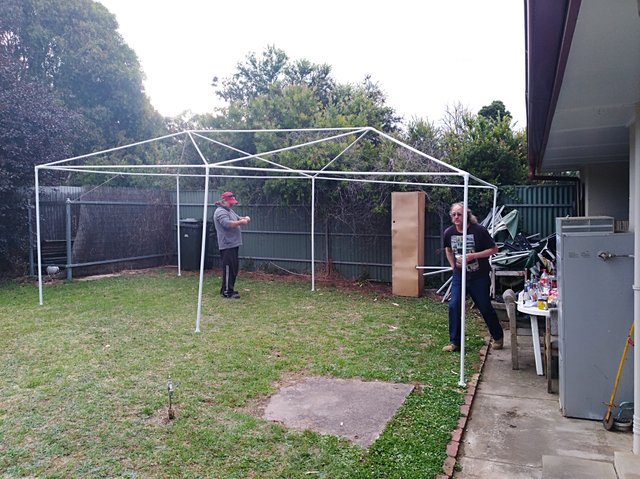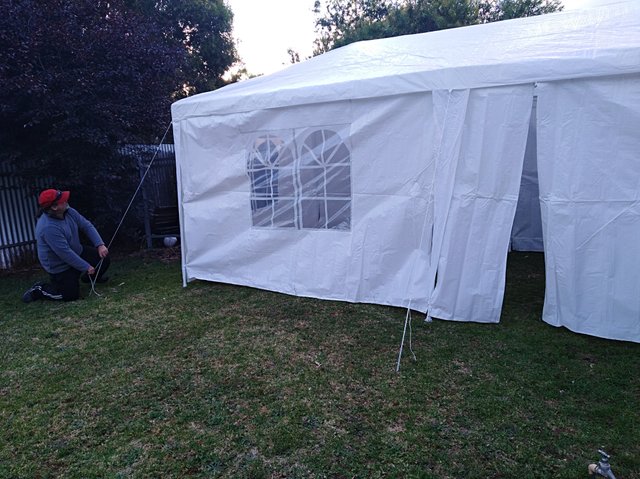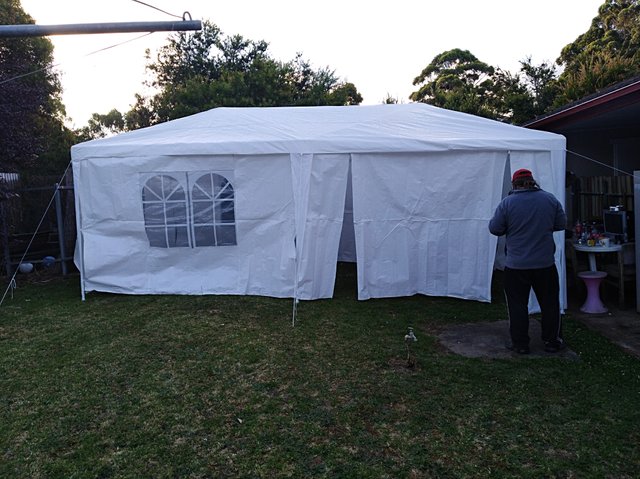 The Gazebo is fully erected.
Christmas - 25/12/17
I woke up and said Merry Christmas to Ty and then left to go to mum's house to see her for the morning and we exchanged xmas gifts. I got clothes and food and other little trinkets from mum while I gave mum a special card.
I then met dad and we drove up to see Nana Barb and Grumpy at their home in Donovans for lunch.
26/12/17 – 31/12/17
I can't quite remember much detail of these days as I left writing this post so late (I'm writing this now on 5/2/17) so I'm going to dot point what ensued collectively during these days:
Dental appointment – not fun, the dentist recommended that I purchase an electric toothbrush, so I did. I also floss more often..
Met up with family and friends
Opened a bank account for the purpose of purchasing shares
Finished all housework at dad's place, I needed to re wash all of my bedding in my old room as Muffin, my father's dog had got into my room and left hair all over my bedding material while I was in Adelaide! Grrr
Washed and trimmed Muffin as he needed some serious attention – he was scruffy as!
Caught up with some business owners to talk to them about a health care product called the Lumi Spa
Watched Jumanji at the cinema with a friend, it's freaking hilarious!
Sold some of my tools from my previous occupation as an apprentice refrigeration and air conditioning technician and gave some tools to my dad.
Shopped around for an FM radio transmitting device which lets you play audio through a car radio using the transmitting device that is connected to an mp3 or a phone.
Purchased a magnetic phone holder that is mounted on the A/C air vent of my car to allow me to use my phone while driving for certain applications.
1/12/17
Travelled back to Adelaide.
Don't be afraid to follow me 🚶🏃 and upvote ⏫, as i'll pop in a post every now and then. 😜