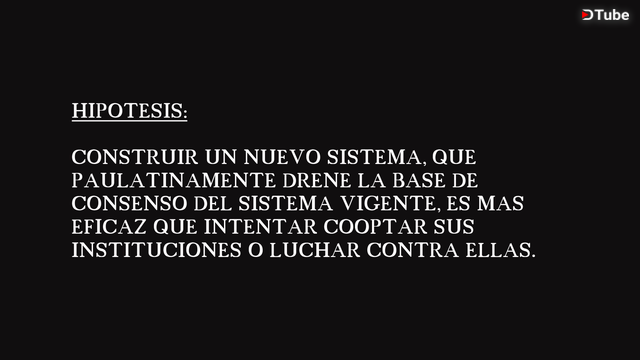 ---
El documental consiste en una serie de excursiones, mapeos y entrevistas realizadas a artistas, intelectuales, activistas y colectivos reunidos con el propósito de participar de lo que, en jerga académica, se denomina un Think Tank, o "Laboratorio de Ideas".
Este colectivo de investigación se propuso aunar relatos de experiencias y saberes multidisciplinares, que van desde el Hacktivismo a las luchas Animalistas, con el objetivo de comprobar o refutar la siguiente hipótesis: "Construir un nuevo sistema, que paulatinamente drene la base de consenso del sistema vigente, es más eficaz que intentar cooptar sus instituciones o luchar contra ellas".
---
The documentary consists in a series of excursions, mappings and interviews conducted to artists, intellectuals, activists and collectives gathered to partake in what's academically known as a Think Tank or "Laboratory of Ideas".
This research collective sought to pool together experiences, accounts and multidisciplinary knowledges, in a broad spectrum that goes from Hacktivism to Animal Rights, with the objective of confirming or rejecting the following hypothesis: "To build a new system, that gradually drains the current system's consensus basis, is more effective than trying to co-opt its institutions of fighting against them".
Esta es una versión reducida del documental, editada especialmente para el festival Byte Footage
+info: https://thetathinktank.wordpress.com/
---
▶️ DTube
▶️ IPFS