Corporation Uses Sheriff's Department as Private Security - Using Force to Intimidate Against Speech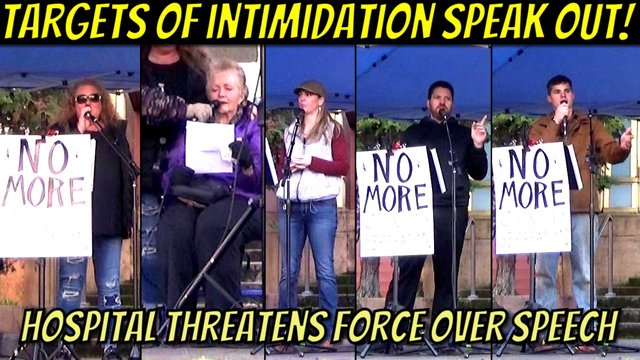 It started January 29, 2021 with concerned citizens exercising free speech
Legacy Salmon Creek, a medical center in Southwestern Washington State has used it's political clout and assets of its multi million dollar corporation to leverage the local sheriff's department to act as private security and then intimidate 4 people who stood against the medical kidnapping that took place at the facility in Salmon Creek, Washington on January 29, 2021. 4 individuals who showed up in response to hearing a member of their community was being held against her will at the hospital are now being charged with 2 crimes against the state. Keep in mind there is no victim to either of these crimes because no one was hurt(except for the ones being charged with "crimes") no property was stolen or damaged and no one was defrauded. So why does this medical corporation think its ok to try to intimidate these community loving freedom fighters with threats of force from the local sheriff's department? Please UPVOTE, REBLOG and FOLLOW!
Clark County Sheriff's Department Contact:
707 West 13th St.
Vancouver, WA 98660
Phone - 564-397-2211
Facebook
Twitter
Instagram
Website
Sources
RCW 9A.50.020 Interference with health care facility
RCW 9A.52.070 Criminal trespass in the first degree
RCW 9A.52.090 Criminal trespass—Defenses
Video from January 29 incident
Support Questionable Authority and Independent Journalism with Cryptocurrency or fiat currency
PayPal
Venmo
Cash App - $QuestionableAuth
BitCoin - 34LMmp4Pc2kQuRKmBCqhakD7EZudVsNY3S
Pirate Chain(ARRR) - zs1kxg7jyas5v04q78skge96mxpgrhxl296ztwqu2dfr2lfml90wee8s4qwn2gy9end0085w4c8u2l
Monero - 876CskHzzPL1d1npiYMUk5dGyLS5zo5swSn6SmhcHBvdH1GsQqMdxzwMxKTU27eZyZAjdjRxVDZQRZprsNcqDuzA6AHf6NH
Ethereum - 0x08aac07654b5f74eb7d3be80e369d2db5bfd2bfc
Dash - XepdeYndVwwibdTZAR8XhsQJT5MLi7gK39
BitCoin cash - bitcoincash:qpuw2rpf0z04999ass89mrhum07n4dd7vvhwkrqz6m
Crypto.com - 0x08aac07654b5f74eb7d3be80e369d2db5bfd2bfc
Follow me on Flote.App to catch all my posts.
This is the place I will share video's, blogs, etc. It will be the one stop shop for all things QA from here on out. I will also be doing all of my Livestreams from here on out on Flote.App so come join me on a censorship free blockchain based social media app for everyone!
Join Library/Odysee and earn crypto for yourself and support QA by clicking here and creating an account.
QA Now available on "Activism News Network" on ROKU!
Commercial free access and exclusive content from this channel and over 20 other activist channels for $3.99/month. Follow the links below to get more infor and sign up. No censorship on this ROKU channel.
Activism News Network website
Sign up for the channel on ROKU $3.99/month
Check out the QA Merchandise shop here! Support us and show your love for freedom at the same time:
Click here for Spreadshirt store
Click here for TeeSpring store
Find QA everywhere online!
Any materials used are done so under the provisions of the Fair Use Act.
FAIR USE ACT
Fair Use
Copyright Disclaimer Under Section 107 of the Copyright Act 1976, allowance is made for "fair use" for purposes such as criticism, comment, news reporting, teaching, scholarship, and research. Fair use is a use permitted by copyright statute that might otherwise be infringing. Non-profit, educational or personal use tips the balance in favor of fair use.