Another day of prepping for the hurricane today. Besides taking a morning 5 mile walk this morning all of steps came from mowing, weed whacking, raking and cleaning up the yard/ culverts getting ready for hurricane florence which is now a category 4 and is literally heading right for us!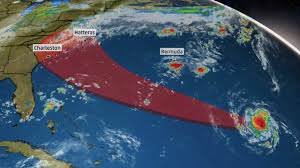 There is suppose to be 100+ mph winds where we are at and we got an evacuation notice about 30 minutes ago.. Shit is getting intense like boy scouts now! (Get it, in tents) LoL.. We have spent the last 4 days getting ready for hurricane florence and the aftermath of that which will follow. Good thing I had (unknowingly) spent the last few weeks cutting down dead branches and trees on my property which could have possibly been a problem with the coming storm. We will be waiting it out and hoping for the best, so wish us luck! 😊✌
"peace, love and all that hippie shit!"

23593