It is Tuesday again so I thought I would combine my Actifit report with a #TreeTuesday post as hosted by @old-guy-photos
For my activity today I mostly walked the dog and played disc golf. I was really thinking I should rest up my arm but the weather was looking so nice and sunny I just felt like getting out there.
I scored +6 on nine baskets today, playing in a pretty strong wind. The wind can make it tough, challenging and fun. My understable Pinky disc went out of bounds again but merely landed on the roadway and skipped over it harmlessly into the gutter. At least I was saved the embarrassment of having to recover it from someone's yard (or car). I really wasn't expecting it to go that far but the wind got under it and it sailed. (Note to self - check for cars on the roadway next windy day before throwing)
My Shryke disc went out of bounds into the ball park today too. That disc usually fights the wind a little better but it was blowing pretty hard.
Here's a few pictures of a shelter made of tree branches that I came across while hiking around a while back in the woods. At first I thought maybe an animal like a beaver made it. This area is pretty close to some businesses so I'm not sure if some people were building it or what.
It looks like the water flooded it out. I can imagine anyone would build it in the middle of the pond like this.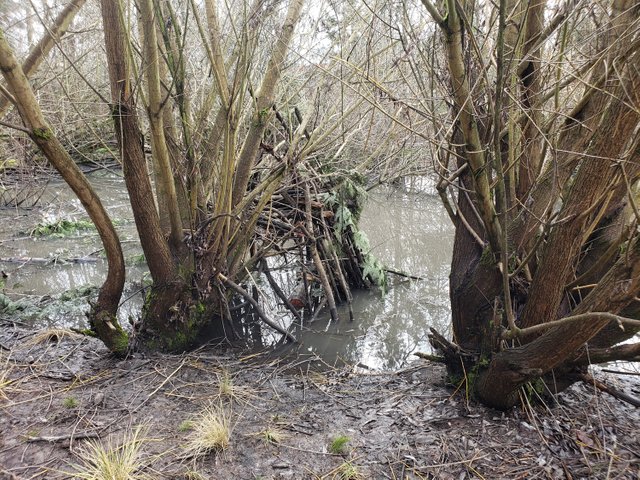 It is a bit puzzling, here's a closer look: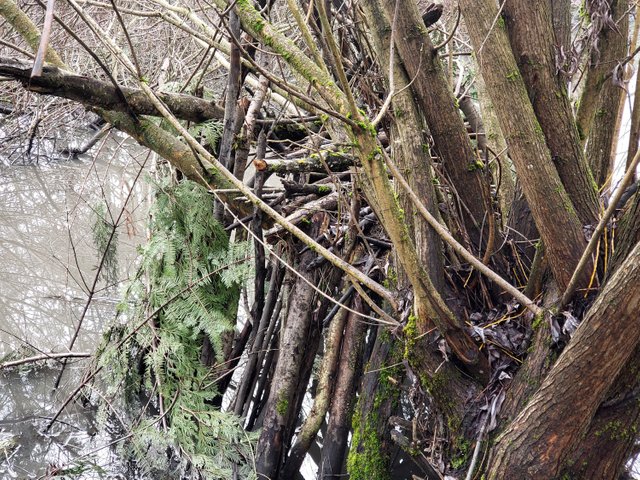 There were a few cut down tree branches piled up in the area too. It looked like someone was going to use them as a roof until things got flooded.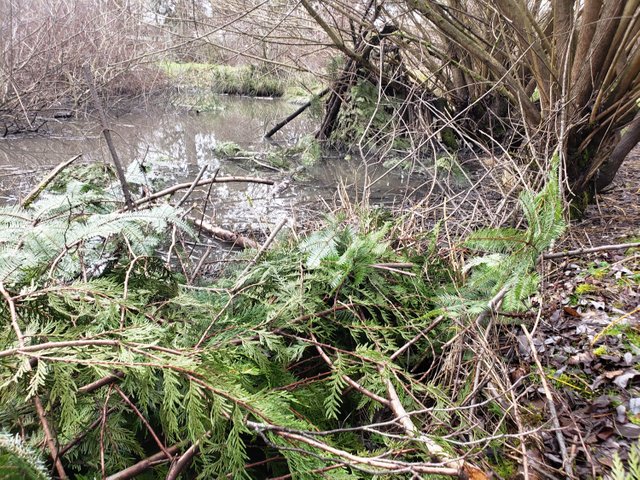 There are lots of homeless people in the area so I guess maybe someone might have been building a shelter. Any ideas?
---
Thanks for reading! I always value your support and comments. The pictures were taken by me with my Galaxy S9+. Text and graphics copyright lightsplasher & litesplasher.

---


9020

Daily Activity, Golf, Walking