11K on a reflective day.
My Activity
I got my activity from taking a walk. It's a nice night out and it's always good to get out in the cool night air when it's summertime and the days are so hot. We had thunderstorms today so I couldn't walk during the day anyway!
The Future
I've been thinking about the future. What can I do better in my #Steem and general #crypto activities? Will #Bitcoin really break it old all time high and will Steem do the same? Is it heretical to think that maybe Steem will not hit $7.77 like many of us hope it will? it's good to have hope but it's also good to be realistic and consider all possibilities.
SteemMonsters #spt
I opened my season reward cards on #Steemmonsters today. Nothing exciting, I think maybe one gold foil card and one or two legendaries. Here's the best 10 out of the bunch.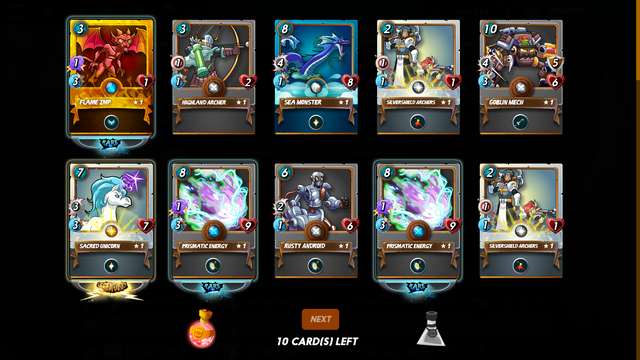 I'm still thinking about what to do about guilds. Have any of you joined a steem monsters guild? Do you have to pay some DEC to get in and / or on a regular basis while you're in that guild?
Politics
The political season is also here again. The Democrat debates have been on the last two nights and I saw a little bit of them. Actually I think it's a little too early to be thinking about that, for me, because there are still so many candidates and many will drop out in the next month or so probably. I'll pay more attention when there are less candidates!
Train For Tomorrow
We're all on the train for tomorrow and we can't get off. It's a one way trip and there's no going back. I hope we all enjoy our trip on the train for tomorrow!
The Electric Prunes - Train For Tomorrow. It's #psychedelic and full of #reverb for the first minute and twenty seconds, then goes into jazz improv for almost another 2 minutes. Cool song that probably no one has every heard of.


11441