Taylor Big Baby Acoustic Guitar Review
Big Baby acoustic guitar is a beautifully designed affordable guitar by Taylor, and it has gained so much popularity in recent years because of its great quality and affordable price. Top musical artists like Taylor Swift have tried this instrument and recommended for stage experiences.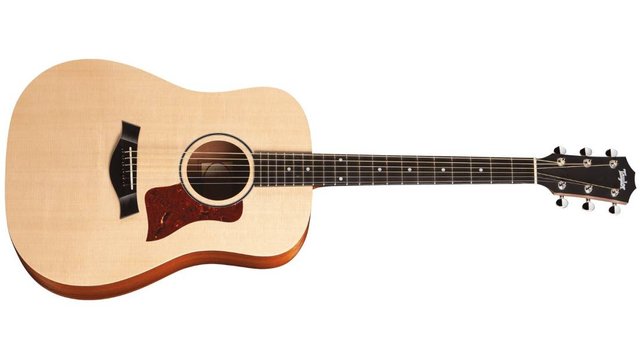 Popularly known as the Big Baby Taylor (BBT), it is a biggest version of the small bodied Taylor guitars including the Baby Taylor (BT) guitar. It is among the small frame acoustic guitars that befits travelling, and it is a perfect partner for songwriters.
We will go into details to understand the value which the Taylor Big Baby Guitar holds, and why it gets the lovely reviews which we have seen;
Materials
The top of this Big Baby is made from Solid Sitka Spruce while the back and sides are produced with Sapele wood that are layered for strength. The fingerboard is made of genuine African Ebony wood, while the neck is from Sapele wood.
The materials on its body form a sturdy platform that withstands temperature changes and humidity. The guitar also consists of an ebony material for its bridge, and die-cast tuners on its branded headstock. The saddle is produced with Micarta material, and these are of very top class.
Design
This Big Baby Taylor model is produced in the company's Tectate factory, where top craftsmanship is the value to expect. The design structure is made up of Taylor Standard Big Baby X bracing; which makes it lighter in weight and portable.
The neck orientation is right-handed and it is scaled up in body size than the Baby Taylor. It has an arched back that contributes to sound output. The scale length is 25.5 inches with a depth of four inches; while the finishing design is done with Matte 2.0 materials.
Sound Projection
This equipment is a great sounding acoustic guitar with much more volume than the regular entry-level models. The tonewoods selected for the manufacture of this piece are of exceptional quality that they allow best tone balance; and there is real stability between stiff and elastic stretches when sounds are being projected.
The performance of the BBT is very stable even in changing humidity and temperatures because of its layered woods. It has dynamic sound range to allow the user to stay in control of the tones.
User experience
This guitar is extremely comfortable during play whether you are standing or sitting to hit the notes. It allows you to strum, pound or finger pick while it projects the clear tones which the player intends to hit.
It is perfect for travel as it is not a full-sized acoustic guitar itself. You should definitely note that this Big Baby will stick around for a long period of time while producing clean and improved tones. It encourages the handler with all of its elegance and command.
The Taylor Big Baby acoustic guitar is not actually as cheap as the other entry-level acoustic guitars on the market, but it is completely worth the value at which it is sold for. You have to decide to own a Taylor Big Baby today because this instrument comes with its aura of confidence and you need that whether as a beginner or a professional.