Martin DRS2 Acoustic Guitar Review
You want to buy a guitar for the first time. Or maybe you already have a guitar and you think it's time for an upgrade. Well, the Martin DRS2 Guitar is one of the most affordable options out there. If you've been to a guitar store, you most likely have stumbled upon it. Before you buy this guitar or any other guitar for that matter, it's important that you know what to expect so you don't have any regrets later. The DRS2 is one of the affordable options in the Martin Road series. It's the ideal choice for someone who cannot afford a high-end Martin but wants something of equally good sound and quality below $1000.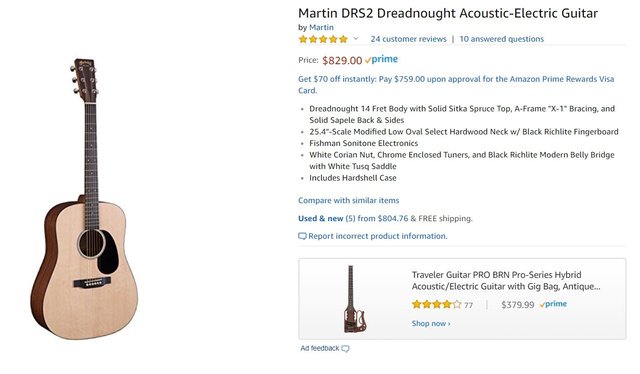 Your Complete Guide to Buying a Martin DRS2 Guitar    
1. Consider the Sound Quality  Sound quality is everything. It's better to buy an expensive guitar with good sound than settle for something cheaper with poor sound quality. The tone of the Martin DRS2 is clear and well-balanced. This is because it is a combination of sapele and spruce. The solid woods, dreadnought shape and backing pattern makes it produce lovely sound. When you plug it in, you'll have access to a variety of acoustic tones that sound natural. This is rather impressive since it has limited onboard controls.    
2. Consider the Body and Neck It's true that sound is important, but so are looks. The aesthetics of the Martin DRS2 are not extraordinary. If you're the kind of person who loves flashy things, you may not like the look of this guitar. It is simple looking. The good thing is that you can always customize it to suit your taste. The craftsmanship, however, is exceptional. This is no surprise since it is one of the most affordable product models from the Martins Mexican family. The Back and sides are typically made of solid sapele while the top is made of Sitka spruce. The entire guitar is finished with silky satin. The neck is joined on the 14th fret. It is made of high quality wood and it has a beautiful hand-rubbed finish.    
3. Consider the Benefits of the Hardware Since the Martin DRS2 is an electro-acoustic, it has a Fishman's Sonitone system and good soundhole-mounted controls. There are sealed chrome tuners at the headstock. These tuners are in a 3+3 configuration. These tuners are great for precision tuning. The guitar also features a White Corian nut, Richlite Bridge, Tusq saddle, and a Martin's SP strings. It also comes with a protective hard-shell case which allows you to protect your guitar for as long as you want.    
The Verdict Considering the fact that this guitar typically costs less than $1000, it's a good deal. You'll get real value for your money. Even if it doesn't come with state of the art aesthetic features like some other more expensive brands do, the sound quality is excellent making it a fit companion for a performance. Because of the quality of the wood and solid case that comes with it, the Martin DRS2 will last for a lifetime without the need for major maintenance.