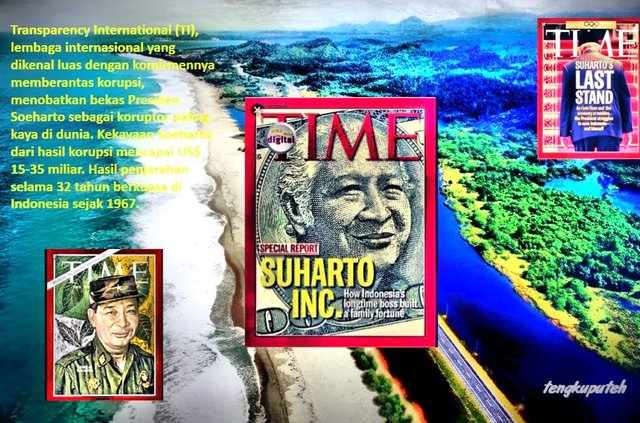 Soeharto and his family (Soeharto Inc.) has controlled and divided natural resources in Indonesia until now.
SOEHARTO AND HIS FAMILY WERE THE BIGGEST ROBBERS IN INDONESIA HISTORY
Soeharto and his family were the biggest "robbers" in Indonesian history. Transparency International (TI), an international institution that is widely known for its commitment to eradicate corruption, has named former President Soeharto the richest corruptor in the world. Suharto's wealth from the results of corruption reached US $ 15-35 billion. The result of looting for 32 years in power in Indonesia since 1967.
translation in Indonesian
"Soeharto dan Keluarganya adalah "Perampok" terbesar sepanjang sejarah Indonesia. Transparency International (TI), lembaga internasional yang dikenal luas dengan komitmennya memberantas korupsi, menobatkan bekas Presiden Soeharto sebagai koruptor paling kaya di dunia. Kekayaan Soeharto dari hasil korupsi mencapai US$ 15-35 miliar. Hasil penjarahan selama 32 tahun berkuasa di Indonesia sejak 1967."
Related article /
Artikel terkait dalam Bahasa Indonesia
Other historical related articles:
---
Posted from my blog with SteemPress : https://tengkuputeh.com/2018/10/05/soeharto-and-his-family-were-the-biggest-robbers-in-indonesia-history/
---