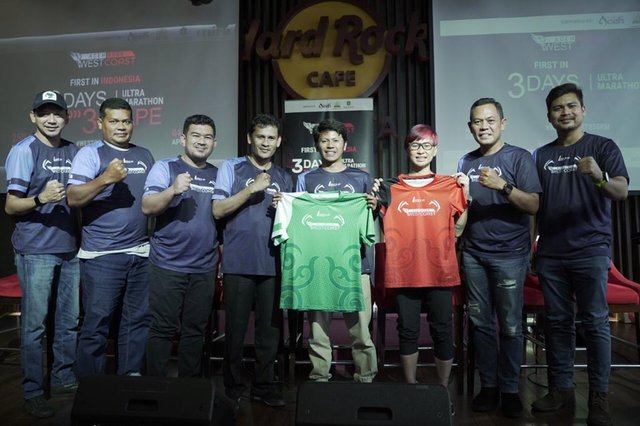 The tourism sector in Aceh continues to be boosted, and for the inaugural event, an ultra long distance or ultra marathon event titled 'West Coast Aceh 250 KM' will be held in Aceh.
This event will be a proof for Aceh province to become a better known tourism area and is visited by many domestic and foreign tourists.
This was said by the Secretary of the Aceh Culture and Tourism Office (Disbudpar) Zulkifli during a 250 KM West Coast Aceh press conference in the SCBD area, Central Jakarta, Monday (02/10/2020).
"Ultra marathon running events like the West Coast Aceh 250 KM are very meaningful for Aceh because this is very much in line with the Aceh government program. In the Governor's Irwandi-Nova program until 2022, the marathon is one of the flagship in order to attract tourism in its medium term plan, "he said.
West Coast Aceh 250 KM itself will be held on 4-6 April 2020, starting from Meulaboh, Calang, Lamno and ending in the city of Banda Aceh.
Zulkifli said that sporting events would later be held more in Aceh because of one vision and mission with the Aceh Government Program, 'Strong Aceh' and at the same time attracting tourists from other sports to see Aceh more closely.
Zulkifli said that the official running sport event was the first in the province of Aceh. Previously there was a similar race called Sabang Marathon in 2017, but the event was nevertheless held.
West Coast Aceh 250 KM itself will be held on 4-6 April 2020, which explores the City of Meulaboh, Calang, Lamno and ends in the city of Banda Aceh.
According to Zulkifli, Aceh became a beautiful scenic tourist area with a full history.
"Aceh is not just a beautiful panorama but also its history. The West Coast has the most severe impact of the 2004 tsunami, but in 15 years the West Coast has recovered even better than before. From the side of the Aceh government in the western region it is also an area of ​​development of tourism that we focus on the marine area, "he added.
Zulkifli said that in the 250km track, about 80 percent were on the coast with very interesting panoramas. Besides that, the tracks also pass through rural nature, rice fields, plantations to mountains.
Zulkifili further said that the official sports events in Aceh became a way to open the eyes of other Indonesian citizens and also the broadest world about the real Aceh.
"Furthermore, what we really want to achieve is not only tourism with beautiful panoramas. But in developing tourism in Aceh today, one of the obstacles is that many blow up conditions in Aceh that are not conducive. With this ultra marathon momentum we can show the world that Aceh is not what it said, "he concluded.
Source : https://disbudpar.acehprov.go.id/west-coast-aceh-250-km-ultra-marathon-perdana-di-aceh/