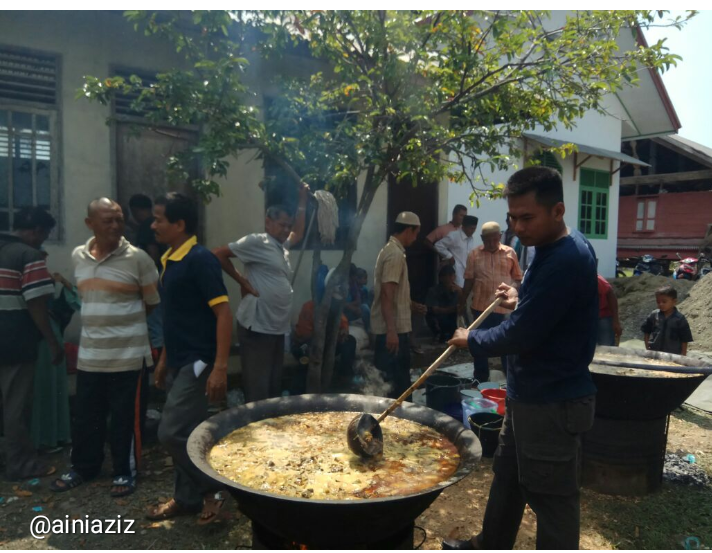 Salah satu kebiasaan orang Aceh yang patut kita banggakan adalah gotong royong. Semangat bekerja sama dalam mendukung berbagai hal positif dan mensukseskan acara, baik perayaan yang berkaitan dengan siklus hidup, maupun perayaan ritual hidup lainnya. Banyak hal yang dilakukan bersama-sama demi tujuan yang satu yakni kesuksesan.
One of the habits of Aceh people we should be proud of is mutual cooperation. The spirit of working together in supporting the positive things and the success of the event, whether the celebration related to the life cycle, as well as other ritual celebrations of life. Many things are done together for one purpose of success.
Hal ini sebagaimana terlihat dalam perayaan Kenduri Maulod yang dilaksanakan oleh warga Gampong Lambaed, Aceh Besar. Kenduri Maulod merupakan sebuah acara makan bersama, dalam rangka memperingati hari kelahiran Rasulullah. Di Aceh, perayaan ini berlangsung selama tiga bulan sepuluh hari. Dilaksanakan secara meriah dengan melibatkan seluruh warga.
This is as seen in the celebration of Kenduri Maulod conducted by the people of Gampong Lambaed, Aceh Besar. Kenduri Maulod is a joint meal, in commemoration of the birthday of the Prophet. In Aceh, this celebration lasts for three months and ten days. Implemented royally by involving all citizens.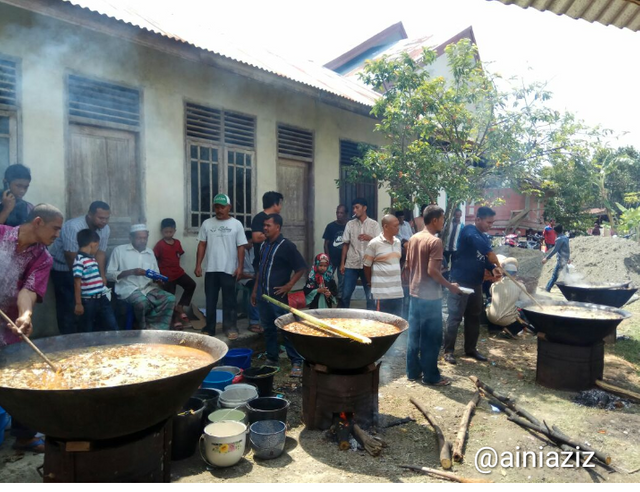 Bagi ibu rumah tangga, mereka menyiapkan lauk (menu makanan) pelengkap. Apa saja: Udang, Ikan, Ayam, Cumi-cumi dan sebagainya. Semua dimasak sedemikian rupa hingga siap untuk dihidangkan. Sedangkan lelaki dewasa, mereka terlibat dalam memasak Kuwah Beulangong.
For housewives, they prepare a side dish (food menu) complement. Anything: Shrimp, Fish, Chicken, Squid and so on. All cooked in such a way as to be ready to serve. While adult males, they engage in cooking Kuwah Beulangong.
Steemians pernah mendengar tentang Kuwah Beulangong? Ini adalah menu makanan khas Aceh. Daging dimasak dengan campuran sayur seperti nangka muda, pisang muda. Bumbunya khas. Cita rasanya sangat menggugah selera. Daging yang digunakan boleh daging sapi atau daging kambing. Keduanya memang sangat lezat, meski daging kambing lebih utama.
Steemians ever heard of Kuwah Beulangong? This is the typical Aceh food menu. Meat is cooked with a mixture of vegetables such as young jackfruit, young bananas. Typical seasoning. The taste is very tempting. The meat used may be beef or mutton. Both are very tasty, although the main goat meat.
Lihatlah betapa antusias warga dalam memasak Kuwah Beulangong ini. Tidak hanya perangkat desa, bahkan semua orang terlibat di sana. Mulai dari menyembelih sapi, menguliti, menyiapkan sayur hingga memasaknya dilakukan bersama-sama. Solidaritas yang patut kita banggakan.
See how enthusiastic citizens in cooking this Kuwah Beulangong. Not just village devices, even everyone is involved there. Starting from slaughtering cows, skinning, preparing vegetables until cooking is done together. Solidarity we should be proud of.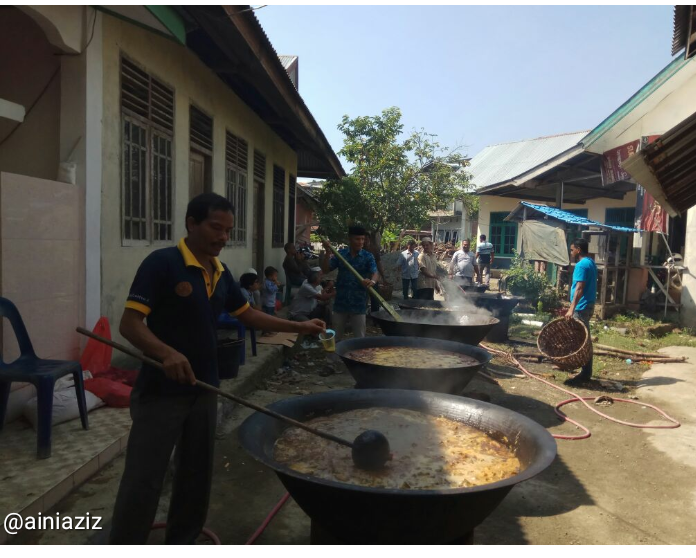 Setelah Kuwah Beulangong ini siap dimasak, masing-masing kepala keluarga akan mendapatkan jatah satu porsi untuk dibawa pulang ke rumahnya. Satu porsi lagi untuk dibawa ke Meunasah (balai desa) untuk dimakan bersama warga lainnya. Sangat semarak, bukan?
After Kuwah Beulangong is ready to be cooked, each head of the family will get a share of one portion to take home to his home. One more portion to take to Meunasah (village hall) to be eaten with other residents. Very vibrant, is not it?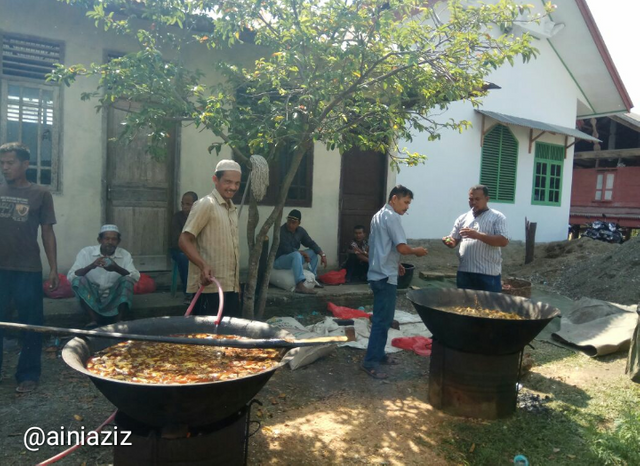 Happy steemit, Everybody
Follow me: @ainiaziz