[Accusta for Steem] - Weekly Support: #2 (v)
What is this? - Accusta - this is a service with Statistic of Steem Accounts.
All author rewards with charts by month
All curator rewards with charts by month
All benefactor rewards with charts by month
All wallet transaction with filters
https://steemit.accusta.tk - go and see yourself.
This post is intended to cover the servers costs for https://steemit.accusta.tk and to enable me to continue my development in the future.
For my work, I use two servers.
One for developing and testing.
Second for production.
---
In the last post, I planned to rework the author's payments according to the type of page of curator payments.
And I managed to do it. Accept a new page of author's rewards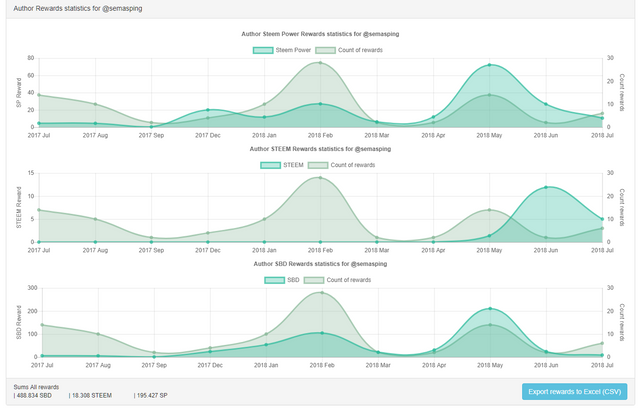 Now the data is loaded on demand for a required a month. What for? To reduce the load on the server and speed up the display time in the case when there are a lot of posts. Previously, all posts and rewards have been downloaded over the past months. Now we get downloading of the rewards only for the selected month.
The search for a table with rewards has been added. What for? Now you can find all the records that contain a piece of text. It is very convenient. You can enter a word (part or whole) and look at the statistics only for the posts found.
For example, if I enter the word accusta, then I get a list of posts with the wordaccusta and I'll see the statistics and awards of these posts.


Full table.


Table with the search.
All the data in Excel (CSV) is exported according to the author's awards. Some advanced users of excel take the data to themselves and analyze them in the Excel.
In the future, I plan to add information about the tags of posts, which will expand the possibilities of searching for information in the table and the possibility of analysis in the Excel.
The author's reward is reworked for both GOLOS and STEEM.
The first time in the curator and benefactor rewards the sorting in the table was by the name of the author of the post. Now in all tables sorting by time.
Plans for the next work session:
I want to create a new page for displaying the contributions of each of the rewards to the earnings of the account.
Data most narrowly will be displayed for each of the three tokens (SBD STEEM SP).
I plan to consider the following parameters:
Author's rewards (all three tokens)
Curator rewards fees (SP)
Benefactor rewards(SP)
Production rewards(SP)
If I missed any of the parameters, let me know about it in the comments.
Also, leave your wishes and ideas what would you like to see in Accusta system. I need your feedback.
Links:
https://github.com/semasping/Accusta
---
Thank You For Supporting My Work!