To begin,
I'd like to start by greeting everyone that support me in my coding studies and describe coss.io platform in short.
#COSS - Crypto One Stop Solution 🚀
For the moment the project is at his early stage, they work on the creation of the exchange which is publicly available in beta. The token is bound to an allocation program called Fee Split Allocation (FSA) program, the FSA system and COSS token are based on #Ethereum #blockchain and provide 50% of the exchange fees to investors based on their holdings every week.
Note that the COSS token migrated to ERC223 standards, giving the project a lot of advantages related to Tx speed and fund management. There's still the hold token on some decentralized exchanges, make sure you purchase the right version by getting the contract address from an official source.
I would also like to point out that Coss.io exchange is known for his high compliance with legal authorities making it IMO a safe and reliable platform in a future where exchange get taken down and reopen under the pressure of governments.
At the moment, their team is working on finalizing their fiat trading system and KYC procedure.
In the future Coss.io plans on releasing multiple other services like Merchant list, Point of Sale, news feed and many more.
Coss official link: https://coss.io/
✨A new tool ✨
Finally, I'm happy to share what I've been working on this week. My coss FSA Balance Calculator.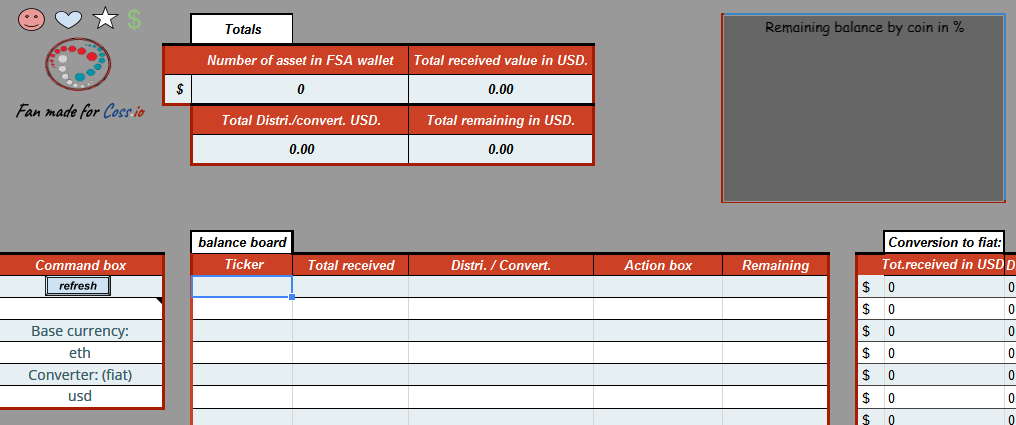 It allow you to see the converted value of your FSA wallet balance in any currency supported by CoinMarketCap. It also provide you with the metrics for each #crypto-curency on coss.io and CoinMarketCap for the base currency, Bitcoin or Ethereum, for the moment.
Here's the link to it:
https://docs.google.com/spreadsheets/d/1UEI3nzsZU7li8XgDuOW_yxi-YwNwxsiCl_d6CMDX_Q0/edit?usp=sharing
See also, ade by other community members:
**COSS revenue calculator - Is an amazingly complete tool to analyses everything related to the Coss financial stats, token and FSA returns. Made by @cosscrypto - http://coss-stats.com/
COSS Ledger Export (CossLx) - Allows to export account histories from browser console as CVS or other formats. Made By Plalx - https://github.com/plalx/CossLx
Fee Share Calculator - Allows to calculate returns based on COSS token holdings and Coss.io exchange volume. Made By © Exchange Calcs - https://www.cosscalc.com/
Well on this, I wishes that it will be useful to the community and happy to release a first little tool to share my progress in web development.
Note that:
I'm not a financial advisor. Never invest more than you can afford to lose and always do your own due diligence.
This Google Spreadsheet application is fan made and is not an official product from Coss.io.
Contact info: