Decided to let our bot off his leash to handle the comment spammer @greentomorrow yesterday.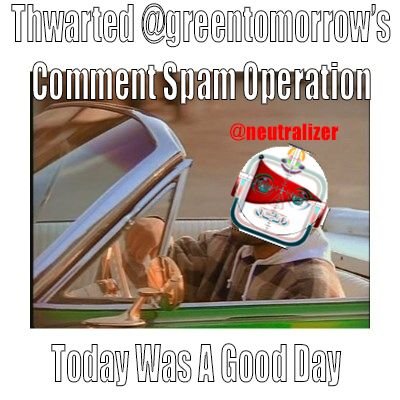 It was very effective. Before we started the operation, we had noted uninformed users were being tricked into upvoting the comment spammer. I know some of you reading this probably seen it.
---

Well, the thing about it is @greentomorrow is a liar. Others confirmed that there were actually no upvotes. What this account is doing is trying to elicit upvotes by making its target believe they had been upvoted. It's only fair, right? NOT!
---
@neutralizer picked up @greentomorrow's scent and was on him like white on rice! 🍚
He was doing the following:
Downvoting the comment spam 20% if not downvoted already.
Commenting to warn the user of the con as follows:

We received a lot of positive feedback and a couple squawking a little bit because they already know about spam.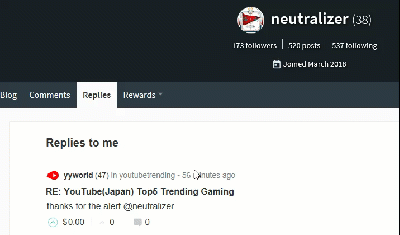 It helped plenty of users that would have otherwise been unaware so I would call that a success! We may refine the operation in the future to exclude "squawkers".
---
Anyways, here's our mention report for the day! No updates to the script yet.
If you would like to automatically help our flag rewards submissions, you may do so by granting us posting authority and letting us know the voting weight you would like to contribute for each vote and the vote power threshold to stop voting. For instance, let's say you offer 2% votes but stop if you're voting power drops below 95%.
To authorize:
https://v2.steemconnect.com/authorize/@steemflagrewards
You may revoke at any time with:
https://v2.steemconnect.com/revoke/@steemflagrewards
Thanks for the support Steem Flag Force! We'll stay vigilant as always!