Aadhaar Self Service Update Portal
In July 2016, a statutory authority of the name, The Unique Identification Authority of India, commonly known as the UIDAI, was established following the provisions of the Aadhaar Act 2016.
This government department undertook all the operations required to assign a unique 12-digit identification number based on a resident's demographic as well as biometric information, which is stored in a centralized database. The main motive behind this program was to provide universal identity to all Indian residents.
Over the years, this program has gained much more acceptance among the people as it is now officially recognized as a mandatory document for various purposes, such as subsidies, digital locker, voter cards, pensions, etc. Though Aadhaar is not proof of citizenship, it is accepted as proof of residence.
In this regard, it is vital that the address given in one's Aadhaar card is valid and pertaining to one's current living scenario. In consideration with today's fast-paced lifestyle, it is an arduous task for an individual to visit the nearest enrollment centre or to avail the services of the post for the sake of updating their address on their Aadhaar. Hence to eliminate this difficulty, the UIDAI has launched an Aadhaar Self Service Update Portal at https://ssup.uidai.gov.in/ssup/login.html
What exactly is the Aadhaar Self Service Update Portal? The Aadhaar Self Service Update Portal is an online reference portal authorized by the government by which individuals can make the necessary address changes to their Aadhaar with ease.
In this way, individuals will have the luxury to update their address at their own time and comfort, rather than having to wait for long hours at enrollment centers. Yet, it is saddening that not many people are aware of this service which makes updating their address, a much more comfortable and faster task to do.
Even when the people are aware, they are very much confused about how to use the Aadhar Self Service Update Portal or slightly confused about what all can be updated using the portal. The mere existence of this service is not enough; people must know about it and use it for the purpose that it was established with for it to be truly successful.
For individuals to avail the services of the online Self Service Update Portal, it is integral that their valid mobile number is registered with their Aadhar. This is because OTPs authenticate all online transactions, and hence it is a mandate to link Aadhaar with one's mobile number.
The Aadhaar Self Service Update Portal supports update requests for the languages: Assamese, Oriya, Bengali, Punjabi, Tamil, Telugu, Gujarati, Malayalam, Hindi, Urdu, Kannada, English and Marathi. The online address update request through the Aadhaar Self Service Update Portal can be made in two ways; either via proof or an address validation letter.
Update Address Online in Aadhaar Self Service Update Portal via Proof:
Visit https://ssup.uidai.gov.in/ssup/login.html and enter your Aadhaar number or Virtual ID number as well as the Captcha code shown on the screen.

Press the 'send OTP' button to get the pin as an SMS to your registered mobile number or press the 'send TOTP' button to get the pin generated in the mobile application mAadhaar, if you own the app on your phone.Enter the respective pin to log in to the Aadhaar Self Service Update Portal.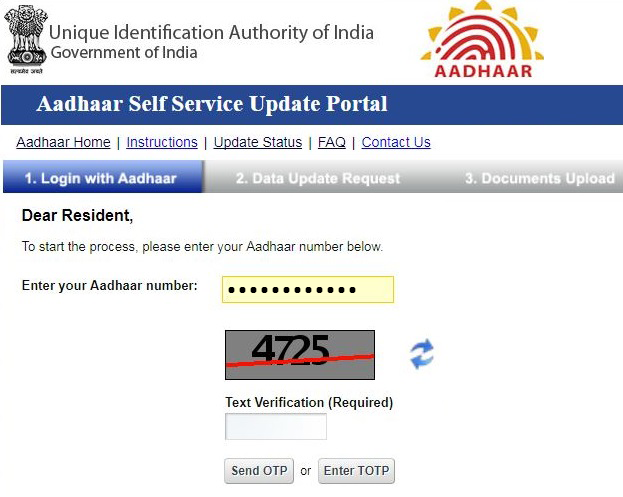 Click on the Address Update checkbox and fill the fields with the required details in English as well as your respective local language.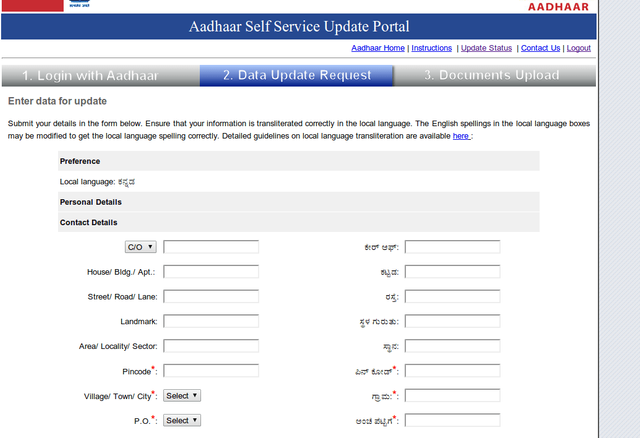 *In case any issues are faced while filling the required data, you can contact UIDAI contact centre at [email protected]
*If you want to include your Guardian/Spouse/Parent Name as part of the address, then you can select the address correction option and enter the c/o details as well as the name of the respective person in the required field.
The colour scanned copies of Proof of Address documents containing the name and address as per the valid list given below is to be uploaded:
*Passport
*Passbook/ Bank Statement
*Voter ID
*Driving License
*Insurance Policy
*NREGS Job Card
*Arms License
*Pensioner Card
*School ID Card
*School Leaving Certificate/ School Transfer Certificate
*Extract of School records issued by Head of School
*Marriage Certificate
*Allotment letter of accommodation issued by Central/State government
*Passport of parents/spouse
*Vehicle Registration Certificate
*Income Tax Assessment Order
*Registered lease/rent/sale agreement
*Ration Card
*Government photo ID cards
*Electricity/Water/Telephone bills
*Property Tax receipts
*Credit card statement
*Signed letter having photo by Bank/Company/Educational Institution on letterhead
*Kissan Passbook
*Freedom Fighter Card
*Disability/ handicapped medical certificate or ID card
*CGHS/ECHS card
*Certificate of Address having photo issued by MP/MLA/MLC/Gazetted Officer/Tehsildar/Village Panchayat head on UIDAI standard certificate format
*Caste and Domicile Certificate having photo issued by State government
It is not necessary to upload all the documents mentioned above. You must only upload the documents which apply to you.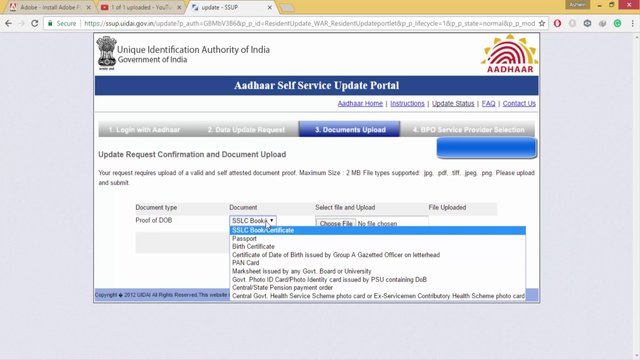 Review all the data that was filled in to make sure that it is accurate as the UIDAI will not make any corrections to the information in your request. Make sure that you have filled in all the fields required and have uploaded all the necessary documents. Otherwise, your address will not be updated, and you will have to undergo the entire procedure again.

Submit the request. Upon submission, an Update Request Number will be given for future reference as well as for tracking the status of the update. At any point in time, you can use this number to check the progress of your request. Note it down carefully and download or print your acknowledgement copy. The acknowledgement copy will serve as proof for your request if it is ever needed in the future.
Update Address Online in Aadhaar Self Service Update Portal via Address Validation Letter:
In case an individual does not have the documents that are recognized as address proof, they can request an address validation letter through the Aadhaar Self Service Update Portal. Through this method, you can update your current address with the consent and authentication of a family member, relative, friend, etc.
who will act as an address verifier and is willing to let you use their address as the required proof. The address will be validated by sending the validation letter containing a secret code to the address of the respective verifier. It must be kept in mind that both the resident as well as the address verifier must have their mobile number registered with their Aadhaar for this procedure to work.
In a situation where the address verifier fails to give consent within the stipulated time, the request will be deemed invalid, and the resident will have to initiate the process once again. As mentioned before, this process is only applicable to those individuals who do not possess any of the documents which are accepted as proof of address.
It is only under these circumstances that they will have to use the address validation method to update their addresses on the Aadhar Self Service Portal.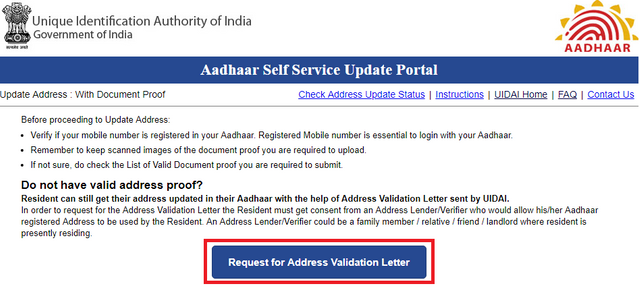 The process is as follows:
Log onto https://ssup.uidai.gov.in/ssup/login.html and enter your Aadhaar number, Captcha, as well as the OTP sent to your registered mobile number. You may also enter 'TOTP' pin which is sent to the mAadhaar mobile application if you possess it on your phone.

After that, enter the address verifier's Aadhaar.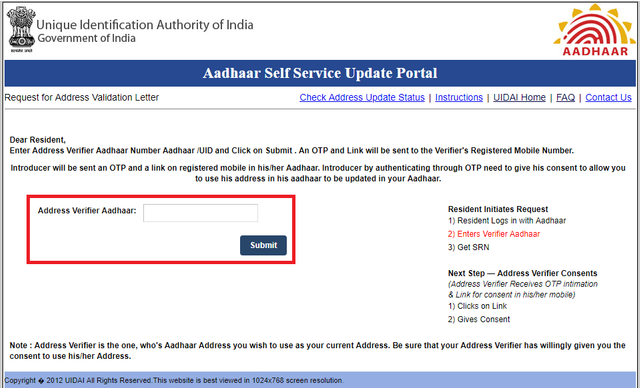 You will receive a Service Request Number for checking the status of your update request. You can check whether the address verifier has permitted to use their address.

The address verifier will receive a link for consent in their registered mobile number. They will click on it, log in with their Aadhaar and will give permission.

Upon giving consent, you will receive confirmation of verifier's approval on your mobile. You can log in with the Service Request Number and preview the address as well as make any necessary edit and then submit your request.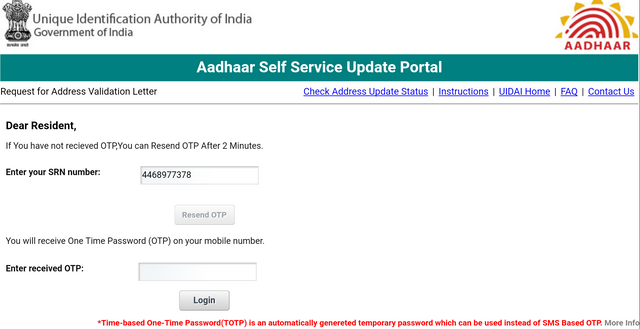 You will then receive a letter containing a secret code via post, which can be used to update your address when you log onto the Aadhaar Self Service Update Portal.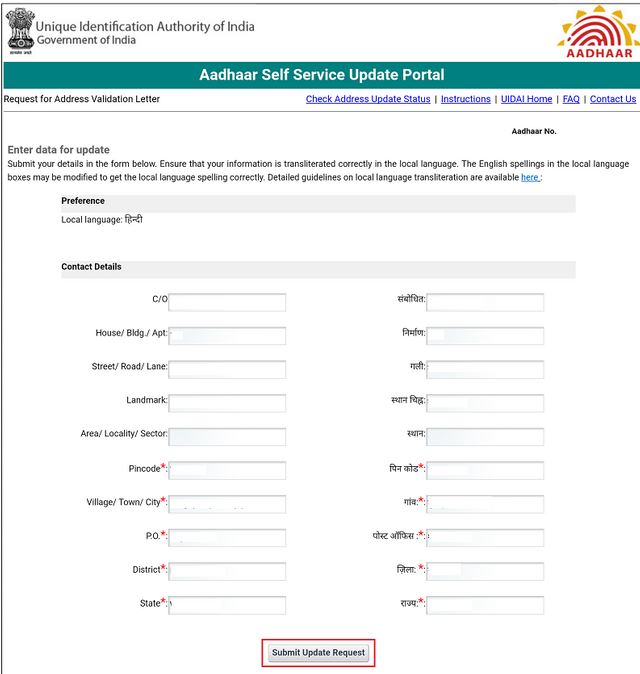 Review the new address and submit. Once again, make sure all the data that you have entered is correct as the UIDAI will not make any changes after you have given your request.

You will receive an Update Request Number for checking the status of the update. This number can be used to monitor the progress of your request.
In this manner, by availing the services of the Aadhaar Self Service Update Portal, one can update their address effectively. Users say that it takes about one week for the address to be updated through the Aadhaar Self Service Update Portal, which would have otherwise taken more than a month.
In the Digital Age, where people rely on technology for each and everything, the Aadhaar Self Service Portal is undoubtedly a step in the right direction as to where individuals can do their needful updates anywhere at any time. In this way, individuals can update their address or rectify errors without having to go through the hassles that would be required if they were to go to a process enrolment centre.