To All the Boys I've Loved Before: Let's Talk About It... (a movie review)


Hello beautiful people! <3
How's it going?


In this post, I'm going to talk about a movie which I watched around a month ago or so. I've wanted to make a movie review immediately after watching it, but I lost the chance. Perhaps I got busy with other stuff, or I just got lazy to write something about it.

Anyway, I thought I'd talk about it now. The movie is entitled, "To All the Boys I've Loved Before".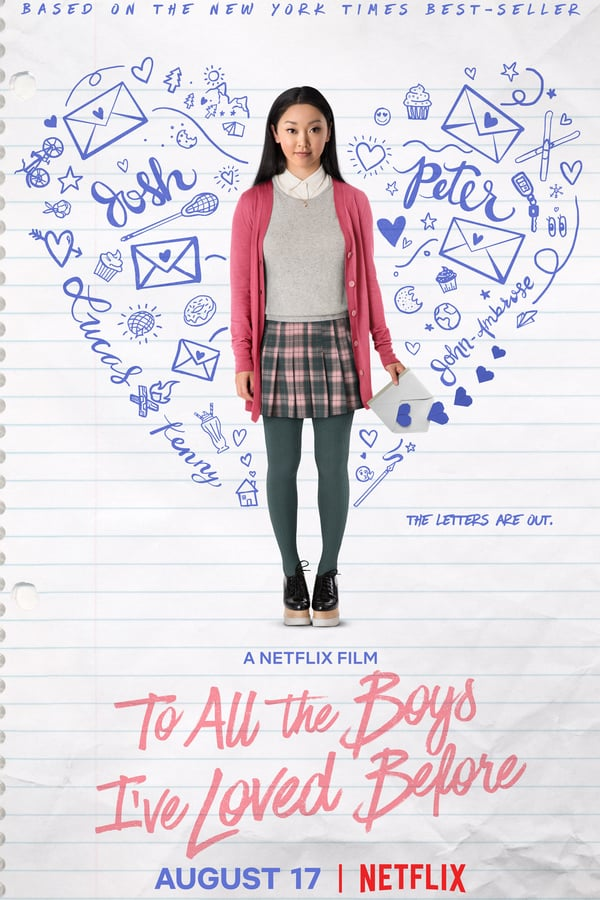 IMAGE SOURCE
As seen above, it's a NetFlix movie which was released last year.
It's about a girl named Lara Jean who secretly wrote love letters to all the boys he had her eyes on since she was young. The thing is, she just wrote them but never gave them to her crushes. One day, all the letters she wrote in the past were suddenly mailed to all the guys she "loved/liked". What do you think happened afterwards? It's for you to find out.
lol
The question I had in mind was "Why did she write the address of the recipients when she
DIDN'T
have the intention of sending them in the first place?" So I thought , perhaps at the back of her mind, she really wanted to send them those letters.
Lara Jean wrote letters to five different people. Some of them weren't really in the movie, except for three men. Let's talk a bit about them...
Josh = He has always been a close friend to Lara Jean. They feel really comfortable with each other, but unfortunately for Lara Jean, he became her sister's boyfriend... so she never intended to confess to him. After the letter was sent to him, things got a bit complicated.

Lucas = He and Lara Jean has a nice relationship. They care so much for each other... but only as friends (NO... CUT THAT!) they love each other as "sisters". Yep, Lucas turned out to be a guy with a female heart... so yeah, it was impossible to be more than that. :)

Peter = Mr. Popular guy... the complete opposite of Lara Jean. Well, he was Lara Jean's first kiss when they were kids. It was a dare they did for a game... so somehow, Peter had a special place for her. Well, he was also the reason why Lara Jean and her best friend became "ex-besties".


I don't know much about the other guys as their names were simply mentioned in the movie or perhaps in some flashbacks, so yeah.

Anyway, the concept of the movie was interesting for me. I'm the "hopeless romantic" type, but instead of writing letters for the guys I've liked/loved... I write poems. I guess, I have only written a letter to one of them, but I sent it to him. lol And he sent me a letter as well. In the end, it didn't work out. haha

The movie didn't only focus on Lara Jean and the boys, but also in the story of friendship and family. She and other characters have been through different situations and issues which viewers can actually relate. I think it's a nice movie. So, if you're into the hopeless romantic, family-oriented type of people who values friendship and relationship, then I recommend you watch this. I read that there'll be another movie next year and another one in 2021.


---


Movie URL: https://www.themoviedb.org/movie/466282-to-all-the-boys-i-ve-loved-before?language=en-US
Critic: AAA
---
Posted via Marlians.com