Retro Film Review: Afraid of the Dark (1991)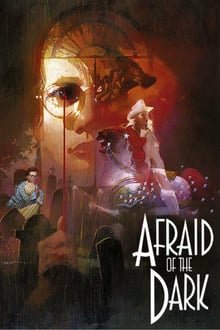 While Hollywood tried to milk the serial killer motives as much as possible in psychological thrillers, European film makers took somewhat more cerebral and less commercial approach towards psychopathology. One of the more bizarre examples is Afraid of the Dark, 1991 thriller-drama directed and co-written by Mark Peploe.
The plot is set in quiet little English town where the protagonist, little boy Lucas (played by Ben Keyworth) lives with his parents. Monotony of everyday life is shattered when the strange but obviously deranged individual appears and starts slashing blind women with a razor. Since his mother Miriam (played by Fanny Ardant) is also blind, Lucas is quite concerned for her safety. Lucas's father Frank (played by James Fox) is a policeman, but his efforts to catch the maniac are fruitless. Lucas instead starts investigation of his own and the prime suspect comes in the form of town's photographer Tony Dalton (played by Paul McGann). The truth is, however, more frightening that he had ever imagined.
Peploe used to work as a screenwriters for such movie giants like Antonioni or Bertolucci, and his work on Last Emperor even earned him an "Oscar". However, this time without Hollywood glitter or great director's talents, Peploe was more or less left to his own devices. The result was film which is more disturbing because of its lack of coherence than because of its content. The protagonist is not the only one who experiences unpleasant surprise at the middle of the film - the audience was led to believe that they are watching one kind of film only to discover that they are watching something quite different. But the unpleasantness comes also in the film's slow rhythm and series of scenes that make sense only to Peploe and hardly anybody else. Not even such great actors like Fox or Ardant can save Afraid of the Dark. Like many filmmakers that mistook lack of clarity for art, Peploe made sure that Afraid of the Dark ends like many titles that give "artsy" films such a bad name.
RATING: 2/10 (-)
(Note: The text in its original form was posted in Usenet newsgroup rec.arts.movies.reviews on December 10th 2002)