Film Review: Heaven Can Wait (1978)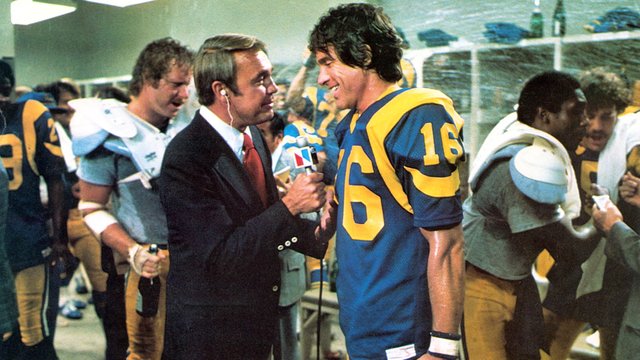 Some films don't age well, and that might include even those films that used to be big box-office hits and enjoyed favour of the critics at the same time. Heaven Can Wait, 1978 fantasy melodrama directed by Warren Beatty and Buck Henry, is one of such examples.
The plot is based on the eponymous stage play by Harry Segall which was in 1941 adapted in popular Classic Hollywood film Here Comes Mr. Jordan. Protagonist of the new version, played by Beatty, is Joe Pendleton, NFL player who worked hard in order to become quarterback for Los Angeles Rams. Just as he is about to start seeing his dream true, fate intervenes in the form of traffic accident in a tunnel. Joe wakes up in a strange place called Way Station from where he would have to start his existence in afterlife. However, it turns out that his celestial Escort (played by Henry) made a mistake and that Joe was scheduled for extra decades of life on Earth. Escort's boss Mr. Jordan (played by James Mason) wants to correct that mistake and bring Joe back to life, but Joe's body was in the meantime cremated. As a temporary alternative, he offers body of Leo Farnsworth, obscenely rich industrialist who has just been drugged and left to die by his adulterous wife Julia (played by Dyan Cannon) and her lover and his personal secretary Tony Abbott (played by Charles Grodin). Joe accepts the offer because he is intrigued by Betty Logan (played by Julie Christie), beautiful English environmental activist who came to Farnsworth's mansion to protest industrialist's plans to build refinery in her village. Joe gradually begins to adapt to his new body and lifestyle, but never gives up on his Superbowl dreams so he hires his old trainer and friend Max Corkle (played by Jack Warden) to get him into shape and arrange tryout for his old team.
Heaven Can Wait, apart from having very good success at box-office and excellent reviews, was also considered as a top favourite in the race for "Oscar", ultimately losing to The Deer Hunter. This could be partially explained with Beatty, who also produced film, enjoying reputation as one of the biggest stars and most influential personalities of New Hollywood. Beatty also had good fortune of having a role of an imperfect, slightly arrogant but ultimately vulnerable character who defiantly tries to preserve his dreams even when faced with ultimate confirmation of his mortality. Old-fashioned and generally good-natured treatment of afterlife and was greeted well by the audience tired of 1970s woes being seen on small and dark supernatural horror films on the big screen. Heaven Can Wait also benefited from diverse and talented cast, which included Beatty's former girlfriend and muse Julie Christie.
Good cast, however, can't compensate for the inefficiencies of script and direction. Beatty and his co-writer Elaine May (later known for infamous flop Ishtar) apparently can't find the proper balance between the fantasy, romance and black comedy, and the scenes at the end can't find the origin of the film as the stage play. The plot twist in the end in many ways represents disappointment because it make everything protagonist worked for pointless. This was also directorial debut for Beatty, and his lack of experience behind camera might explain some of the scenes being slightly overlong, confusing and making Heaven Can Wait look longer that it actually is. Viewers today is more likely to reject this film, because their lack of familiarity with film making styles of New Hollywood and little reverence to its icons.
RATING: 4/10 (++)