Film Review: Hairspray (1988)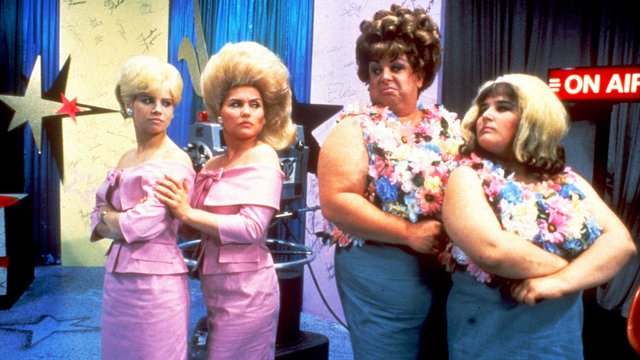 There are cult films and there are cult films that reach top levels of cultness. Among the latter belongs Hairspray, 1988 period comedy directed by John Waters, which is, ironically, the most commercially successful and most mainstream title in the filmography of a director known for campiness and transgressive content in his filmography.
Like many of Waters' films, plot takes place in his native Baltimore. The year is 1962 and the protagonist, played by Ricki Lake, is Tracy Turnblad, cheerful teenage girl whose life revolves around The Corny Collins Show, immensely popular local television show that features Baltimore teenagers dancing to the latest pop music tunes. Tracy and her best friend Penny (played by Leslie Ann Powers) come to the audition for new cast members, but it is Tracy who, despite being plump, that wins the spot due to her impressive dance skills. Her success infuriates show's top dancer, arrogant Amber Van Tussle (played by Collen Fitzpatrick) who is further hurt when Tracy steals her boyfriend Link Larkin (played by Michael St. Gerard) and challenges her for the title of Miss Auto Show 1963. In the meantime, Tracy and Penny go to black section of Baltimore to study dance moves where Penny begins romancing young black man Seaweed (played by Clayton Prince). This inspires Tracy to start fighting for the The Corny Collins Show to get integrated and allow black and white teenagers to dance together on screen. That prospect infuriates racists, including Amber's parents (played by Sonny Bonno and Debbie Harry).
In this film Waters maintains his love of kitsch and fondness from the outcasts from "proper" society, whether those who practice "wrong" lifestyles, have "wrong" colour of skin or, in the case of the protagonist, "wrong" body type. However, there is hardly anything transgressive or outrageous in Hairspray; Waters frames his approach within the limits not only of Hollywood mainstream, but also family friendly film content. Like so many films made at the time, it relies heavily on Boomers' nostalgia towards early 1960s and Waters takes great effort to reconstruct the period with proper costumes, hairstyles, music and dance styles. Divine, famous drag queen, Waters' good friend and star of his previous films, appears in Hairspray in the double role of Tracy's mother Edna and racist television station owner. However, his role isn't particularly impressive despite Divine being quite obese (a condition that probably played part in his tragic death from heart attack two weeks after the premiere). The real star is Ricki Lake, young actress who actually had major problems maintaining her plumpness due to gruelling physical demands of her dance routine. She radiates youthful confidence and has plenty of charms, convincingly showing a character that, despite her unusual physique, could earn respect of fellow dancers, get boyfriend and successfully lead fight for social change. She easily overshadows all other cast members, although in some cases it wasn't hard due to their characters being poorly written (like the crazed psychiatrist played by Waters himself); only Pia Zadora stands out as parody of proto-counterculture beatnik girl. Some critics have accused Waters of treating the serious issue of 1960s civil rights movement in Southern USA in a nonchalant comedic way, but such approach works in the context of nostalgic Hollywood fantasy which has entertainment as its main purpose. Hairspray is very funny and likeable film and it was recognised as such by the audience; although its box office success was modest, it became big hit on home video and its cult status continued to grow. In 2002 Hairspray had the honour of being into adapted into hit Broadway musical which itself became basis for 2007 feature film version starring Nikki Blonsky.
RATING: 6/10 (++)