Film Review: Chattahoochee (1989)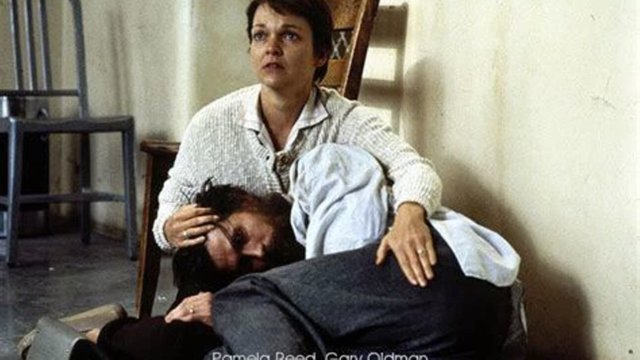 Many soldiers find challenges of peacetime civilian life more demanding than anything that they experienced on battlefield. This appears to be the predicament of the protagonist of Chattahoochee, 1989 period drama directed by Mick Jackson. Gary Oldman plays Emmet Foley, young Florida man who returned from Korean War as decorated hero. Three years have passed and he seems unable to hold the job and provide for his wife Mae (played by Frances MacDormand) and young daughter. On February 14th 1955 he begins shooting the neighbourhood in ill-conceived plan to force police to kill him in order for his wife to collect insurance. After police fails to do, he shoots himself but he is brought to hospital and nursed back to health. After explaining his motivation, he is sent to Florida State Hospital in Chattahoochee where he is supposed to receive psychiatric treatment. Foley soon learns that the institution doesn't provide any treatment and instead serves as state's human dumping ground where psychotic patients have to live with sane convicts transferred from prisons. Foley witnesses many acts of violence and abuse by hospital staff. At first despondent over his inability to get release, Foley begins documenting abuses and writing about them to his sister Earlene (played by Pamela Reed). When hospital authorities learn about it, they begin subjecting Foley to cruel punishments and attempting to deprive him of paper. Foley, encouraged by fellow inmate Walker Benson (played by Dennis Hopper), continues the fight that would ultimately expose scandalous conditions in hospital and win his freedom.
Script by James Hicks was based on real life story of Chris Calhoun, Florida man who, after his release in 1962, became an activist for the right of mental hospital patients and also spent decades trying to convince Hollywood films to make the film about his life. He finally succeeded with Hemdale Corporation, minor studio that had success with prestigious "Oscar"-winning films in 1980s. Chattahooche, which represented feature debut of British director Mick Jackson, failed to make similar impact. The reason might be in its subject looking irrelevant to the audience in late 1980s and inevitable comparisons with One Flew over the Cuckoo's Nest, much better film with similar subject. Jackson did solid job with recreation of 1950s, both in scenes depicting life in suburbs and those in hospital, but the script was uneven in tone, ranging from black comedy in the beginning to serious drama near the end. Episodic nature of the plot required better care about protagonist's transformation from helpless wreck into determined crusader. The plot resolution happens quickly and is anti-cathartic. Music score by John E. Keane is overwhelming and use in the wrong scene, adding unnecessary layers of pathos. What makes this film interesting and somewhat watchable is strong performance by Gary Oldman, who obviously likes playing over the top characters and whose work gets even more impressive considering that he, as a native Londoner, had to master US Southern accent. Chattahooche can be recommended to Oldman's fans, but most of the audience would be served better by other examples of prison genre.
RATING: 4/10 (+)