Film Review: Catchfire (Backtrack, 1990)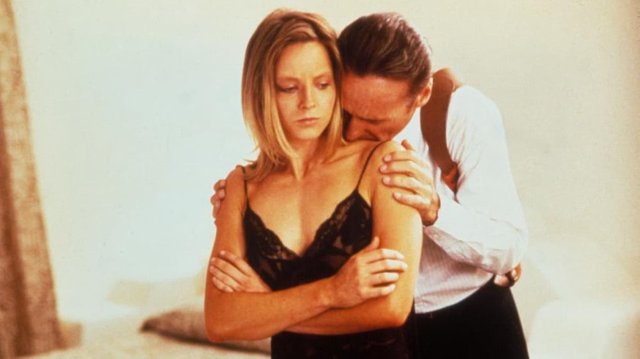 "Allan Smithee" is the pseudonym used by Hollywood film authors who want to officially disown their work. In past half a century or so it hid many names and, arguably, the most notable among them was Dennis Hopper, star and director of 1990 romantic thriller Cattchfire. The same film was in subsequent years re-edited according to Hopper's wishes and released on cable television under title Backtrack.
The plot begins in Los Angeles where conceptual artist Anne Benton (played by Jodie Foster) drives home from the gallery and, after having one of her tires go flat, leaves car to seek help and accidentally witnesses brutal Mafia murder. She contacts the authorities, but her home gets invaded by two mafia assassins - Pinella (played by John Turturro) and Pinella (played by Tony Sirico) – who kill her boyfriend Bob (played by Charlie Sheen) by mistake. When FBI agent Pauling (played by Fred Ward) offers Anne participation in witness protection program, she decides to go hiding and seek new identity herself. Mafia bosses, led by Mr. Avoca (played by Vincent Price) are nevertheless determined to kill her and hire the best man for the job. It is Milo (played by Hopper) who as a very methodical man starts by gathering as much information about his future target as possible in order to figure out how and where she would hide. He manages to track her down in Seattle, but she escapes, forcing him to start search again. Anne hides in New Mexico, where Milo finds her again. But, along the way, he becomes obsessed and his professionalism is getting clouded by the feelings he developed for Anne. Instead of killing her, he abducts her and offers a choice – either get killed and go with him. Anne takes the second option. She isn't happy at first, especially after realising that Milo doesn't appreciate her conceptual art, but their relationship develops into romance. By that time, Milo himself becomes the target of Mafia assassins and the pair realises that it would have to do something to escape their predicament. Anne suggests that Milo uses his professional skills to strike back at their pursuers.
Catchfire had difficult production. Foster and Hopper disliked each other at the set and Vestron, studio behind the project, was experiencing difficulties that would lead to film shelved for couple of years and studio itself go bankrupt. Considering the circumstances, finished film isn't that bad, although even less perceptive viewers might find a lot of unfulfilled potential. The script, originally written by Rachel Kronstadt Mann and Ann Louis Bardach (and later re-written by Alex Cox and Tod Davies), used the template of noirish story about couple on the run and filled it with unusual characters and details like the critique of 1980s conceptual art. Despite being clearly set in 1980s, Catchfire also had surreal "retro" atmosphere, added by Curt Sobel's musical score which was more suitable for Classic Hollywood or 1970s. Film also had an impressive cast, although most actors played underdeveloped, cliched or forgettable characters and that included Joe Pesci in uncredited role of one of Mafia bosses. This wasn't the case with two main actors. Hopper, arguably one of the greatest actors at the time, delivered good performance playing complicated character of a man who begins as a cool and collected professional only to later reveal himself as someone incapable of handling his newly discovered emotions or expressing them properly to the object of his affection. Despite on-set troubles, he has good chemistry with Foster who plays one of the most attractive characters in her career (and also has gratuitous nude scene); Anne, who transforms from being vulnerable to resourceful and manipulative, gives a little credibility to otherwise unconvincing, outrageous and potentially controversial story. Catchfire is nevertheless a messy film, especially during the showdown at the end which looks weak due to poor budget. Couple of bizarre details however bring this film into "it's so bad it's good" territory and the performances by main actors turn this relatively obscure film into a guilty pleasure.
RATING: 5/10 (++)
Blog in Croatian https://draxblog.com
Blog in English https://draxreview.wordpress.com/
Leofinance blog https://leofinance.io/@drax.leo
Cent profile https://beta.cent.co/@drax
Minds profile https://www.minds.com/drax_rp_nc
Uptrennd profile https://www.uptrennd.com/user/MTYzNA
Unstoppable Domains: https://unstoppabledomains.com/?ref=3fc23fc42c1b417
Hiveonboard: https://hiveonboard.com?ref=drax
Bitcoin Lightning HIVE donations: https://v4v.app/v1/lnurlp/qrcode/drax
Rising Star game: https://www.risingstargame.com?referrer=drax
1Inch: https://1inch.exchange/#/r/0x83823d8CCB74F828148258BB4457642124b1328e
BTC donations: 1EWxiMiP6iiG9rger3NuUSd6HByaxQWafG
ETH donations: 0xB305F144323b99e6f8b1d66f5D7DE78B498C32A7
Movie URL: https://www.themoviedb.org/movie/32924-catchfire
Critic: AA