From conceptualizing to gathering videos from participants and then the big task of putting them together into one heartwarming video...
I saw them all and I would say that I am truly proud of my hubby @kennyroy's dedication to steemit and his purpose. I have to admit that in the beginning, I also somehow doubted how he will be able to complete the project...
But guess what?!
The first contributors were just some of the popular personalities on steemit - @canadian-coconut and @sircork. I saw their raw videos and at the same moment my heart swelled and tears unknowingly found their way to my cheeks.
kennyroy and I agreed, it was not difficult to get them involved for they are people who are really supportive of charitable causes. Have you heard of @youarehope and @familyprotection yet? These are but two of great initatives here on steemit.
Then I knew we'll really pull it off!
Each time @ kennyroy would relate to me how he contacted people to come together for the video, and who already responded. I get giddy every time! Gosh... big names... and everyone else who joined are just so passionate about the platform and what it/we can do.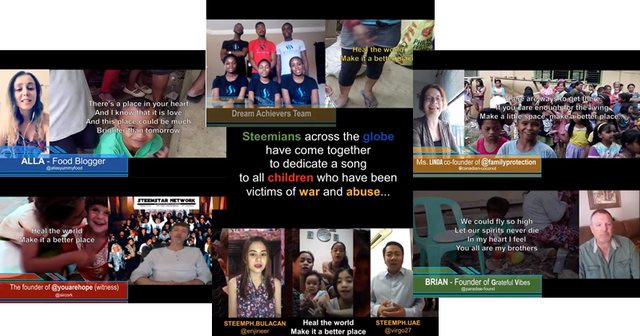 Screenshots from @kennyroy's video.
Congratulations Amazing Steemians!
Again here's the link to @kennyroy's post:

The long-awaited "International Steemit Music Video"
The videos are on @dtube: Link
and @dlive: Link
It is also on youtube:

---
Perfect topic to share for the #7daypositivitychallenge started by @conradt to spread positivity around steemit. I was nominated by @snowpea (thanks luv).
Today I nominate @iamdeth, @lhyn and @kennyroy.
Here are the rules:
Write a post about something you have to be postive about today - this could be anything from being thankful for your current situation, someone being nice to you, being thankful for your friends and family, or even being thankful for the oppurtunity you have been given here on Steemit - just keep it positive :)

Do this for 7 days in a row if you get nominated

Mention three people who should do this on each day.

Tag it with #7daypositivitychallenge and include these rules at the bottom of your post.(Tip: You need to put the # in front of 7daypositivitychallenge or it will not let you use the tag.)

Include a picture of something positive (related to your story if possible).

---


banner by @enginewitty