I was being nominated by @bboyady for this Daily Positivity Challenge and honestly to say, at first I have no idea what to write about. My wife @verasj who was also got nominated, started to write her post yesterday. She gave me some ideas and I'm so thankful that she helped me a lot.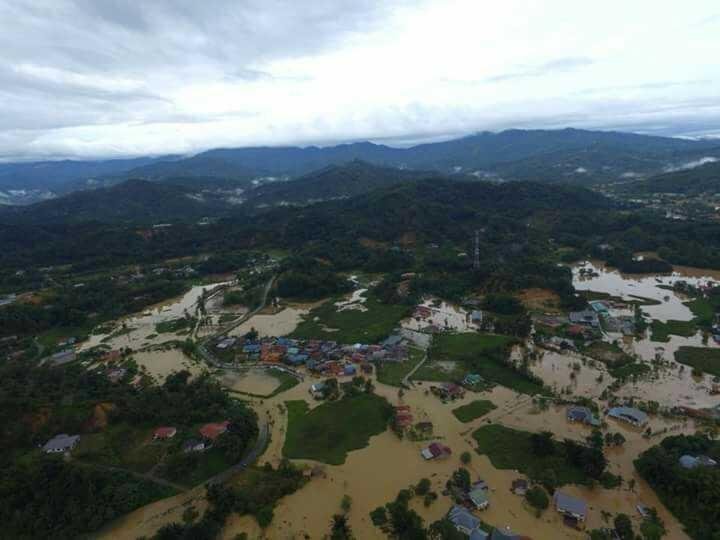 Photo taken from Pollo Jool's Facebook Account
Okay, today I would like to be thankful that during the recent flood disaster, so far, there were no life casualties that has been reported. But unfortunately, there are some major damages to properties that will surely has a negative effects on the victims daily routines.
I was at my parents house a few hours ago to visit and check on them. It was fortunate that their house has not been effected by the floods, but the freezer at my mom's restaurant was badly damaged and she has to buy a new one. All in all, I am so glad that nothing serious had happened to them or my other relatives and friends.
It's been 5 days since the floods, and I saw that some houses are still doing cleaning works. Most of their things especially beds and sofas are being put outside the house to dry, luckily, it hasn't been raining since Sunday. Some of them has to take a leave from work to finish off the cleaning works, I hope their employer will understand their situation.
That's it for today, watch out for my Gratitude Day 2 post tomorrow. Thank you for reading.
Nominations:
For this challenge, I will nominate @kennethtks, @melindajamulis and @zamifara
What are the rules of this challenge?
Write a post about something you have to be positive about today - this could be anything from being thankful for your current situation, someone being nice to you, being thankful for your friends and family, or even being thankful for the opportunity you have been given here on Steemit - just keep it positive

Do this for 7 days in a row if you get nominated

Mention three people who should do this on each day.

Tag it with #7daypositivitychallenge and include these rules at the bottom of your post
(Tip: You need to put the # in front of 7daypositivitychallenge or it will not let you use the tag.)

Include a picture of something positive (related to your story if possible).
Thank you @bboyady for nominating me! You can find the original challenge post here:
"7 Day Positivity Challenge" by @conradt