Australia Workng Holiday Visa #1 Perth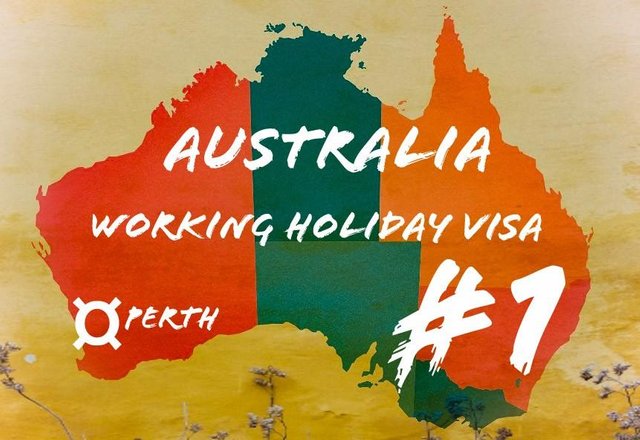 Hello Steemians,
Im a 30 year old guy from Germany and at the moment totally trapped in my work and life seems often like a daily routine. I remember how my grandparents always told me that I have to enjoy life because time is running. I tell you what, time is flying. Sometimes I feel like time is passing by so fast that Im getting left behind.
After i finished studying I decided to make a trip before I get caught in the "Rat Race". So my girlfriend quitted her job and we chose Australia as our destination. We got the Working Holiday Visa and stayed there for one year. It really was an amazing experience and until now it was our best time.
From time to time I like to think back at this time and it usually brings a smile on my face.
I would like to share my trip with you and maybe some Steemians who are planning of doing a trip like this as well gets inspired. I will not use further headlines for sub topics etc because I'm just writing how i remember the story. And don't blame me too much for my english, I will try my best. I hope you guys will enjoy it :)
After a long flight we reached Perth in Western Australia. Why Western Australia you ask? Because on one hand I prefer quiet places and nature but on the other hand I thought everybody is going to Eastern Australia like Sydney and Brisbane. So it would be easier for us to find a job here. Later I realized that I was not that smart as I thought :)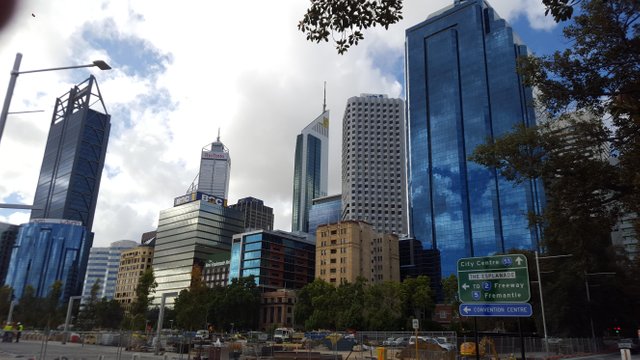 Perth City Center
We started about christmas time and that was the first strange thing to see there. Everywhere you saw christmas decorations while it was very hot outside and we were wearing summer clothes. No chance to get in christmas mood in this conditions if you come from a country where its usually cold on christmas.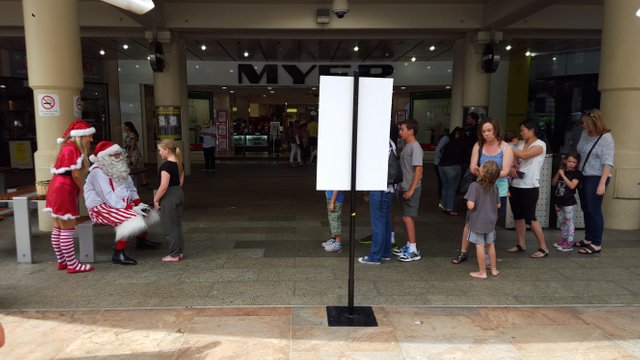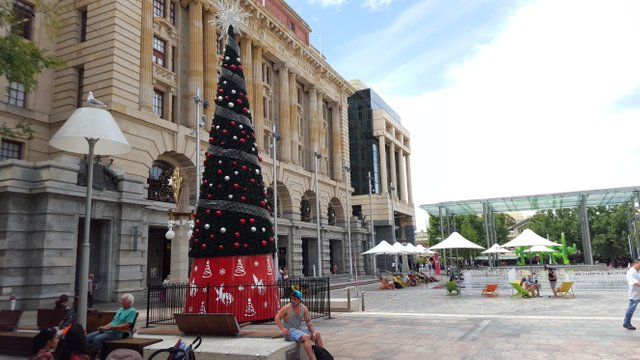 Perth has a great city center where you can find everything. But its not that overwhelming huge where you get lost. You always keep the overview and it seemed like you will get out of the city center in any direction within 20 minutes walking.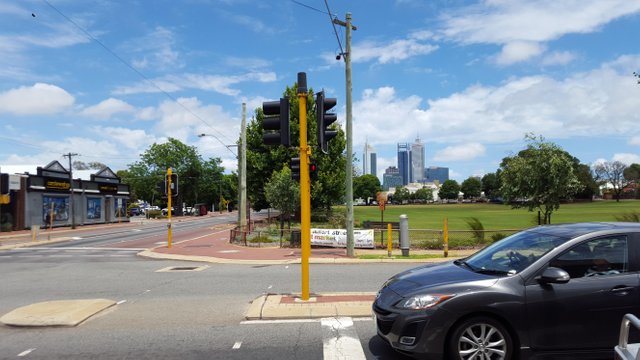 Perth City Center in the background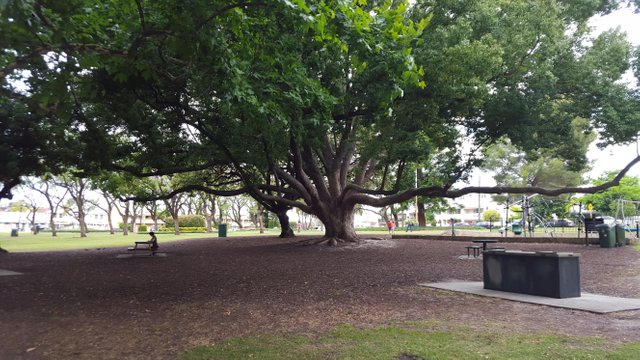 In the picture above you can see a public barbeque in a park. As germans we were surprised that you could use the barbeque for free. Definitely a cool thing.
For the first three weeks we stayed in a Hostel called Billabong. You have to get used to that you and your girlfriend are sleeping in one room with other guys and girls but not a big deal after one or two nights. In all hostels you share a big kitchen with all other people. In the morning we usually had to wait for the toasters :)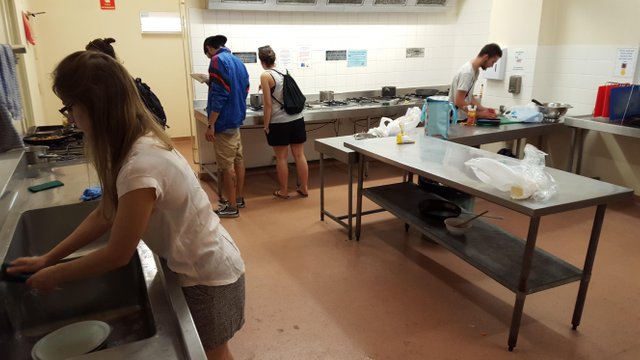 Hostel Kitchen
We usually took a walk to do some sightseeing before lunch and after lunch we often stayed at the outdoor pool at the hostel. In the evening normally all people came together at the backyard to have a drink or play some drinking games or just to chat. "Goon" seemed to be the favourite drink there for backpacker. It was about 3 liter of bagged wine which taste did not deserve the name wine. But it was cheap and it made you drunk quickly. We met here some friends which we spent the first weeks with.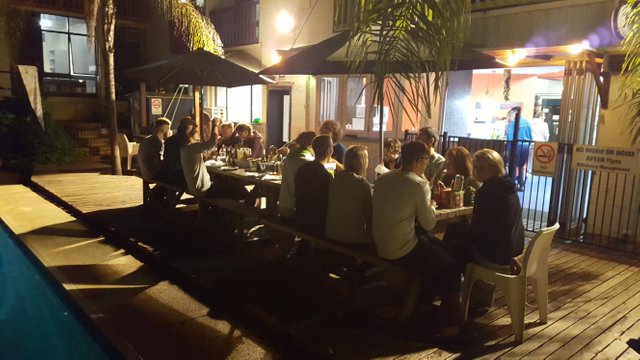 Hostel Backyard
One of the activities we made was to visit the King's Park. It's close to the City Center. The King's Park is on a small hill, but high enough to have a great view on the City. The Park was very clean and beautiful. There are many nice spots where you can have a picnic. You could easily get there and back with the Red Cat Bus Line, which you could go with for free.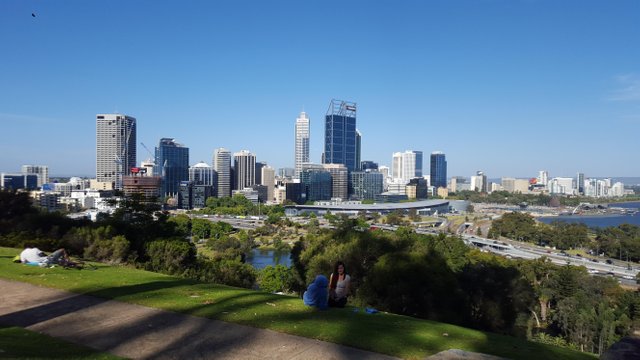 View from King's Park
On another day we made a bicycle tour around the swan river. I think it got its name because it looks like a swan from above. Check Google Maps :) And it is said that you can see black swans there. The Swan is like a mascot of Perth. They even built a building that is shaped like one called "Swan Bell Tower".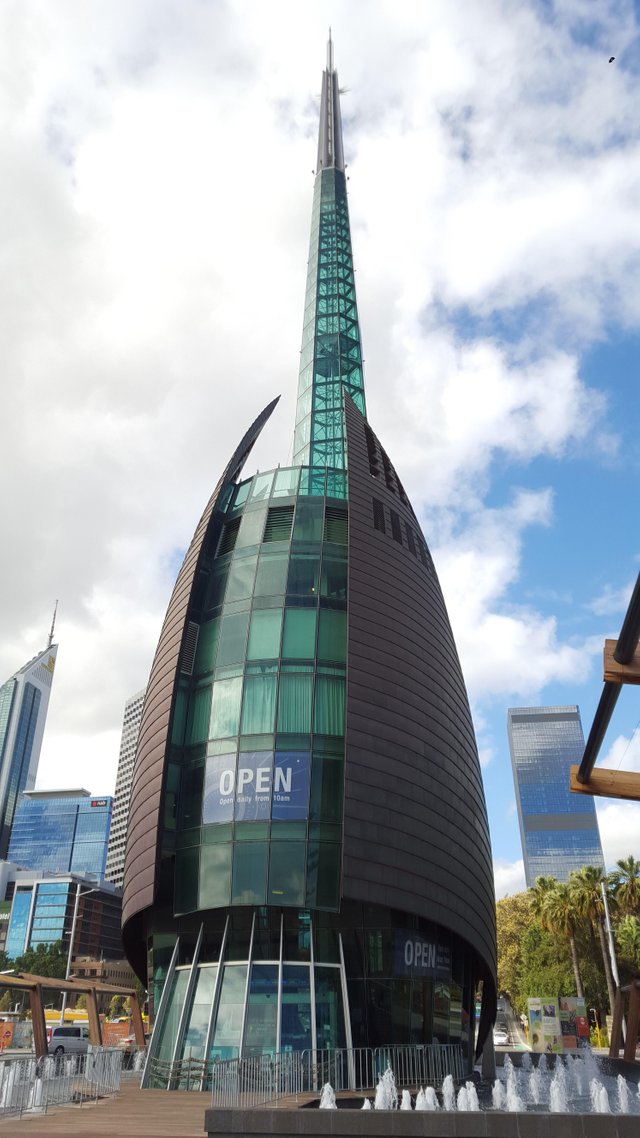 Swan Bell Tower from the back
It looks more like a swan when you look at it from the sides. If you zoom in the pic from the King's Park you can find the Swan Bell with a view from the side of it.
From here we took a walk along the Swan River to the shop where you can rent some bikes. It was a gorgeous walk with nice palm trees and parrots on trees. Colourful Parrots! In Germany im used to boring black and grey birds or annoying doves. :D By the way, never forget to have some water and sun blocker with you. The sun can be brutal.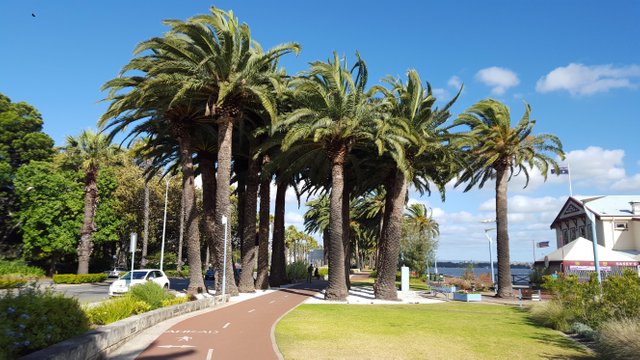 In the following are some photos from the ride around the Swan River with a view on the City Center.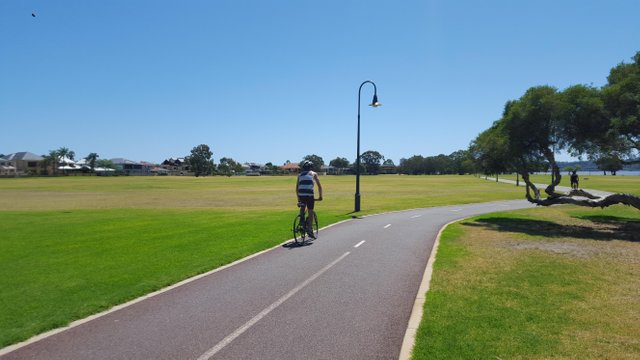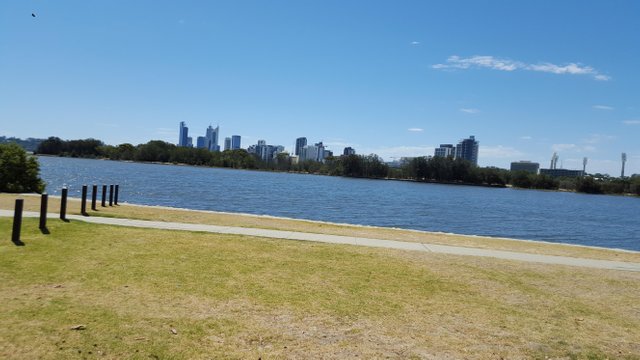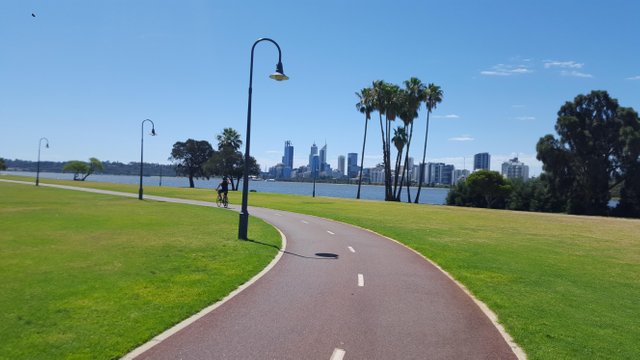 Meanwhile we moved from the hostel to a house in another place of Perth called Kenwick. Main reason for that was to save costs. We got a room in a house of a couple. They were really open minded and relaxed. Both usually were on trips for several days. So most of the time we had the house just for us. After one night at this place I wanted to go to the backyard. The owners were not at home. When I opened the door I almost shat my pants. When the door was open there was a dog standing right in front of me. He was about knees high. I immediately closed the door again. We then stalked for several minutes out of the window to see if the dog is a good boy :)
And yes he was the best boy. He was an old and calm dog.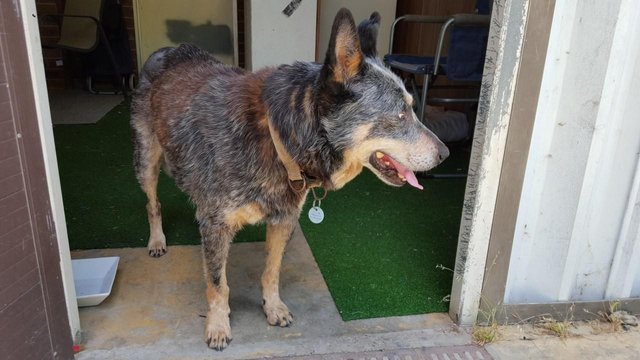 Good old Boy
They had a lemon tree in their backyard.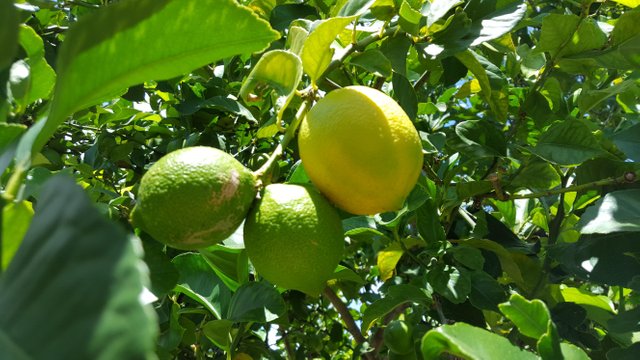 Perth has nice beaches. The first we visited was in Cottesloe. It was actually the first beach we visited in Australia. During that time it usually was quite windy whenever we visited a beach.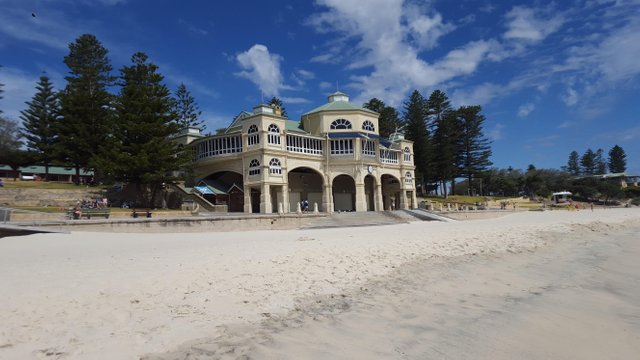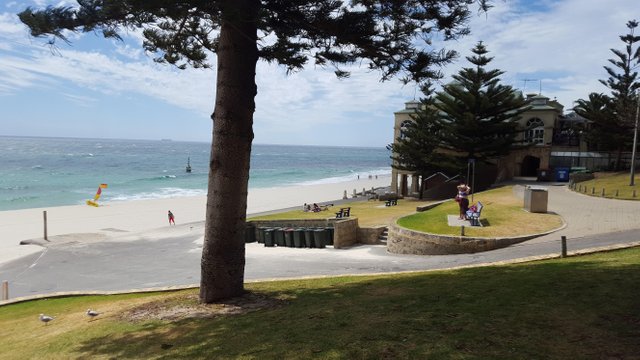 And how do you celebrate Christmas in Australia as a Backpacker? Exactly. At the beach! And with a barbeque. It was not easy to use because of the wind. I tried to pour oil on the barbeque and the wind blew it away even before it touched the surface and it flew directly in another ones face :D Was a really funny day.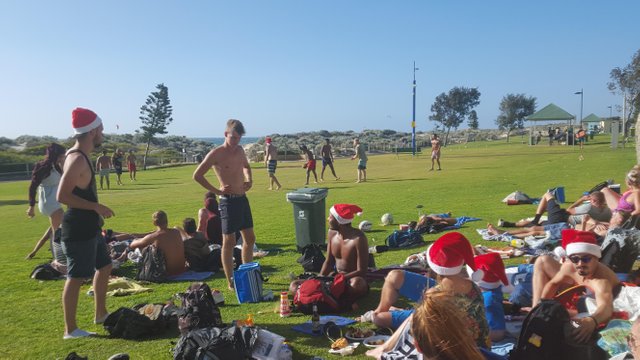 Scarborough Beach on 24.12.2015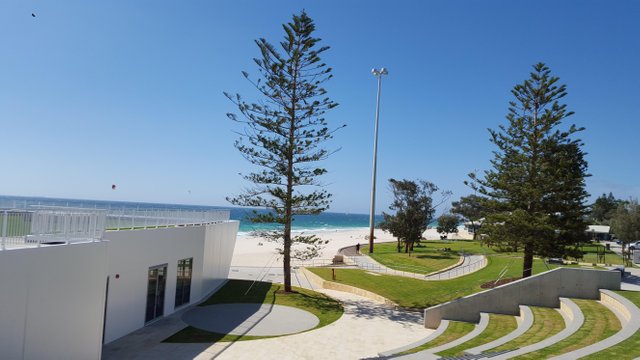 After about 4 or 5 weeks our money got less and less and we already were looking for a job for 3 weeks. And here we realized that if less people are visiting Western Australia it does not mean that there are more jobs for us. We tried to find a job as kitchen hand to stay in town but it was not that easy. I always wanted to do a fruit picking job because I connected that with the real Australia experience. And for this it iscrucial to know where and when the picking seasons are.
After a few days we found a job where we could do blueberry picking for food & accommodation for 4 hours a day of working. We decided to give it a try. It was advertised with a beach which is just a 5 minutes walk away and WiFi ect. That was not exactly true...
But I think it's enough text for now. In the next post I will continue with our trip.
So, stay tuned ;)