Perlombaan panjat pinang memang merupakana perlombaan yang spesial di momen hari ulang tahun kemerdekaan indonesia, sehingga setiap desa dan kecamatan menyediakan pohon pinang yang sudah di hiyas sedemikian rupa untuk persiapan pada tanggal 17 agustus nanti.
Perlombaan pnjat pinang ini merupakan tradisi masyarakat indonesia sejak dahulu, perlombaan ini ada semenjak masa penjajahan belanda di indonesia, pada zaman itu tentara belanda mengadakan lomba ini sebagai hiburan bagi mereka.
Lomba panjat pinang yang biasanya di sebut dengan sebutan "Pineung Glu" biasanya ikitu oleh 7 hingga 10 orang peserta, dan pohon ponang yang di gunakan untuk lomba ini adalah pohon pinang khusus, yaitu pohon pinang yang sudah di kupas kulitnya dan di poleskan oli atau minyak licin agar pohon pinangnya licin. Setelah itu di gantungkan hadiah di pucuknya seperti, kipas angin, sepeda, makanan, minuman, bahkan uang.
Terdengar seru bukan?,
Nah, jika ingin melihat bagaimana serunya perlombaan ini anda bisa nantikan di vidio saya nanti, saya akan membagikan keseruan perlombaan ini lewat vidio saya.
Atau anda bisa langsung mengunjungi channel youtube saya di bawah deskripsi.
🎭
The pinang climbing competition is indeed a special race on the anniversary of Indonesia's independence, so that every village and sub-district provides ornamental areca trees in such a way as to prepare for August 17th.
Pinang race is a tradition of Indonesian society since long time ago, this race has existed since the Dutch colonial period in Indonesia, at that time the Dutch army held this competition as entertainment for them.
Pinang climbing competition which is usually referred to as "Pineung Glu" is usually said by 7 to 10 participants, and the ponang tree used for this competition is a special areca nut tree, which is an areca nut that has been peeled and oiled or oiled slippery so that the pine tree is slippery. After that, hang the prizes in their buds, such as fans, bicycles, food, drinks, and even money.
Sounds fun right?
Now, if you want to see how exciting this race is you can look forward to in my videos later, I will share the excitement of this race through my videos.
Or you can directly visit my youtube channel below.
Thanks for watching.....
Dah, gitu aja..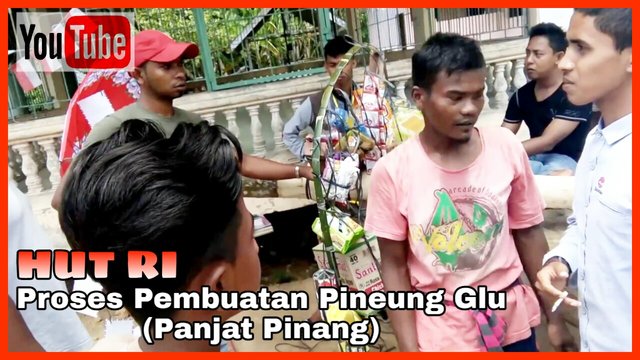 My Youtube Channel:
http://youtube.com/c/sudutpndangjourney
WorldPress:
http://sudutpandangjourney.worldpress.com
Twitter:
https://twitter.com/sudutpandangddy
Whatsapp: 📟 [+6281362009525]