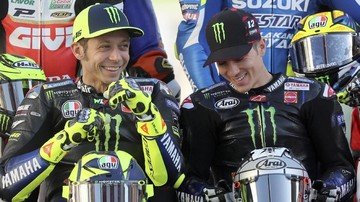 ---
Good afternoon Steemit sports ...
Not a few also asked that the title winner seven times in the main class to end his racing career. Moreover, Rossi is 40 years old.
What do you think about the answers VR46 that we have entered the age of 40 years? ..
Had appeared capable of finishing in second place in two successive races at the start of the season, the rider nicknamed The Doctor slowly appeared saggy, he even had time to record results three times failed to finish in three consecutive series: GP Catalunya, Italian GP, ​​and Dutch GP.
The minor incision made him repeat a similar incident he had achieved eight seasons ago while still racing for the Ducati team, not surprisingly, many people judge Valentino Rossi is no longer competitive to compete with younger racers in the first class.
"The doctor" asserted that he would retire very much depends on the ability of Yamaha engines that if decreased performance. If on the contrary, then he will hesitate to retire.