Youtube Giveaway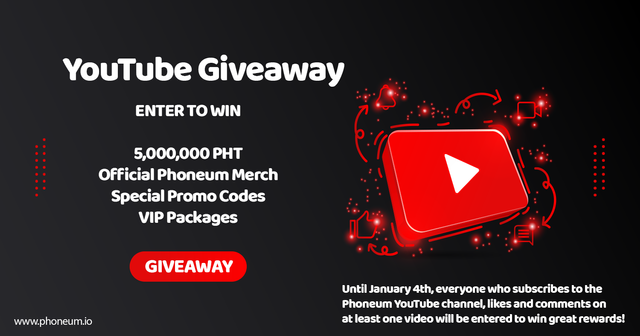 Hello Everyone,
We are excited to announce the biggest Giveaway of the year! This one is the most special of them all for a few reasons!
Until January 4th, everyone who subscribes to the
Phoneum YouTube channel, likes, and comments on at least one video will be entered to win great rewards, including Phoneum Merch, Special Promo Codes for FREE purchases on our platform, VIP packages, and 5,000,000 PHT!
Channel: https://www.youtube.com/c/Phoneum
The year 2021 will be huge for our official Phoneum YouTube channel. There have been numerous requests from our community to do more videos. We will focus on bringing the most valuable content in the form of Tutorials, Tips & Tricks, Important Announcements, Walkthroughs, Giveaways, Events, and much more!
Subscribe and hit the bell so you get notified when we post new videos!
Thank you for your continued support!
The Phoneum Team