BACKTOSCHOOL "EMPOWER A CHILD" CAMPAIGN, CELEBRATING WITH NIGERIAN CHILDREN ON CHILDREN'S DAY
May 27th every year is Celebrated as Children's Day Worldwide to commemorate with the Children everywhere around the world.
It is instituted to
Promote mutual exchange and understanding among children.
initiate action to benefit and promote the welfare of the world's children.
In Nigeria, the event is marked with a Public holiday and seen as a very big day for school children, whose job on such occasions is to carry out diverse functions which includes
Match Pasts
Cultural Dances
Dramas/Dance
*et cetera.

Today, to enforce our "EMPOWER A CHILD" Campaign,which we wrote about a while ago, @backtoschool team went to celebrate with the children and donated Stationeries to students of different schools present.
Based on our Mandate which is to Render help to students and support education from the steem blockchain, we decided to give the little we could afford back to the community.
THE JOURNEY...
@Backtoschool Team members went to Ibeku High School in Umuahia North Local Government of Abia State, which was used as a rendezvous point for all Schools within the local government for the children's day celebration.
ARRIVAL
We arrived at about 10:37am and we witnessed the opening of the ceremony with a parade from the Children of Nigerian Police Academy.
THE EVENT
The event was kicked off when the Governor of the State, duly represented by the deputy governor stepped n to officially declare the ceremony open.
DONATIONS
@Backtoschool team immediately swung into action, donating books, pens and other stationery to students of different schools on ground.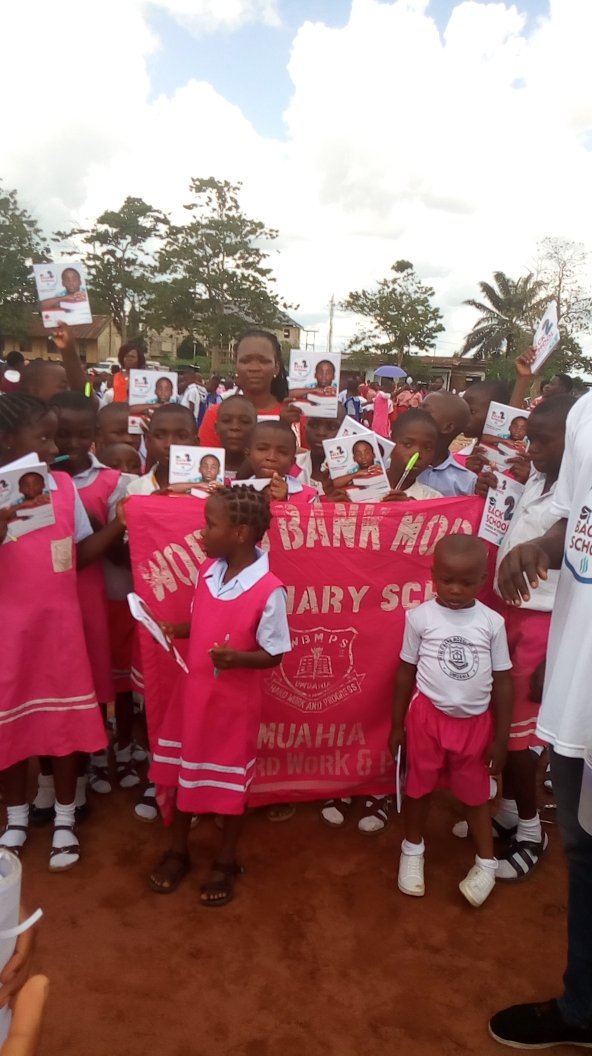 World bank Model Primary School 2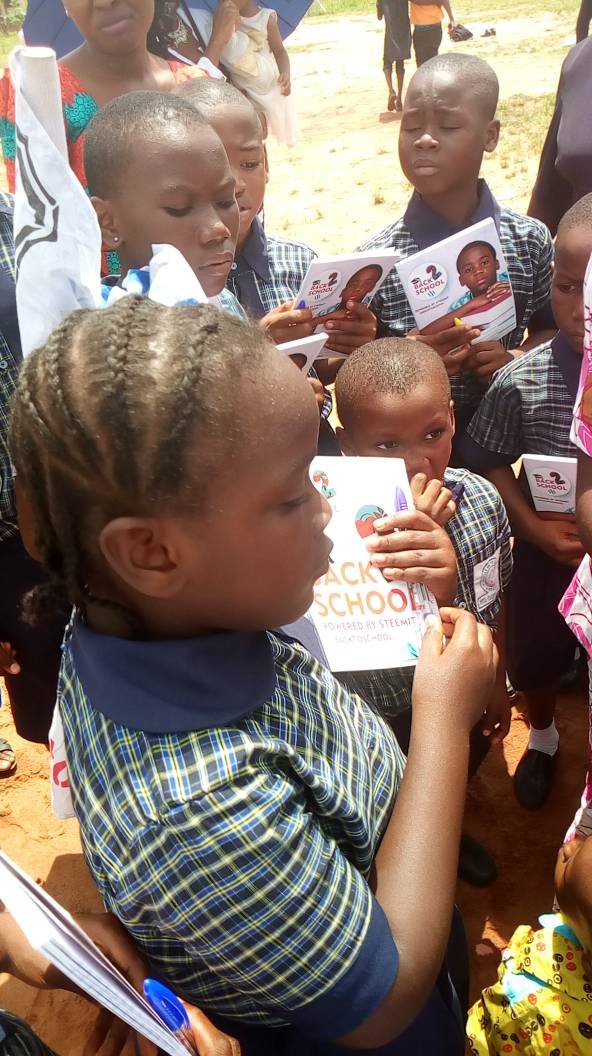 Umuachara Nursery and Primary school.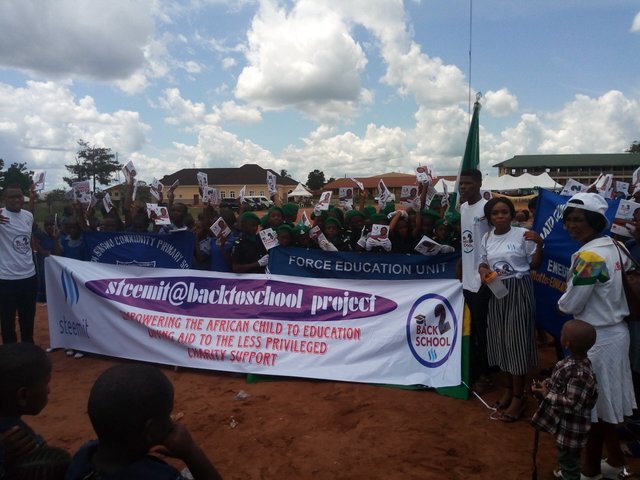 Nigerian Police Force Education Unit and Umusinwa Community Primary Schools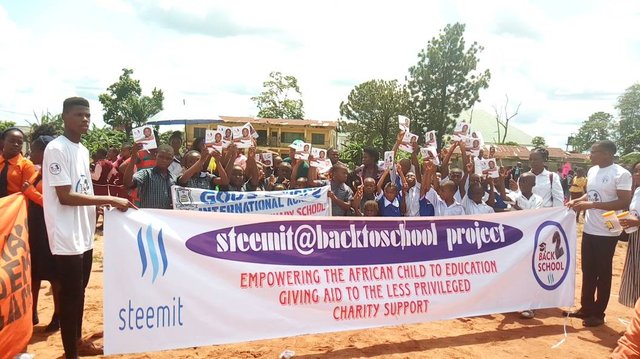 Godstime International Primary school.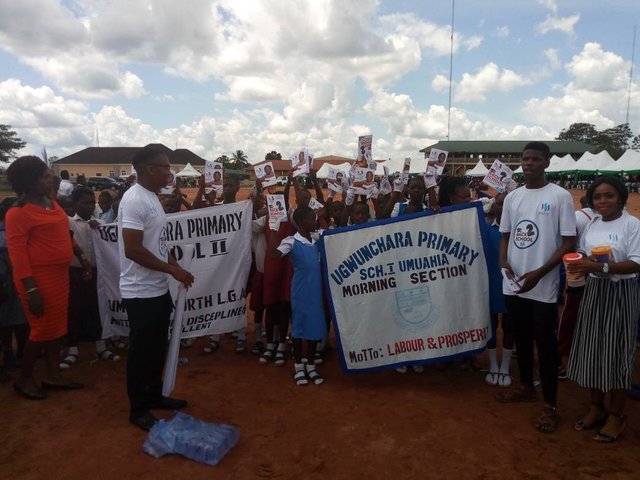 #Ugwunchara primary school 1 and 2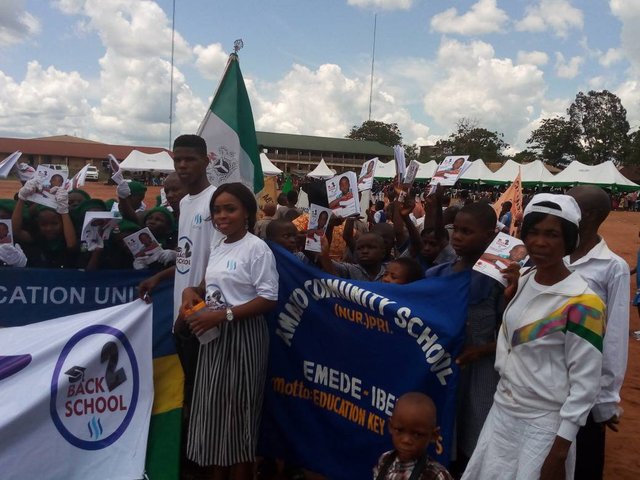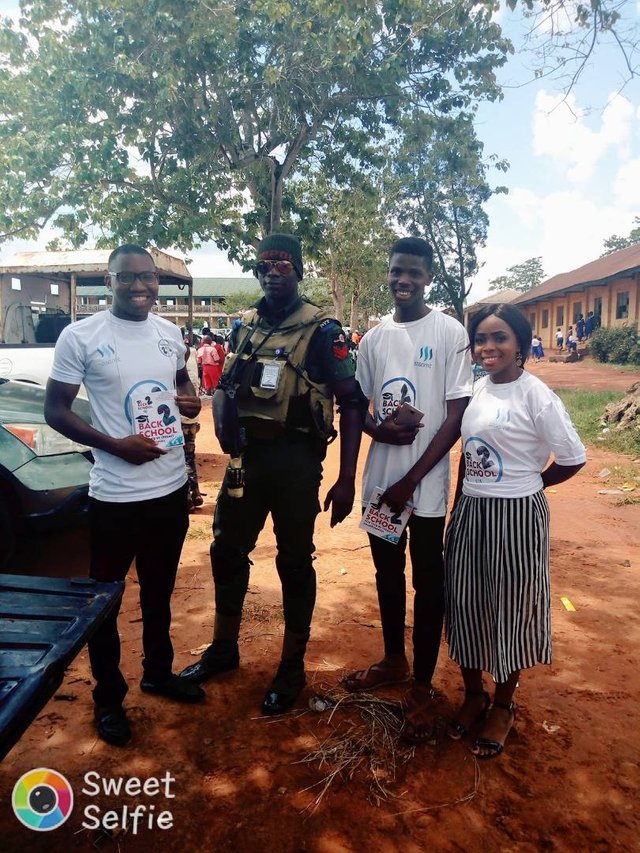 Mr Ifeanyi who just got registered on steemit, after seeing our works and having a discussion with the team.
Some of the others schools who were happy for receiving donations includes
Umuafara Primary School
Umunchima Community Primary School
Afara Ibeku Model Primary school 1 and 2
Nigerian Police Force Academy, Ubakala.

INTERVIEW
We interviewed some of the teachers of a particular school on how they felt concerning our visit and they were indeed happy and appreciating.
Many people expressed lack of information about what we are doing and where we are coming from.
@backtoschool team went ahead to explain about steemit to the teachers of some schools and illustrated the ideologies behind Steemit and @backtoschool project.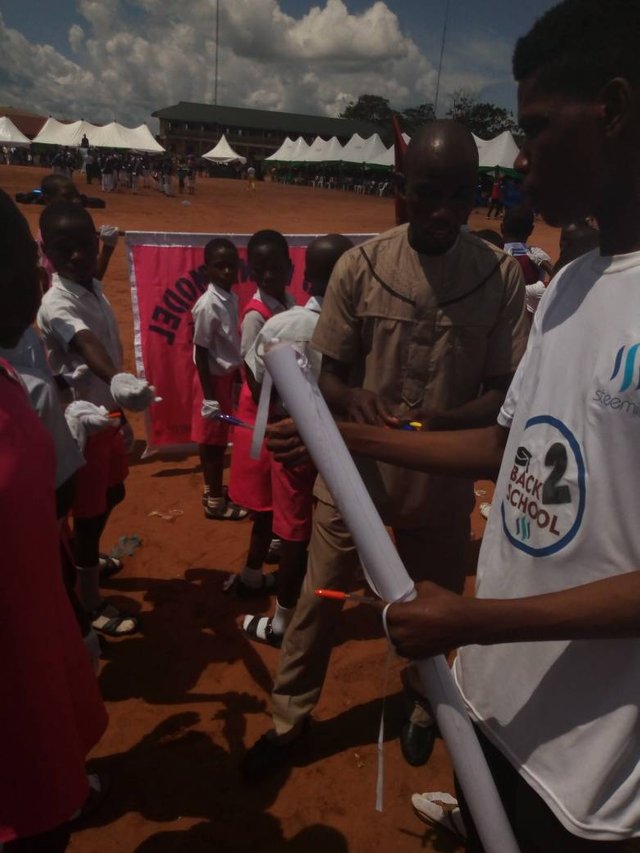 We ended up sharing every available material we had to the children.
APPRECIATION
@Backtoschool team is expressing our sincere Appreciation to @SirCork and All members of @YouAreHope foundation for Sponsoring this Mission with 80SBD, the donation went a long way to make this Campaign a reality.
To @Nairadaddy and @air-clinic, we thank you because without your help, advice and support, this vision wouldn't have been existing today.
To @ehiboss of @genesis-project who donated 15 Steem to help ensure this campaign was successful, thank you sir.
To @tarekadam, who donated 50 steem to our Charity, thank you sir for your zakat.
We also want to specially thank all those who supported us in one way or the other through upvotes, donations, suggestions, we really appreciate.
CONCLUSION
@Backtoschool "Empower A Child" Campaign For Umuahia Environs was successful, due to the Proposed Public holidays scheduled for tomorrow and next, 28th and 29th of May, we shall be embarking on Phase 2 of the Campaign, in Aba Metropolis to spread the good news of steemit and Empower the Children.
We are working in alliance with @Iconelly of @back-to-life project to carry out this campaign in FCT Abuja.
Due to the Massive Fall in the price of STEEM/SBD we couldn't print out 1,000 exercise books, we had the financial power to print 850 books, of which 500 were distributed today. Other stationeries were available in good quantity.
Once again we express our sincere gratitude to all those who made this Campaign a reality, May God Bless You All.
---
Please vote for @Sircork for Steem Witness, follow this link :