My day to day lately, a reflection in time and space from a girl in pain.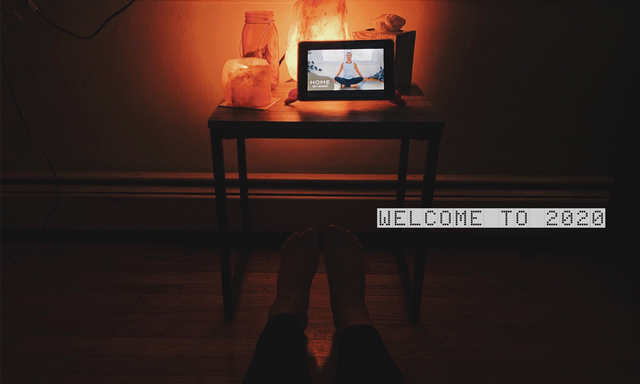 I'm sitting here, on my yoga mat, tears streaming down my face. A few months ago the sight of a blue-haired dayleeo on a yoga mat was nothing to remark. A daily occurrence in fact. But lately that hasn't been the case.
My, it's been awhile. Let me do my best to catch you up...
About mid November, I started experiencing severe muscle spasms through my low back and left hip. So severe that they stopped me from sleeping, walking, sitting and even laying. down
Since then, I've been to 2 emergency rooms, 3 doctors had scans, scripts (14 and counting) been poked and prodded and tried everything that professionals, and loved ones have suggested to feel better.
I'm making small strides in the right direction but every day has been difficult, and I'm running on almost no or very little sleep for more than 10 weeks and counting.
In hard times, I've always turned to yoga. You may have even seen my blogs, tweets and monthly calendar musings. Not only does it keep my body pain free, open and relaxed, it helps my mind.
Oh how it helps my mind. It's been there for me for what could arguably been the toughest decade of my life. A constant, that doesn't require a monthly membership fee, fancy equipment, or even much space. (Yes I've practiced in bathrooms, when necessary!)
The only thing yoga has ever asked of me was a little time. And it's always come through.
My heart has been broken not being able to practice as a result of this injury. I can only describe the feeling like missing an old friend, or being homesick. Setting aside time for yoga has always been my opportunity to flush out the old and make room for the new. To defrag the drive, to just stop and breathe and remind myself of myself.
So today I decided to dip my toes into Day one of Yoga With Adriene's latest series called HOME. It was slow, and easy and I still did a lot of modifying to make sure I wasn't hurting myself.
But I did it. I breathed deep again. I rested in my body and let the outside world melt away. I moved slowly but confidently in my body. And when I finished, I cried.
I can't say I'll be able to do yoga regularly again any time soon. These days most of my energy is goes into just getting out of daily pain.
But I'm thankful for these few minutes where I was reminded of what a body in motion and a mind at rest can do for a frustrated weary outlook.
I hope next time we speak I'm scaling mountains, and practicing daily and running and laughing and enjoying the fresh air.
But for now, today I'm etching this moment into the blockchain.
That I came, I practiced and I'm here.
Hello there, From a very sore, very tired Dayleeo.
Happy 2020
Here's to moving forward.
<3 Dayle