I apologize for the late post but as you know with the trouble going on yesterday, I didn't want to mess anything up so here we go!
Welcome back to my WWII photo series. These are pictures taken by my grandpa Joe, in Germany, during WWII. If you would like to learn more about this story, please refer to my first post here. Unfortunately, today we don't have any action pictures, but these are just as interesting! There are plenty more action shots to come :)
In today's series of photographs, we have a few shots of American troops standing in formation. It is really awesome to see these after all those years of not being developed, you rarely see such quality of photographs where you can see each individual soldiers face like that. Is it possible that your grandpa is one of these you men? Likely not, but you never know. It would be quite something if he was!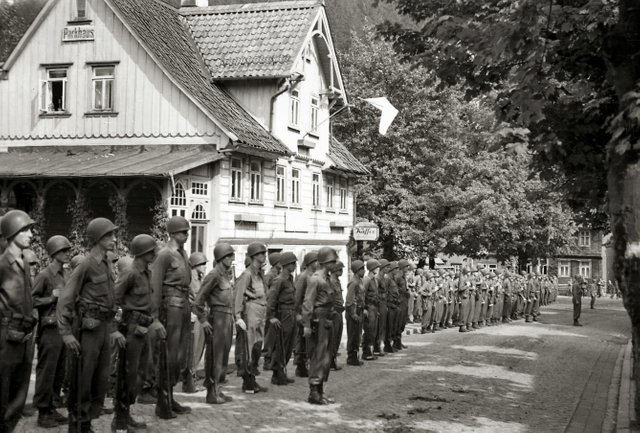 Click To Enlarge
Using my own experience as a soldier in the army, I would say that this is a company sized formation. Each group is a platoon, with their respective platoon leaders standing in the front. These photos were taken near the Switzerland border, you can check out my last post if you would like to know more about that.
The wooden shingles on the parkhaus are really cool! Also, it doesn't look at all like a modern parkhaus so I wonder where everyone is parking? Maybe in the back?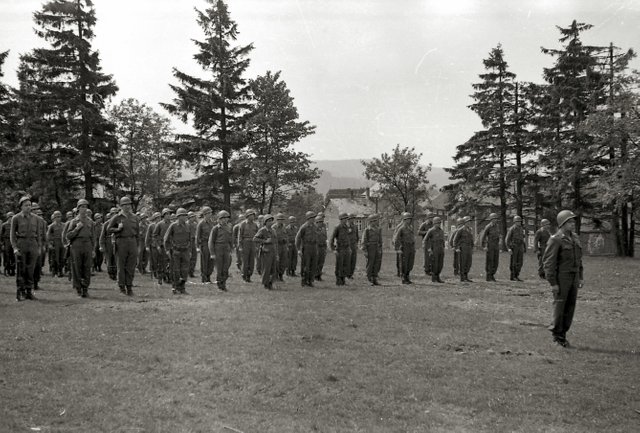 Click To Enlarge
Here we have a formation in the field. I can only assume that they marched outside of town, for some reason or another, and here my grandpa snapped another picture. This is just really odd to me (and maybe you other Army guys out there can chime in) that my grandpa was allowed to take photographs out there in front of the formation like that. My only guess is that he was acting in some sort of official capacity, but his discharge papers only state he was an infantryman.
Another quick note about this shot. It appears to be a platoon-sized formation but there is a captain in front. By modern standards, he would usually lead a larger, company-sized element. He could have just been with the platoon for the day, or maybe it's a really small company like headquarters company or something. Hard to say.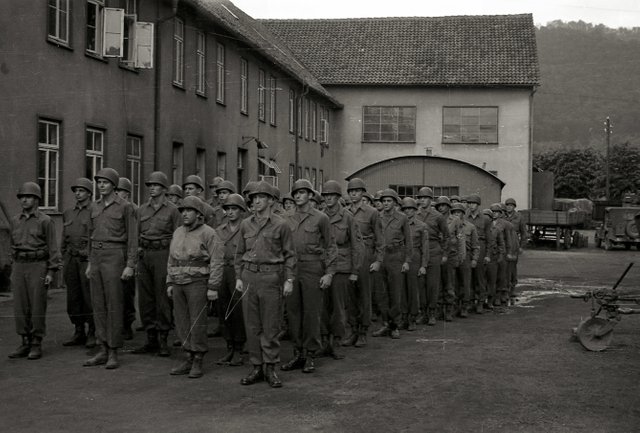 Click To Enlarge
This is another amazing shot captured in a courtyard and is the only one where we have a group of soldiers without their weapons. We also have that jeep parked there in the back unattended, so I have to assume we are on some base or an outpost. The first thing to catch my eye was the short guy front and center, out of uniform, with his dirty boots on. I thought to myself its gotta be an officer, but where he is standing doesn't make sense and there is no rank on his helmet.
Next to catch my eye is that tall angry looking staff sergeant in the right side. He looks pissed! I would not want to be yelled at by him. I can see what he is thinking "I'm gonna kill you for taking my picture, Private!". It's really interesting to zoom in on this one to see each man's individual facial expression. Some are looking directly at the camera, and some are looking straight ahead like they are supposed to!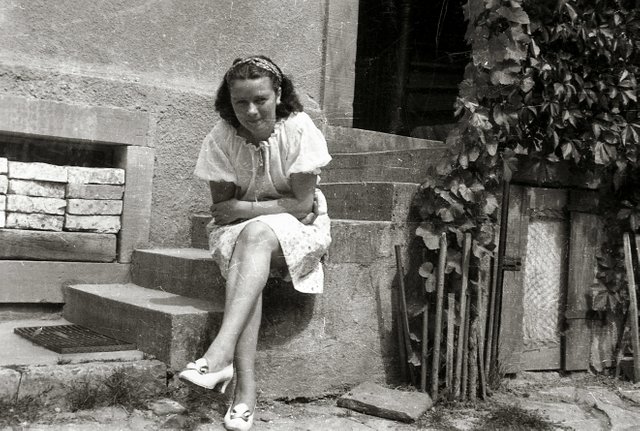 Click To Enlarge
Lastly today, in Wirklich hübsche Deutsche frau ;) Is this your grandma? How cool would that be? Anyways, I have to assume this is in the same town these formations took place. Maybe he was there for a little while and got to know some locals. He took several pictures of this young lady and she seems pretty sweet! She is definitely sporting some nice shoes there!

There are many more photographs, so please come on back next Monday and join me on this amazing journey through Germany during World War II!
Thanks, everyone for stopping by and please upvote and Re-steam this post! I am really enjoying all the comments and feedback from all you folks, thank you very much! If you have any information on any of these photographs, please, please share it in the comments.
I own all of these photographs so please respect my family history and ask permission prior to use.