Hell in a Cell 2019 is almost here and it looks like an interesting card. Not only because of The Fiend vs Seth Rollins, not only because of Sasha Banks vs Becky Lynch, but because WWE has only announced 4 matches for the PPV. Huh... While not December to Dismember 2006 levels of madness, it is pretty limiting in terms of predictions. I could just guess what the matches that will be announced at the show will be, but I really don't know, so I will simply only predict the four matches that have been announced. A bit of a bummer, but not the end of the world. Onwards we go!
Daniel Bryan and Roman Reigns vs. Erick Rowan and Luke Harper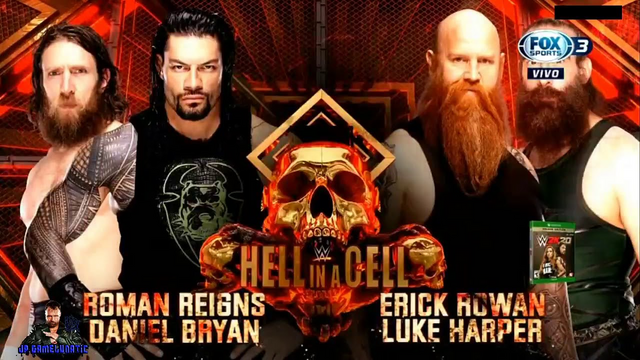 This match may or may not be the end of the Roman Reigns whodunit storyline, and that's the big question. But first, here's a quick recap. Everything started when on SmackDown, a bunch of boxes fell onto Roman Reigns and he only miraculously survived without harm. Then, on Raw, a car drove into Roman's car, almost hitting Roman himself. After that, Roman began searching for the person who tried to kill him and tl;dr it was Erick Rowan, but without the blessing of Daniel Bryan. In fact, Rowan has double-crossed Bryan, tired of being his side-show, and has also teamed up with former, now current partner Luke Harper.
Now back to where we were: There are two ways to predict this. One, this is the end of the storyline, i.e the good guys beat Rowan and Harper and stand tall, and two, this is not the end and the heels win this match to give them some momentum. I choose the second, because I really think that WWE want to push Rowan hard, which I'm all for. However, there's still two ways they can go about this. One is the simple way, with the bad guys winning simply because of their dominance and the second is if Daniel Bryan has actually been the mastermind all along, which would be incredibly lame and stupid, so I'm counting on WWE to not make that mistake. However, if that does happen it would still mean I get the prediction right, so...
Anyways, I think this match will be good, and I'm really hoping for Harper and Rowan to win.
Bayley (c) vs. Charlotte Flair for the SmackDown Women's Championship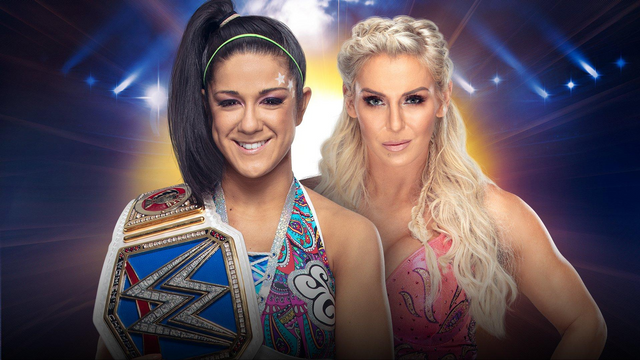 This match is a rematch from Charlotte and Bayley's match at Clash of Champions that ended with Bayley cheating to win, driving Charlotte face-first into the exposed turnbuckle while the ref wasn't looking, after Charlotte had been completely dominant for the 4 minutes that match lasted for. While that was fine, and good character progression, they can't do it again this time. I think Charlotte should still be very dominant, and Bayley should still resort to cheating, but this time, it shouldn't work for her. No matter what underhanded tactic she tries, Cherlotte should just kick out. Bayley gets more and more frustrated and desperate, until she finally disqualifies herself to run off with her title. I know, I know, we just had a DQ finish last month, but this all ties to the story. Bayley is turning more and more to the dark side. Anyways, that's what I want to happen, what do I think will happen?
While what I just detailed could happen, predicting with a DQ finish, a no-contest and the like in mind is risky business. It didn't work for me with Seth vs Braun when I predicted a no contest, and while it might work for me here, I'm not willing to take that risk again. I predict Bayley to win.
Becky Lynch (c) vs. Sasha Banks for the Raw Women's Championship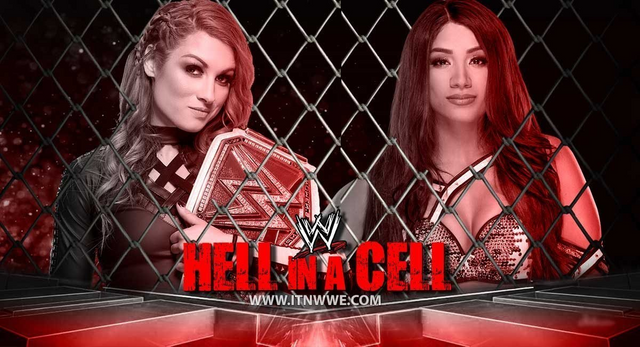 This match will probably be great. I think these two women can do some very good stuff inside the Hell in a Cell, and I'm really looking forward to it. While Becky could retain in theory, I think Sasha will win here, and that's what sould happen, too. Sasha and Bayley, together with both belts on the stage after the match is exactly the visual I wanna see, and what we should do moving closer and closer to WrestleMania where they'll almost certainly have the Fatal-4 Way. So yeah, my prediction is Sasha, especially because I think the DQ finish to their previous match was a way for WWE to extend the feud.
Seth Rollins (c) vs. The Fiend for the Universal Championship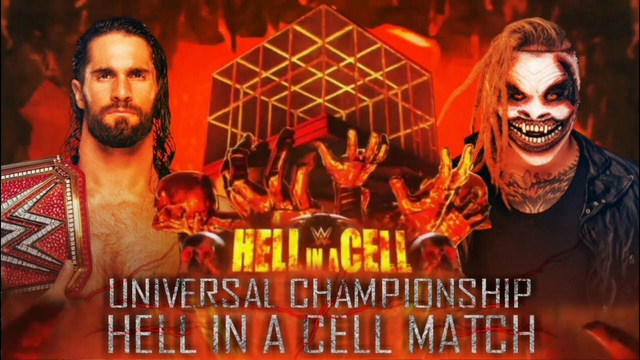 So here it is, the main event, and the match to decide the future of Raw for the next long, long while. The Fiend is going into this match as the hottest thing in the entire company (God, Bray, you're a genius), while Rollins is going into this match having beaten Braun Strowman and Brock Lesnar TWICE. Very, very interesting stuff.
This match is very hard to predict. They could do so many things. It might end with The Fiend winning, it might end with Rollins winning (God, no), it might end in a no-contest and Vince could probably somehow find a way to end it with Brock Lesnar winning. ANYTHING could happen. I think a no-contest might be a good idea, but I'm also not as opposed to Bray as champion as some people are. I have no problem with him running wild on Raw as Universal Champ for a while, but I can understand why maybe you'd wanna wait a bit.
Again, there are a million different ways to end this match, and a million different ways to end this match as a no-contest alone. I've seen people proposing that they should both go off the cell through the announce table (Adam Pacitti), that the cell should collapse onto both of them (ALSO Adam Pacitti), and much, much more. Again, I'll be completely fine with a no-contest as long as it's in a creative and logical way, but I would also like to see The Fiend win the title. I'd like either.
Wow, so who's my prediction? Oof... It's hard, but I think the most probable outcome is The Fiend winning the title in a dominant performance. Also, again, I don't wanna repeat the same mistake I made with Seth vs Braun.
Overall prediction
I think HIAC 2019 could be a very memorable show, and I think that Becky-Sasha and Seth-Bray have the potential to be really good matches. I hope for good, I expect good.